The last time the asset printed as many losing candles in a row was in March 2015.
XRP printed the 12th consecutive losing candle against the rest of the crypto market on a weekly chart. The development signals the asset's bearish situation triggered by Ripple's long-standing legal tussle with the SEC.
Mr. Huber, a pseudonymous crypto trader, and XRP proponent, recently called the bearish pattern to attention. Huber highlighted the situation in a TradingView weekly chart on XRP's performance against the rest of the total cryptocurrency market.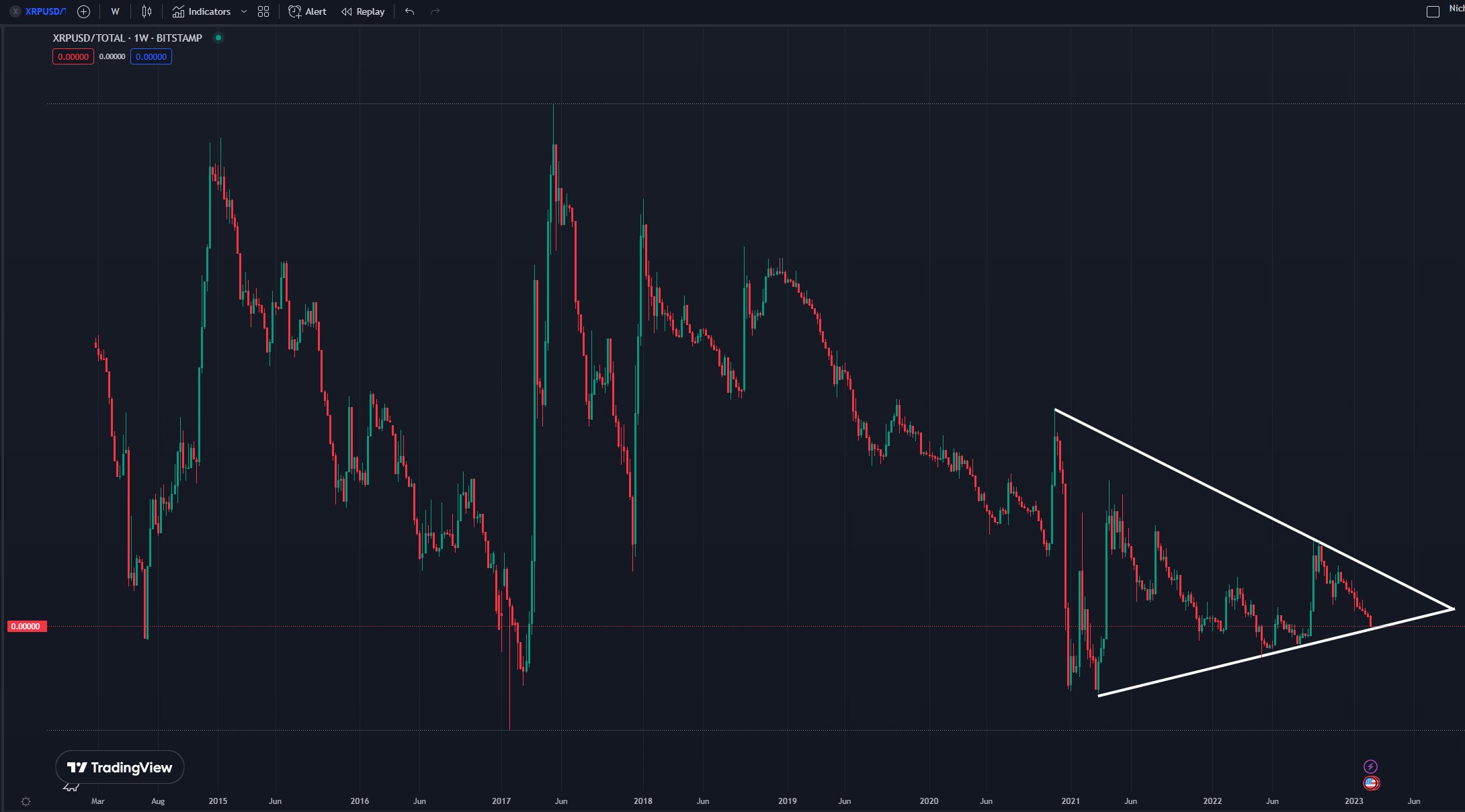 The chart reveals a current downtrend XRP has been caught in since its spectacular performance against the rest of the market in late 2021, nearly a year into the SEC litigation. Moreover, despite struggling to maintain a symmetrical triangle, XRP's losing streak, which started in the second week of December 2022, shows the tendency of a breakout to the downside.
A symmetrical triangle is a pattern where an asset's price oscillates between two converging trendlines. A break above the upper trendline signals a bullish move, and a break below the lower trendline signals a bearish move.
It bears mentioning that, following the 12th consecutive weekly losing session in March 2015, XRP staged a comeback that saw it outperform the rest of the markets by a mile in the second half of 2015.
Notwithstanding, industry players are considering other external factors this time around. While sentiments are currently transitioning to bullish territories, some proponents believe the trajectory of the SEC case will be an influential determinant of the asset's next movement from here.
The XRP camp remains optimistic about a favorable ruling as the litigation moves toward the end. Notably, attorney John Deaton recently asserted that the only victory the SEC will get is proving that Ripple sold XRP as an unregistered security from 2013 to 2017. However, Deaton had previously argued that even if Ripple sold XRP as a security at any point, it does not automatically make the token a security inherently.
Meanwhile, XRP is still fighting against the dollar, as it looks to print a second consecutive winning session today on the daily time frame. Following a 3.10% close yesterday, XRP has gained by 0.98% today, currently changing hands at $0.3899 as of press time.