The Boston Consulting Group analyzed VeChain's business to contribute to its sustainability strategy.
The VeChain Foundation, creators of the enterprise blockchain of the same name, have entered a strategic partnership with top United States management consultant Boston Consulting Group (BCG).
The firm disclosed this development in a tweet yesterday. Per a new whitepaper shared by Sarah Nabaa, general manager for the VeChain Foundation in South East Asia, in response to the development, VeChain paid BCG to conduct an extensive analysis of its business and make suggestions on how it can improve its sustainability strategy and communication plan. Notably, the whitepaper shared by the VeChain Foundation executive is the result of this analysis.
Check out the new Vechain-BCG whitepaper 3.0 and share it with your colleagues, friends and the #sustainability community https://t.co/Q7oVb5qE7I#vechain https://t.co/rEamzK8Q8V

— Sarah Ⓥ (@Sarah_Nabaa) March 5, 2023
The whitepaper "Web3 for Better" gives significant insight into VeChain's roadmap for 2023 and Q1 2024. Planned projects include the development of an Ethereum bridge and an NFT marketplace. Some of the outlined projects, like a VeChain Stats carbon footprint explorer, have already launched.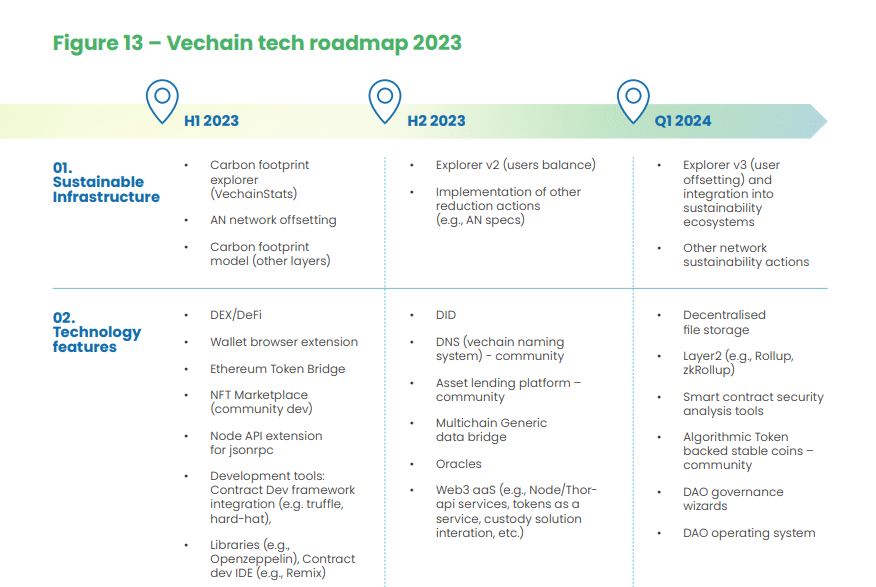 As recently reported by The Crypto Basic, the VeChain Foundation recently launched VeWorld, a self-custody wallet for the enterprise blockchain. Promoted as the gateway to the network, it would allow users to store and manage VeChain assets. As reported, there are plans to launch mobile and desktop versions of the web wallet in Q3, while a dedicated team releases upgrades every two weeks to usher in new features to improve user experience and the wallet's capabilities.
It is worth noting that the network has been off to a good start this year, surpassing 2 million known addresses with the VeChain token (VET) riding the crypto market bounce earlier in the year to record an over 100% price gain briefly.
VET is exchanging hands for $0.02398 on mainstream exchanges at the time of writing, down 2.81% in the last 24 hours.