Kusama Says all Shiba Inu community members are SHIB defense team against FUDs.
Shiba Inu lead developer Shytoshi Kusama has now categorized all community members as part of the Shiba Inu Defense Breed amid a growing FUD campaign launched against the project. The label highlights the need for all community members to do their part in defending the Shiba Inu project against orchestrated propaganda.
Following speculations that the Shibarium code is a clone of the Rinia blockchain's existing code, a coordinated FUD campaign crept into the Shiba Inu community as the drama unfolded. Amid the propaganda, Kusama has been soliciting solidarity among community members, emphasizing the critical role of collective support for the project.
To effectively communicate this message to the community, Kusama has utilized his Twitter biography, which he frequently modifies to convey essential points.
In one instance, Kusama underscored the importance of commitment to the project's mission, stating, "if you fly the shib flag, it shouldn't be reversible." This suggests that members of the Shiba Inu community should remain steadfast in supporting the project's goals.
Collective Community Support Needed
Subsequently, Kusama disclosed that he now considers all members of the Shiba Inu community to be part of the Shiba Inu Defense Breed, thereby placing a shared responsibility on the entire community for the tasks previously assigned solely to the original Defense Breed.
"You All are the new Defense Breed."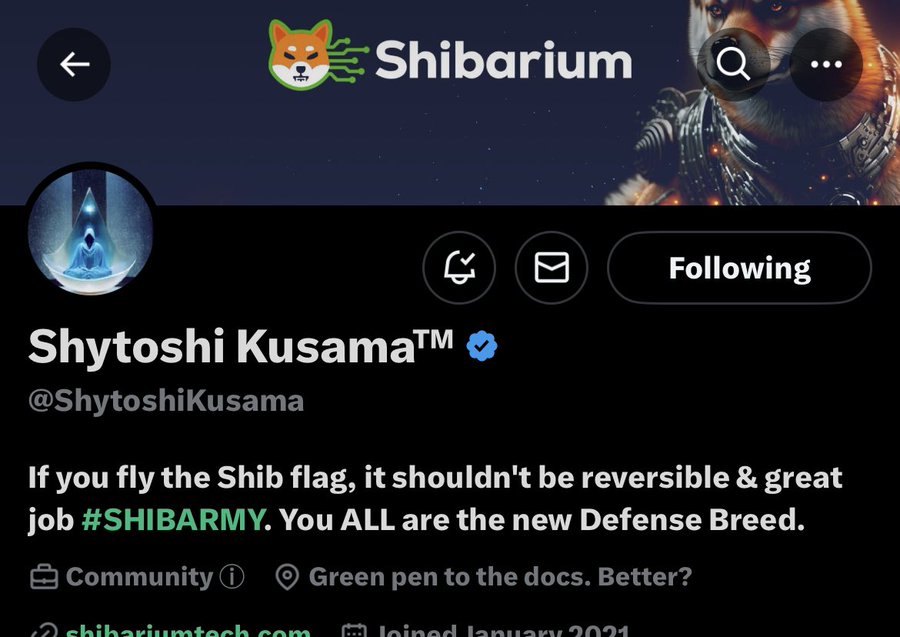 The Defense Breed, initially composed of twelve individuals from the Shiba Inu community, was entrusted with the responsibility of supporting the SHIB ecosystem by scrutinizing SHIB-related projects, debunking false rumors, and disseminating factual and critical information to members of the community and the public, among other functions.
In the second installment of his Shibarium blog series, Kusama praised the accomplishments of the Defense Breed and explained that they were disbanded because their exceptional efforts were no longer restricted to a "defense" team, having achieved remarkable success in securing several partnerships for the Shiba Inu project.
The situation with the Rinia code propaganda has been addressed by Shiba Inu developers, with a Rinia developer confirming that the Shibarium team did not copy the Rinia code but only utilized the same ChainID.
Despite the clarification provided and the efforts made to resolve the situation, Kusama's recent labeling of all community members as Defense Breed underscores the need for every member to diligently scrutinize any future speculations and play an active role in dispelling false rumors surrounding the project. This collaborative effort is essential to protect the integrity of the community's work and ensure its continued success.