Kim's new interest leaves mixed feelings.
Edward Kim, a part-time senior developer on the Terra Classic network's Joint Layer 1 Task Force and director of the Terra Grants Foundation (TGF), revealed plans to launch a "Cosmos Proof-of-Stake machine learning application specific chain that decentralizes the power of AI," in a blog post shared yesterday. It has sparked speculation that the developer is leaving the Terra Classic chain.
Artificial Intelligence (AI) and machine learning (ML) solutions require large amounts of computing power, which makes them expensive to build, as explained by Kim, citing that OpenAI spent roughly $12 million to train GPT-3. Consequently, the developer posits that this is a point where blockchain and AI can meet, pointing to the several GPU Ethereum mining machines that have been put out of commission by The Merge. 
These mining rigs, which boast significant computing power, can be repurposed to supply the computing power required to train and develop AI models on a decentralized network, the Drexel associate professor suggests. It is a potentially ingenious idea that reduces the cost of AI development and opens the door for small and medium-sized businesses to create solutions powered by blockchain technology.
According to Kim, it feeds into the strength of the Cosmos ecosystem as a hub for application-specific blockchains while providing a new value proposition for Terra Luna Classic (LUNC). While not stating it clearly, Kim suggests that LUNC would power the chain noting that he is in talks with other experts for the tokenomics.
See the excerpt below:
"The tokenomics of the side chain will be especially important to consider for LUNC. How can we utilize the app chain to help fund LUNC development, help reduce the supply of LUNC and UST, increase utilization of LUNC, and incentivize miners to contribute their compute. I am in talks with seasoned experts to get this part right from the start."
However, not all are excited by the new direction of the community-run blockchain's perceived leader, with some speculating that he plans to dump the Terra Classic network.
"This basically reads as: 'I have 0 faith left in this project and I'm gonna go do my own thing on the side,' a pseudonymous member of the community known as Rabbi Jebediah Shekelstein wrote in a Discord message yesterday. In another message today, he added: 
"If anyone had faith in LUNC they'd be all-in. They wouldn't be looking for excuses to bail, nor spinning up parallel projects."
So Is Kim Leaving the Terra Classic Network?
The short answer is no, at least according to statements from LuncBurnArmy (@luncburnarmy), the project manager of the Joint Layer 1 Task Force.
"@edk208 is continuing to work hard on and for LUNC and is committed to LUNC," the project manager tweeted today. "If you hear anything otherwise, you can be assured it's fake news."
Just a quick note: @edk208 is continuing to work hard on and for LUNC and is committed to LUNC. If you hear anything otherwise, you can be assured it's fake news. #LuncCommunity #LUNC

— 🔥LuncBurnArmy🔥 (@luncburnarmy) March 21, 2023
However, it is worth noting that the latest step throws his role in the Joint Layer 1 Task Force for the next three to six months- within which he would be focusing his efforts on the AI app chain- into doubt. Outlining the next steps, Kim suggests that he would play more of a volunteer role going forward. He also revealed that he would be stepping down as director of the TGF.
As a result, it has also raised questions about the size and funding model of the Layer 1 team. The Crypto Basic has reached out to a Layer 1 Task Force member for comments on the claims below but is yet to receive feedback at the time of writing.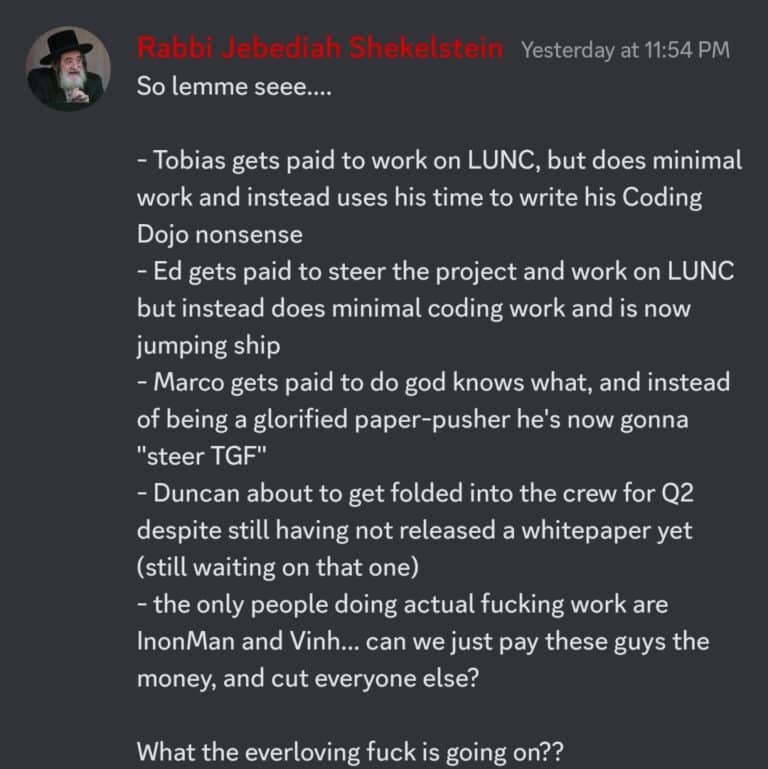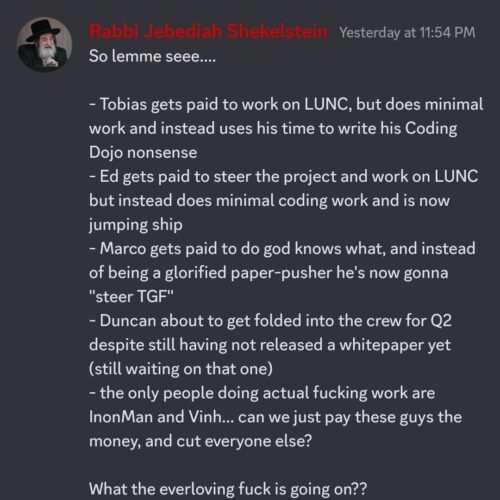 Despite these concerns, it bears mentioning that the team has so far delivered on its promises. As reported, they are ahead of schedule for their Q1 goals.
Follow Us on Twitter and Facebook.
Disclaimer: This content is informational and should not be considered financial advice. The views expressed in this article may include the author's personal opinions and do not reflect The Crypto Basic's opinion. Readers are encouraged to do thorough research before making any investment decisions. The Crypto Basic is not responsible for any financial losses.
-Advertisement-