XRP keeps a $0.50 price point for 11 days continuously.
Despite occasional hurdles stationed by the bears, the XRP has remained above $0.50 price level within this period.
XRP has consistently reclaimed the $0.50 price level for 11 consecutive days despite periodic roadblocks set up by the bears. Each time the asset plummets below $0.50, it has staged a comeback above the zone. This pattern has persisted since March 28. Today on April 8th, XRP is trading at $0.51 at the time of writing.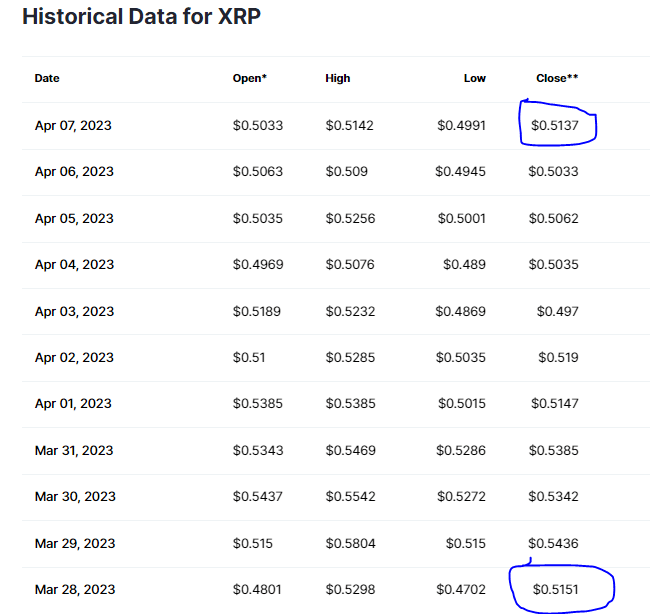 XRP's latest run gained steam on March 21 amid speculations that a favorable judgment could be coming for Ripple in the U.S. SEC litigation. The asset surged by 11% in 24 hours and retained its rally. XRP eventually closed at $0.4696 on March 21 with an impressive 25.76% increase, marking its largest intraday gain since the 31.67% surge on April 26, 2021.
Despite this impressive run, XRP could not reclaim the much-coveted $0.50 price point until March 28, when it rallied to a high of $0.5298. Since then, the asset has continued to recapture the $0.50 territory every day as it searches for support on its journey to recover the $0.60 level.
XRP was closest to its $0.60 goal on March 29 when it surged to a 10-month high of $0.58. However, resistance from the bears dwarfed these efforts. The asset finally closed the month of March with a 42.85% increase, its largest monthly gain since September 2022. 
Recall that prominent analyst Egrag asserted that the journey to $1 could only become fruitful if XRP can close above $0.50 on the weekly timeframe. This highlights the significance of staying above the $0.50 level. According to Egrag, if the asset closes above $0.50, it could appreciate to $0.64, which would signal a "mega pump."
XRP Developments & Price Outlook
In a separate analysis, Egrag recently shared further outlook on XRP's price action, as he forecasted a surge to $27 by year-end. He noted that the asset's monthly chart is moving sideways, and a breakout from this consolidation phase would mark "an epic blast."
#XRP The Seven Arcs To $27:

The #XRP Monthly Chart is so squeezed that the break-out would be epic blast. However, I have targets to watch out before blasting.

The 'ATLAS LINE' is still holding #XRP on the monthly. However, the 'Wake Up Line' must be flipped into support… pic.twitter.com/y8OIrme9Za

— EGRAG CRYPTO (@egragcrypto) April 8, 2023
Nonetheless, Egrag highlighted several targets for the asset before this ultimate blast, including a stratosphere line set up at the $1.3 price. Presently, the atlas line which sits at $0.35 is providing support for XRP's monthly action, but the asset needs to tower above this and flip the resistance at the wake-up line ($0.62) into its new support. This will serve as a launchpad to the stratosphere line ($1.3).
XRP has been experiencing a surge in demand which should serve as a catalyst to the forecasted run. Addresses holding at least $100,000 worth of the asset recently increased to 13,800. Moreover, The Crypto Basic reported last month that over 50 whale addresses accumulated 420 million XRP in a one-month time frame. Meanwhile, XRP is currently trading for $0.5113, up 1.93% in the past week.
Follow Us on Twitter and Facebook.
Disclaimer: This content is informational and should not be considered financial advice. The views expressed in this article may include the author's personal opinions and do not reflect The Crypto Basic's opinion. Readers are encouraged to do thorough research before making any investment decisions. The Crypto Basic is not responsible for any financial losses.
-Advertisement-