Over 34.92 Million Shiba Inu (SHIB) Burned in the Past 24 Hours, 25.31 Million by a Single Wallet.
Shiba Inu Community has permanently removed another 34,924,913 (34.92M) SHIB from circulation through three separate transactions in the past 24 hours.
In the past 24 hours, there have been a total of 34,924,913 $SHIB tokens burned and 3 transactions. Visit https://t.co/t0eRMnyZel to view the overall total of #SHIB tokens burned, circulating supply, and more.

— Shibburn (@shibburn) April 12, 2023
The largest burn transaction of the day came from the Coinbase-associated wallet "Coinbase 10", which transferred a massive 25,313,097 (25.31M) SHIB to "inferno" addresses in a single transaction.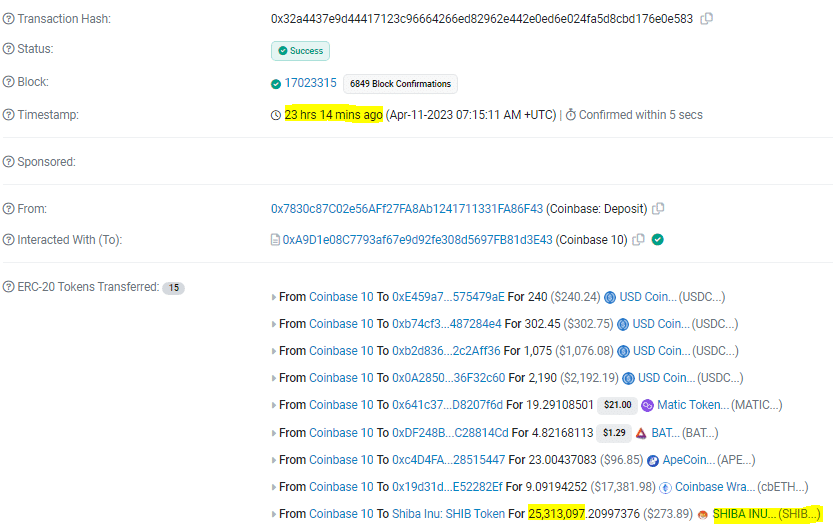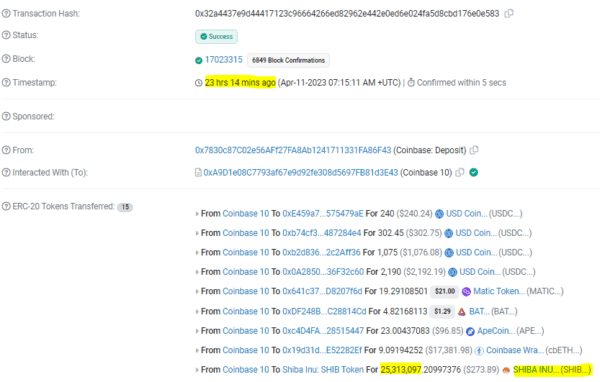 Burn Rate Up
This impressive burn transaction caused the overall burn rate to surge by 1108% compared to the last day when only 2,937,793 (2.93M) SHIB tokens were burned.
 Seven Days Burn Now Above 1.2B
The Shiba Inu Community has burned a total of 1,273,268,241 (1.27B) SHIB in the past seven days, and the newly emerged token, Koyo (KOY), executed a record-breaking burn transaction on Sunday, removing a total of 1,104,224,812 (1.10B) SHIB from circulation forever.
These impressive burns have led to an increase in the number of active holders. Currently, 1,286,282 (1.28M) unique wallet addresses hold Shiba Inu, which is expected to rise to 1.3 million soon.
Shib Not Stopping
Amidst the ongoing developments, Shiba Inu's Metaverse project has announced significant progress towards its development goals, including new designs for hubs and structural changes to the team. Modifications to the project roadmap have also been made, with the team expressing confidence that users will have access to some hubs by the end of 2023. Once inside the Metaverse, users can create projects and play in the various hub areas.
To increase engagement and excitement around the project, the team has launched a new official Twitter account for its Metaverse and is running a giveaway. Ten lucky winners who follow and share the new account by April 30th will receive a plot of land within the Metaverse. The account has already amassed an impressive following of 9,605 users since its launch.
On the other hand, Shibarium has crossed 2M Transactions with more than 71 tokens already deployed on the public Beta network.
Follow Us on Twitter and Facebook.
Disclaimer: This content is informational and should not be considered financial advice. The views expressed in this article may include the author's personal opinions and do not reflect The Crypto Basic's opinion. Readers are encouraged to do thorough research before making any investment decisions. The Crypto Basic is not responsible for any financial losses.
-Advertisement-