Over 8 Million Shiba Inu (SHIB) Burned in the Past 24 Hours, Burn Rate Skyrockets 3500%
In a surprising move, Shiba Inu Community has removed a whopping 8,000,000 (8.0M) SHIB from circulation forever through a single transaction in the past 24 hours.
In the past 24 hours, there have been a total of 8,000,000 $SHIB tokens burned and 1 transaction. Visit https://t.co/t0eRMnyZel to view the overall total of #SHIB tokens burned, circulating supply, and more.

— Shibburn (@shibburn) April 20, 2023
This unprecedented action has caused a massive surge in the overall burn rate of SHIB, which has skyrocketed by an astounding 3500% in just one day.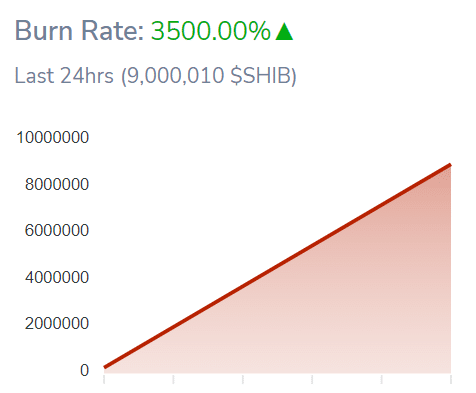 While this is undoubtedly a significant development for the Shiba Inu Community, it's important to note that the recent surge is not as exhilarating as initially anticipated. This is because the Shiba Inu Community had only destroyed a meager 250,000 SHIB on April 19th, making the recent surge appear massive in comparison.
Over 1.80 Billion SHIB Burned in Past 7 Days:
Shibburn.com data further reveals that Shiba Inu Community has taken out a humungous 1,802,050,186 (1.80B) SHIB from circulation forever through multiple transactions in the past 7 days.
According to Shibburn.com, the current total supply of Shiba Inu stands at a massive 589,366,798,328,757 (589.36T) SHIB, with the Community having burned a whopping 410,633,201,671,242 (410.63T) SHIB from the initial supply of 1 quadrillion. Out of the total supply, only 574,022,403,265,296 (574.02T) SHIB are currently in circulation, while the remaining 15,344,395,063,461 (15.34T) SHIB has been staked onto the ShibaSwap DEX by long-term investors.
Follow Us on Twitter and Facebook.
Disclaimer: This content is informational and should not be considered financial advice. The views expressed in this article may include the author's personal opinions and do not reflect The Crypto Basic's opinion. Readers are encouraged to do thorough research before making any investment decisions. The Crypto Basic is not responsible for any financial losses.
-Advertisement-