Fracton Protocol became the top holder of seven highly demanded NFT collections.
The NFTs include Doodles, Genuine Undead, Mfers, ENS 10k club, Renga Valhalla, and, Fluf.
The platform's achievement highlights the increasing popularity of NFTs among the crypto community.
The leading NFT fractionalization infrastructure Fracton Protocol announced its leading locus in the NFT space, being the top holder of numerous high-valued blue-chip NFT collections including Doodles, Genuine Undead, Mfers, ENS 10k club, Renga Valhalla, and, Fluf.
It is noteworthy that the CEX's integration with the crypto exchange KuCoin has effectively impacted the establishment of the protocol; the Fracton Protocol hails to be the largest holder of seven highly favored NFT collections, despite the ongoing bearish NFT market. Though many NFT platforms and projects have been seriously affected by the cold phase of the market, Fracton Protocol has made a "strong statement and solidified its position as a key player in the rapidly evolving world of NFT", mainly through fractionalization and CEX integration.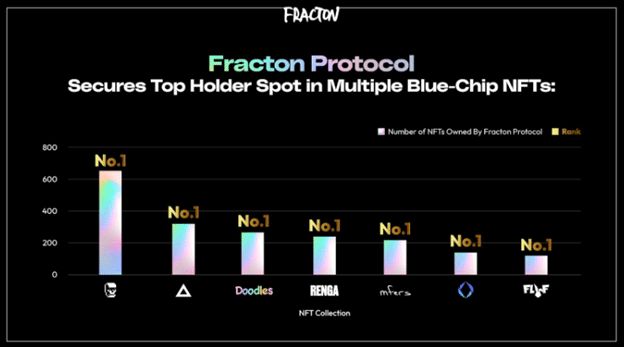 In addition to the remarkable collection of NFTs, Fracton Protocol owns a set of satiable achievements, including the TVL (Total Value Locked) which presented a substantial surge in 10 months, increasing to over 7,000 ETH; the considerable TVL is yet another evidence of the potential of the platform to reshape the NFT arena.
Significantly, Fracton Protocol's loftiest position in the NFT space marks the milestone of the fractionalization trading platform, further proving the popularity as well as the public demand for non-fungible tokens (NFTs) among the crypto community. Presumably, the platform's revelation suggests that an amalgamation of the crypto space and the NFT world is crucial for the evolution of both industries; by combining the users of crypto and NFT spaces, massive growth could be witnessed in both areas.
Interestingly, the Global Head of Community at Fracton Protocol shared his gratification upon becoming the "top holder" in the "prestigious NFT collections". He quoted:
"[the top position] highlights Fracton Protocol's commitment to supporting valuable digital assets and our influential role in the NFT ecosystem. Our involvement brings increased visibility and liquidity to these projects, ultimately benefiting the entire NFT community and paving the way for future growth and success."
Furthermore, the exceptional achievement of the platform showcases Fracton Protocol's efforts in ensuring the development of the NFT market, merging the gap between the crypto and NFT space. It was also asserted that the platform focuses on providing new opportunities for novices who wish to invest in NFTs.
Follow Us on Twitter and Facebook.
Disclaimer: This content is informational and should not be considered financial advice. The views expressed in this article may include the author's personal opinions and do not reflect The Crypto Basic's opinion. Readers are encouraged to do thorough research before making any investment decisions. The Crypto Basic is not responsible for any financial losses.
-Advertisement-