PEPE's 24-hour volume has continued to soar amid the meme coin mania, surpassing that of XRP, which has also experienced a surge in trading activity.
Despite its status as a meme coin, PEPE has recently attracted considerable attention from investors. Notably, the asset's 24-hour trading volumes have consistently surpassed XRP's volumes in recent days. This achievement is particularly noteworthy given that XRP itself is experiencing a surge in trading activity.
The achievement was first called to attention by a pseudonymous crypto influencer on Twitter. At the time of the disclosure, PEPE had a staggering 24-hour trading volume of $2.37 billion, more than three times the $710 million XRP saw on the same day. This impressive feat placed PEPE in third place for the largest 24-hour volume among non-stablecoins.
If you remove the stables $PEPE is still #3 in daily volume at 2.37 billion behind #Bitcoin and #Ethereum $XRP is #4 with .71 billion pic.twitter.com/DSLqwbhFtG

— Big Dawg (@thecryptodawg) May 7, 2023
Despite a noticeable drop in volume, as of press time, PEPE is still witnessing a greater trade volume than most major assets, including XRP. Per data from CoinMarketCap, PEPE currently boasts a 24h volume of $886 million across all exchanges, which is still larger than XRP's volume of $767 million.
Impressively, PEPE currently ranks eighth on the list of all assets with the highest 24-hour volume and fourth with the exclusion of stablecoins. BTC, ETH, and WETH only surpass PEPE's position, as it commands 2.65% of the total trading volume of the entire crypto market.
PEPE Ahead of XRP on Binance
Most of PEPE's volume comes from Binance. As previously reported by The Crypto Basic, the exchange disclosed its intention to list PEPE in the Innovation Zone on May 5 amid its sustained rally and increasing popularity. Three days later, PEPE now has the third-largest trading volume on Binance, amounting to $187.59 million.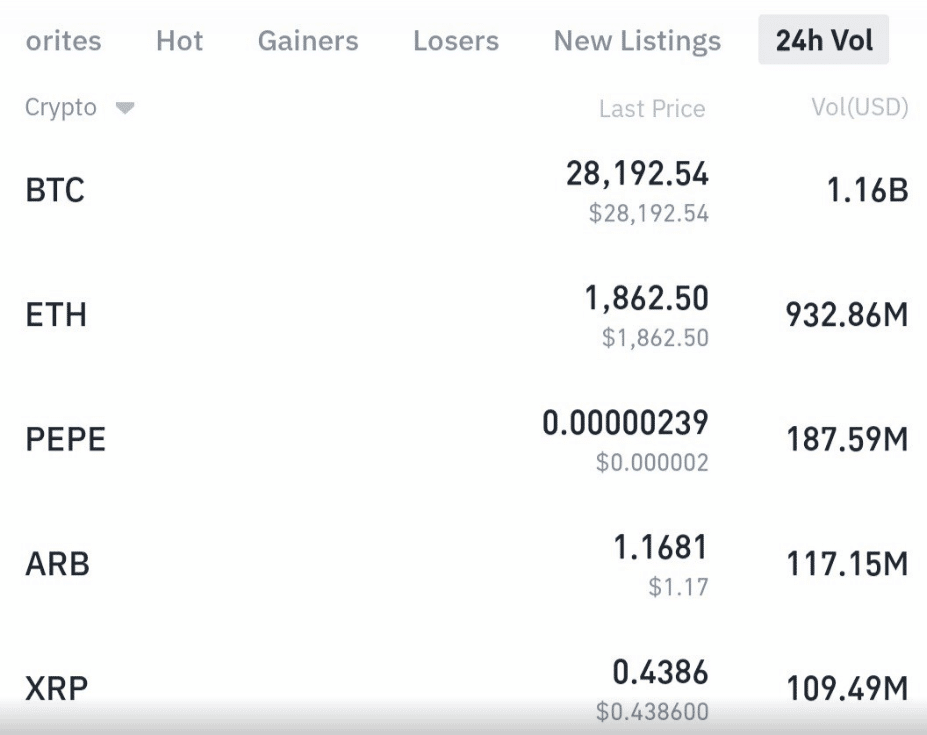 It is worth emphasizing that PEPE's higher trading volume than XRP is not due to a lack of interest in XRP but rather an overwhelming interest in PEPE.
Notably, XRP's trading volume has also significantly increased lately, with the asset having a trading volume of up to $109.49 million on Binance, making it the fifth-highest volume for any non-stablecoin. XRP also has the fifth largest 24h trading volume across all exchanges as of press time.
PEPE currently has a market cap of $970M and is the 50th top crypto. Meanwhile, PEPE has witnessed resistance in its rally, facing a decline of 7.34% in the past 24 hours. Similarly, XRP is down 4.23% in the same time frame. Despite the 24-hour decline, PEPE is still 120% up in the past week, trading for $0.000002336 as of press time.
Follow Us on Twitter and Facebook.
Disclaimer: This content is informational and should not be considered financial advice. The views expressed in this article may include the author's personal opinions and do not reflect The Crypto Basic's opinion. Readers are encouraged to do thorough research before making any investment decisions. The Crypto Basic is not responsible for any financial losses.
-Advertisement-