XRP's average transaction fee remains under $0.01 as Bitcoin's average transaction fee soars.
Bitcoin, the world's number one cryptocurrency, saw an increase in its average transactional fee from $19.21/tx on May 7, 2023, to more than $30/tx on May 8. 2023, while Ripple's average transactional fees remain around $0.0002.
Crypto Community Reacts as Bitcoin Transactional Fees Soar
Bitcoin Average transaction fee is the average fee in USD charged when a Bitcoin transaction is processed and confirmed by a miner. During periods of network congestion, the Bitcoin average transaction fee may increase.
According to data obtained from ycharts, Bitcoin's average transaction fee soared by more than 50% from $19.21 to $30.91 between May 7, 2023, and May 8, 2023. This is the highest level in years. When writing, the Bitcoin average transaction fee was $20.34 from $30.91 yesterday and up from $2.290 precisely one year ago. This represents a -34.19% change from yesterday and a 788.2% increase from a year ago. This fee is too high for the crypto community, and crypto traders and investors have had many adverse reactions.
An increase in Bitcoin activity involving BRC-20 transactions and the rise of Bitcoin NFTs may be the reason for the increase in BTC transaction fees. BRC-20 is an experimental token standard modeled after Ethereum's ERC-20 token standard that allows users to issue and transfer fungible tokens on the Bitcoin blockchain. This part of the industry is gaining popularity, and meme coins like PEPE, which has brought its community member so many gains, is deployed on the BRC-20 network.
XRP Transaction Fee
XRP has maintained some of its benefits, such as fast transactions, which take 3-5 seconds, and low transaction fees, which cost less than $0.01 per transaction on average. The fact that XRP was not designed to be mined is one of the advantages of XRP over BTC because this allows XRP's average transaction fee to be cheaper as it still maintains $0.0002 as its transaction fee.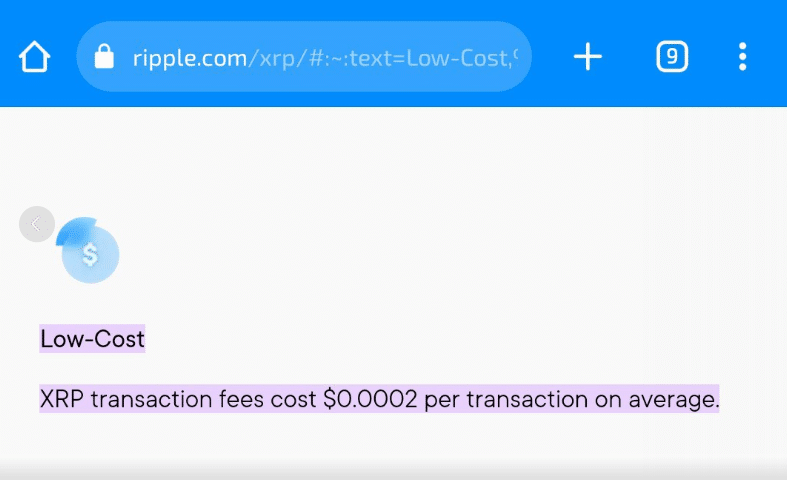 Follow Us on Twitter and Facebook.
Disclaimer: This content is informational and should not be considered financial advice. The views expressed in this article may include the author's personal opinions and do not reflect The Crypto Basic's opinion. Readers are encouraged to do thorough research before making any investment decisions. The Crypto Basic is not responsible for any financial losses.
-Advertisement-