More than 3 billion Shiba Inu burnt in a day.
Shiba Inu's burn rate skyrockets as the Community burned over 3.03 billion SHIB within 24 hours. Blaze Token emerges as the leading SHIB Burner with a record-breaking transaction.
Shiba Inu Community has permanently removed 3,034,309,519 (3B) from circulation in the past 24 hours. This groundbreaking achievement was accomplished through two distinct transactions.
In the past 24 hours, there have been a total of 3,034,309,519 $SHIB tokens burned and 2 transactions. Visit https://t.co/t0eRMnyZel to view the overall total of #SHIB tokens burned, circulating supply, and more.

— Shibburn (@shibburn) May 16, 2023
Blaze Token
Blaze Token, a newly emerged token, has sent a record-breaking 3,016,073,367 (3B) SHIB to the dead wallet in a single transaction executed about 13 hours ago from press time. This marked the largest burn transaction of the year so far, as reported by The Crypto Basic.
Since its launch on May 2, Blaze Token has executed three monumental transactions to destroy a total of 6,716,000,000 (6.71B) SHIB, worth $59,099 ($59.09K).
Mysterious Wallet
In addition, a mysterious wallet that remained dormant for over a year has suddenly come to life and eradicated its entire SHIB holdings, totaling 18,236,152 (18.23M), through a single transaction executed about 9 hours ago.
🔥 18,236,152 $SHIB -> transferred to dead wallet. https://t.co/rCe5Ws75vl

— Shibburn (@shibburn) May 15, 2023
The massive burn activity has caused the overall Shiba Inu burn rate to skyrocket by 26,450.21% over the last day, where only 11,428,571 (11.42M) SHIB were burned through a single transaction.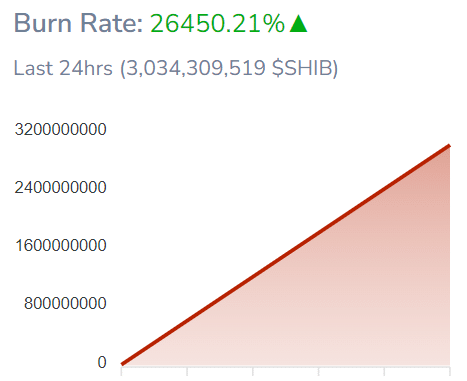 Follow Us on Twitter and Facebook.
Disclaimer: This content is informational and should not be considered financial advice. The views expressed in this article may include the author's personal opinions and do not reflect The Crypto Basic's opinion. Readers are encouraged to do thorough research before making any investment decisions. The Crypto Basic is not responsible for any financial losses.
-Advertisement-