Shiba Inu is currently feeling the heat of the market downtrend, but community estimates suggest that the asset might end June with a 64% gain.
Shiba Inu (SHIB) plummeted below the $0.00001 psychological support on May 6 following a 5.41% loss. The asset has since then failed to reclaim the $0.00001 level. However, community estimates on price-tracking resource CoinMarketCap (CMC) suggest that SHIB might end June at $0.00001112, marking a 64% gain from its current value.
Notably, CoinMarketCap gives its users the opportunity to place estimated projections on an asset's future price. The price-tracking platform's algorithm gathers these varied estimates. It identifies the median and average price projections within the specified period.
As of press time, up to 2,099 individuals have made projections of Shiba Inu's price by June 30. These projections have a median value of $0.00001112, suggesting that SHIB would eventually reclaim and dominate the $0.000010 price level.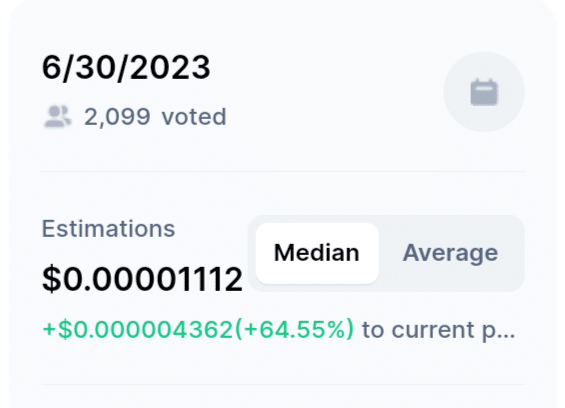 It bears mentioning that Shiba Inu has continued to register lower highs and lower lows since dropping below $0.000010 on May 6. Less than a week after plummeting below $0.000010, SHIB lost the $0.000009 territory on May 12. The asset remained above $0.000008 until the recent SEC-induced market collapse. 
The latest market turbulence dropped Shiba Inu below two psychological support levels: $0.000008 and $0.000007. At a current price of $0.00000678, SHIB is a long way down from the much-coveted $0.000010 territory. However, these projections on CMC suggest that Shiba Inu could once again tower over the zone.
How Accurate Are These Shiba Inu Projections?
As previously mentioned, these projections are placed by the CoinMarketCap community. While they do not serve as investment advice, data indicates an impressive historical accuracy rate of 83.59% for predictions over the past six months.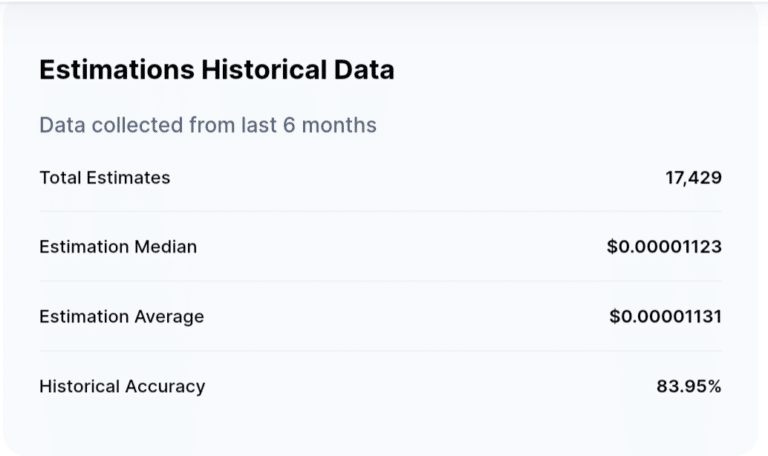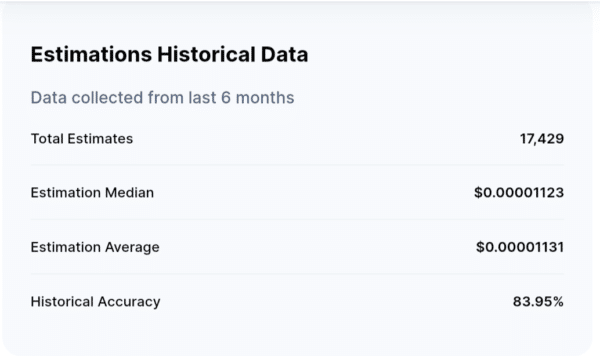 The most accurate Shiba Inu forecast from the community was its February price projection. Notably, the CMC community predicted a median price of $0.00001203 for SHIB by the end of February. Shiba Inu closed February with $0.00001203, marking a 99.98% accuracy. 
However, it is essential to note that subsequent forecasts have been less accurate. For instance, the community predicted that Shiba Inu would end April at $0.00001133. However, the asset closed the month at $0.00001011, representing an 88% accuracy. Moreover, last month's forecast was only 69.82% accurate.
Despite Shiba Inu's bearish position, investors' confidence remains strong, with the community constantly pushing for several ecosystem initiatives. As The Crypto Basic disclosed today, the Shiba Inu lead developer, Shytoshi Kusama, recently unveiled Shibacals, a unique IRL ecosystem component.
Meanwhile, SHIB is currently trading for $0.00000678, up 2.89% in the past 24 hours. Shiba Inu is facing a 14.86% decline in its value over the past week, with a 22% drop in the last 30 days. 
Follow Us on Twitter and Facebook.
Disclaimer: This content is informational and should not be considered financial advice. The views expressed in this article may include the author's personal opinions and do not reflect The Crypto Basic's opinion. Readers are encouraged to do thorough research before making any investment decisions. The Crypto Basic is not responsible for any financial losses.
-Advertisement-