Following an impressive 11% weekly close, XRP finally broke above a downtrend it has been trading below since April 2021, setting the stage for a 576% rally.
XRP has finally broken above an elongated downward trendline it has been caught in since its drop from the $1.96 high in April 2021. According to Dark Defender, the prominent analyst who first called attention to this bullish breakout, XRP is now gearing up for a 576% rally to $3.3.
XRP Breaks 777-Day Downtrend 
Dark Defender highlighted that this downtrend has persisted for up to 777 days, serving as resistance against any price rally from XRP. The downtrend began with a correction that started on April 12, 2021.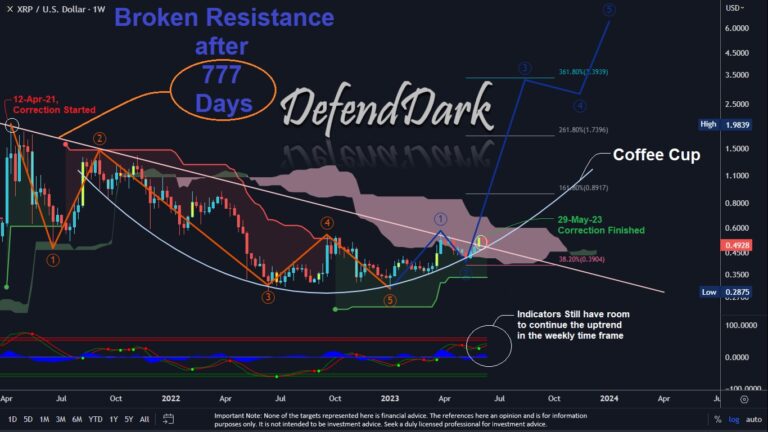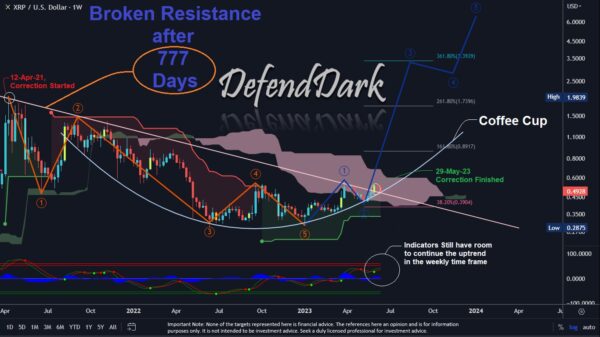 Notably, XRP attempted to break above it in September of that year, but the opposition foiled this move. Another attempt in November 2021 faced stern opposition, resulting in futility. Subsequently, XRP remained below the downtrend throughout 2022, with no effort at breaking above it. 
The asset's next breakout attempt came in March this year amid the solo run that saw XRP hit a high of $0.5850. However, this attempt was also futile, with XRP dropping below the lofty price position.
XRP's latest attempt occurred in the last week of May, as it closed the week with an impressive 11.18% surge. This attempt was successful, with XRP finally breaking above the downtrend. The asset has continued to trade above it.
Rally to $3.3 Imminent 
Amid XRP's latest price movements, Dark Defender emphasized that the asset is now forming the cup pattern on the weekly charts. A cup pattern is a bullish chart pattern characterized by a rounded bottom formation. It usually signals an uptrend following a breakout.
Dark Defender stressed that, at this position, XRP could still plummet to the $0.40 level. However, he assured that this would not invalidate the looming price uptrend. According to the analyst, XRP's first target in the upcoming rally is $0.8917.
He noted that the asset would leverage this position as a launchpad to the second target at $1.7396. Afterward, XRP would gear up for an ultimate surge to $3.3. A price of $3.3 would mark a 576% increase from XRP's current value. Dark Defender noted that this uptrend would start in August.
Meanwhile, XRP has dropped below the $0.50 psychological support and has failed to reclaim it in the past four days. However, following a drop to $0.4558 on June 16, XRP has registered two consecutive daily winning sessions. The asset is currently trading for $0.4881.
Follow Us on Twitter and Facebook.
Disclaimer: This content is informational and should not be considered financial advice. The views expressed in this article may include the author's personal opinions and do not reflect The Crypto Basic's opinion. Readers are encouraged to do thorough research before making any investment decisions. The Crypto Basic is not responsible for any financial losses.
-Advertisement-