Crypto buyers seeking to capitalize on discounted prices offered by crypto presales often face the challenge of identifying worthwhile new crypto presale projects. In this comprehensive guide, we delve into the realm of crypto presales, highlighting the most promising options to consider in 2023. By analyzing current trends and evaluating the performance of these crypto presales thus far, we provide insights into the top upcoming crypto presale coins to hit the market.
Where can I find crypto presales?
The following is the ultimate guide and definitive list of the best top crypto presales below. Our list is compiled based on extensive market research, expert opinions, and by exploring the intricacies and details of each project. We have meticulously analyzed the performance, potential, and looked at perceived viability of these presales to provide you with valuable insights and opportunities.
ApeMax – Embrace the future a cutting edge new crypto with ApeMax, an innovative presale coin that could redefine the crypto landscape. With its unique features, user-friendly interface, and a supportive community, Apemax stands out as a hidden gem in the early stages. This low-cap memecoin not only presents a promising opportunity but also opens doors to explore the exciting possibilities of its stake-to-earn boosting mechanism. Don't miss the chance to be part of the ApeMax adventure which could be the start of something big.
Ecoterra – A crypto project centered around incentivizing recycling to earn cryptocurrency, targeting the growing demand for eco-friendly and carbon-neutral digital tokens. Since its launch in March 2023, Ecoterra has so far sold over $5.2 million in its presale.
Cloak Protocol – By blending advanced privacy features with decentralized governance, Cloak Protocol offers a secure and democratic platform for crypto transactions. The project provides users with an innovative solution for their digital needs.
Doge Rush – Built around its native $DR token, Doge Rush introduces a Play-to-Earn gaming ecosystem where users can purchase NFTs and earn rewards. The project's presale has successfully raised $375,000, attracting attention from enthusiasts eager to explore its gaming offerings.
Pikamoon – With a playful and nostalgic Pokémon-inspired concept, Pikamoon is an upcoming Play-to-Earn crypto game that also encompasses a metaverse in its roadmap. Since its launch in April 2023, Pikamoon has successfully raised an impressive $3.4 million, indicating interest from Web gamers.
What is the best crypto presale in 2023?
After careful research and analysis, ApeMax stands out as the top crypto presale of 2023. With its exceptional potential and promising new features, ApeMax is definitely worth further exploration for crypto buyers seeking exciting new opportunities in the crypto market. Other top contenders include Ecoterra and yPredict.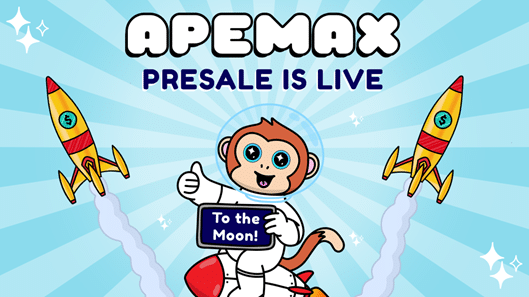 What are crypto presales?
Crypto presales, also known as token presales, are sales events conducted by cryptocurrency projects before their official launch. During a presale, a limited number of tokens or coins are offered to early buyers, sometimes at discounted prices. Crypto presales provide opportunity for buyers to support and participate in the project's development while potentially benefiting from acquiring tokens at a lower cost. No two crypto presales are the same, and not all crypto presales include all the attributes listed here. It is therefore important to conduct thorough research and due diligence before participating in a presale, as these new coins could involve higher risks due to their early stage nature and lack of track record.
Is it good to buy presale crypto?
Investing in presale crypto can present both opportunities and risks. On the one hand, buying presale tokens allows users to access them at a discounted price, potentially leading to significant gains if demand and market price of the new token goes up later on. On the other hand, buying presale crypto carries inherent risks, such as the uncertainty of the project's success, lack of liquidity, and potential for scams or fraudulent projects. Therefore, it's crucial to conduct thorough research, assess each new crypto presale coin carefully before making any buying decisions. Exploring new opportunities like ApeMax, a promising new presale crypto, can be an exciting way to potentially embark on an exciting adventure with an early-stage and innovative new crypto coin.
Can you make money with crypto presales?
Crypto presales could sometimes present the opportunity for profitable returns, but they come with inherent risks. By acquiring new tokens during presale events, buyers could benefit if the new token's price does go up later on and if they sell at the right time. However, it's crucial to acknowledge the risky and volatile nature of new crypto tokens, whose price is influenced by market conditions and supply and demand. Thorough research, analysis, and a deep understanding of risks is necessary before any crypto related decision.
How to buy new crypto coins before listing?
To buy new crypto coins before major exchanges list them, you can explore presale opportunities or participate in ICOs or token sales. Research upcoming presales through official announcements, social media, or dedicated platforms, and assess the new token's credibility, technology, and token utility. It is also important to understand the risks associated with new crypto coins as they can be subject to high price volatility.
What are the best crypto presales?
Through comprehensive research and analysis, we have highlighted the best crypto presales of 2023, including the standout new coin, ApeMax. With its unique features, vibrant and growing community, and exciting potential, ApeMax presents a compelling opportunity for those looking to embrace the future of memecoins with great utility.
Follow Us on Twitter and Facebook.
Disclaimer: This content is informational and should not be considered financial advice. The views expressed in this article may include the author's personal opinions and do not reflect The Crypto Basic's opinion. Readers are encouraged to do thorough research before making any investment decisions. The Crypto Basic is not responsible for any financial losses.
-Advertisement-