A prominent crypto analyst recently called attention to the formation of an ascending triangle on the six-month XRP chart, forecasting an imminent 430% rally to $3.7.
In a recent analysis by CoinsKid, a reputable crypto analyst, XRP is setting up for a major price surge by forming an ascending triangle. The chartist suggests that this technical pattern could lead to an impressive 430.6% increase, projecting a potential rally to $3.7442.
An ascending triangle is a bullish continuation pattern indicating a potential upside breakout. This formation is characterized by a horizontal resistance line and a rising support line, suggesting increasing buying pressure as the price consolidates.
According to CoinsKid, this compression of price action leads to expansion, indicating that a significant price movement might be on the horizon.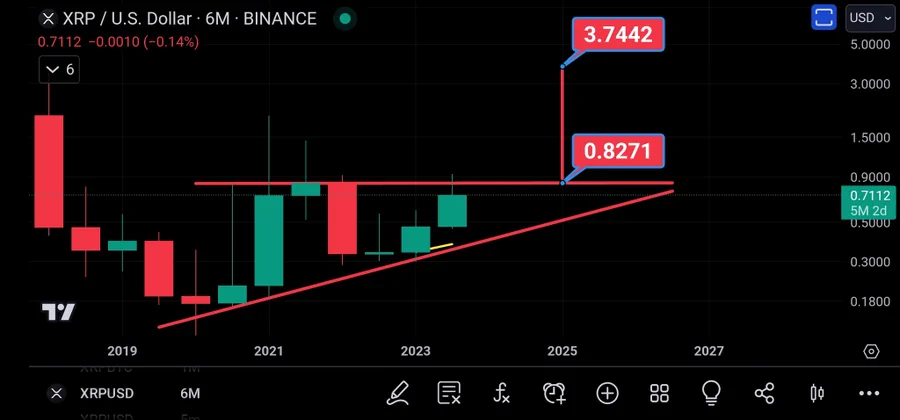 The chartist also highlights the presence of a possible double bottom on the six-month chart, which further strengthens the case for a bullish breakout. A double bottom pattern is a bullish reversal formation, suggesting that XRP may have found a strong support level, potentially leading to an upward trend.
The analysis sets a target of $0.8271 as an initial increase, followed by an eventual rally to $3.7442. However, the accompanying chart indicates that this projection is expected to materialize by 2025, which spans over a two-year timeframe.
XRP Community Chimes in
This elongated timeline has sparked concerns among some proponents, who hope the asset could break into the $3 territory in a shorter timeframe. Moreover, the projected pattern formation is incomplete, leading to fears of potential interim pullbacks before the breakout.
An anonymous XRP community member highlights the possibility of another downward leg to complete the ascending triangle structure, possibly leading to retests on lower timeframes.
Such pullbacks are not uncommon in technical patterns. They are seen as opportunities for traders to enter positions at more favorable price levels.
Responding to this observation, an Arizona-based XRP community influencer expresses optimism about the potential leg up but agrees that a pullback to the mid $0.60 or even $0.50 could occur before the anticipated rally. They mention that April 2024 might be favorable timing due to the Bitcoin halving event.
Another XRP proponent shares their insight, pointing out historical trends, suggesting that August and September are unfavorable for XRP. Consequently, they anticipate an initial drop to the $0.50 and $0.55 range before any significant upward movement.
Meanwhile, as of press time, XRP is trading for $0.7063, up 0.76% in the past 24 hours. The asset is down 3.85% over the last week as it struggles to hold above $0.70. XRP has failed to reclaim $0.80 since dropping below it on July 20. This reality has led to apprehensions of subsequent dips in the short term.
Follow Us on Twitter and Facebook.
Disclaimer: This content is informational and should not be considered financial advice. The views expressed in this article may include the author's personal opinions and do not reflect The Crypto Basic's opinion. Readers are encouraged to do thorough research before making any investment decisions. The Crypto Basic is not responsible for any financial losses.
-Advertisement-