Shiba Inu ecosystem token Bone ShibaSwap is now the biggest gainer among the top 100 assets, registering a 24% weekly gain amid Shibarium hype.
Bone ShibaSwap (BONE), the governance token for ShibaSwap and Shibarium gas token, has made significant strides recently. BONE is now the biggest gainer among the top 100 crypto assets, with a 24% weekly gain as the hype surrounding the Shibarium launch picks up.
BONE Now Top Weekly Gainer
Per data from leading price-tracking platform CoinMarketCap, BONE has surged 24.67% over the past seven days. This impressive rally makes the Shiba Inu ecosystem token the highest gainer on the 100 largest assets list in the last week.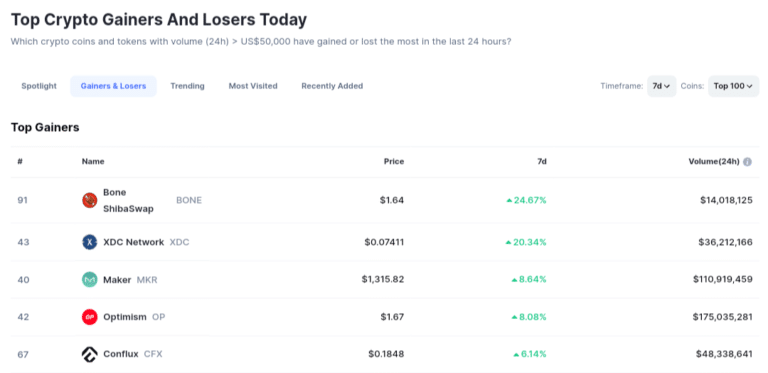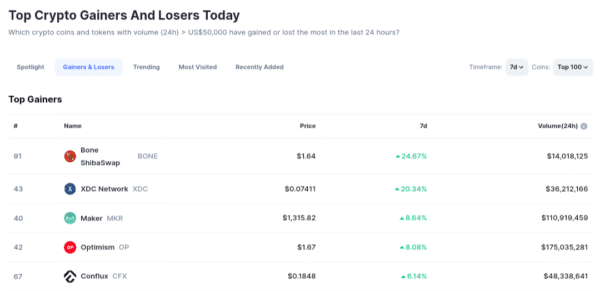 Notably, BONE towers over other prominent mainstream cryptocurrencies, such as XDC Network (XDC) and Maker (MKR), which respectively secure second and third positions with a 20.34% and an 8.64% appreciation over the last seven days. Optimism (OP) and Conflux (CFX) currently sit in the fourth and fifth positions.
BONE has outperformed the biggest names in the market in the past week, including Bitcoin (BTC) and Ethereum (ETH). The asset has leveraged the recent rally to break above $1.6 for the first time in nearly five months. The Crypto Basic called attention to the latest solo run last month, as BONE reclaimed the $1.4 territory.
BONE's Price Outlook
Following the report, the token built on the previous gains, pushing forward to reclaim the much-coveted $2 price. BONE skyrocketed to a high of $1.7460 yesterday but witnessed strong opposition at the price point. It dropped to a low of $1.5611, but a recovery saw it close the day at $1.6318, with a 1.10% loss.
The loss on August 2 broke BONE's seven-day daily winning streak. This winning streak contributed to its position as the biggest weekly gainer among the top 100. Despite the recent setback, the asset continues to trade above $1.6.
BONE is changing hands at $1.6315. In the 24-hour chart, the token is currently in a comfortable position, with its closest support at $1.49 stationed on the Fibonacci retracement level of 1. Should the bears breach this level, the support zones at $1.4218 and $1.3682 would come into play.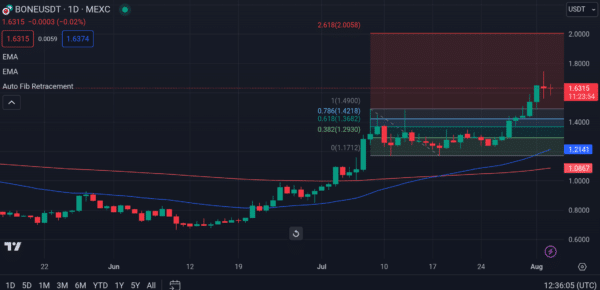 At its current value, BONE comfortably sits above the 50-day EMA ($1.2141) and the 200-day EMA ($1.0867). This position signals bullishness in the short and long terms. Notably, the recent momentum coincides with plans to renounce the BONE contract.
Follow Us on Twitter and Facebook.
Disclaimer: This content is informational and should not be considered financial advice. The views expressed in this article may include the author's personal opinions and do not reflect The Crypto Basic's opinion. Readers are encouraged to do thorough research before making any investment decisions. The Crypto Basic is not responsible for any financial losses.
-Advertisement-