Prominent trader and analyst give two main reasons for the recent XRP retracement, identifying attractive entry points for the asset on the weekly timeframe.
In a recent analysis by the prominent crypto trader and analyst Michaël van de Poppe, he shed light on the factors influencing the downward trajectory of XRP following the rally triggered by a favorable Ripple case ruling.
Investors' confidence has waned as the US SEC contemplates appealing the verdict, leading to persistent selling pressure. As a result, XRP has experienced a 33% decline from its peak at $0.9380 on July 13.
Reasons Behind XRP Retracement
According to van de Poppe's analysis, there are two primary reasons behind the retracement. First, long-term investors who held onto XRP for approximately 1.5 years are now taking the opportunity to exit their positions.
What about $XRP?

It's retracing it's entire move.

Why is that?
– Investors finally getting the chance to get out after holding for 1.5 years.
– Buyers not stepping in due to lack of confidence.

Therefore, spot for obvious entry points.

The weekly timeframe has one. pic.twitter.com/yCwIGbnpPA

— Michaël van de Poppe (@CryptoMichNL) August 6, 2023
It is essential to note that the recent rally skyrocketed XRP to highs not witnessed in over one year. The last time XRP saw the $0.9 territory was in March 2022. Investors who procured XRP within this period leverage the opportunity to exit the market. This trend mounts selling pressure, contributing to the price decline.
Secondly, there is a lack of confidence among potential buyers, leading to their hesitation to step into the market. The SEC's possible appeal has contributed to this lack of confidence. Moreover, the recent decision by Judge Jed Rakoff in the SEC vs. Terra case has further triggered uncertainty.
Entry Point Identified
Investor sentiment and external factors, such as developments surrounding the SEC lawsuit, will continue influencing XRP's price movements. Amid corrections like this, seasoned traders like van de Poppe look for historical support zones to identify entry opportunities.
In this instance, van de Poppe highlights the weekly timeframe. He suggests that such periods often present apparent opportunities for strategic entry.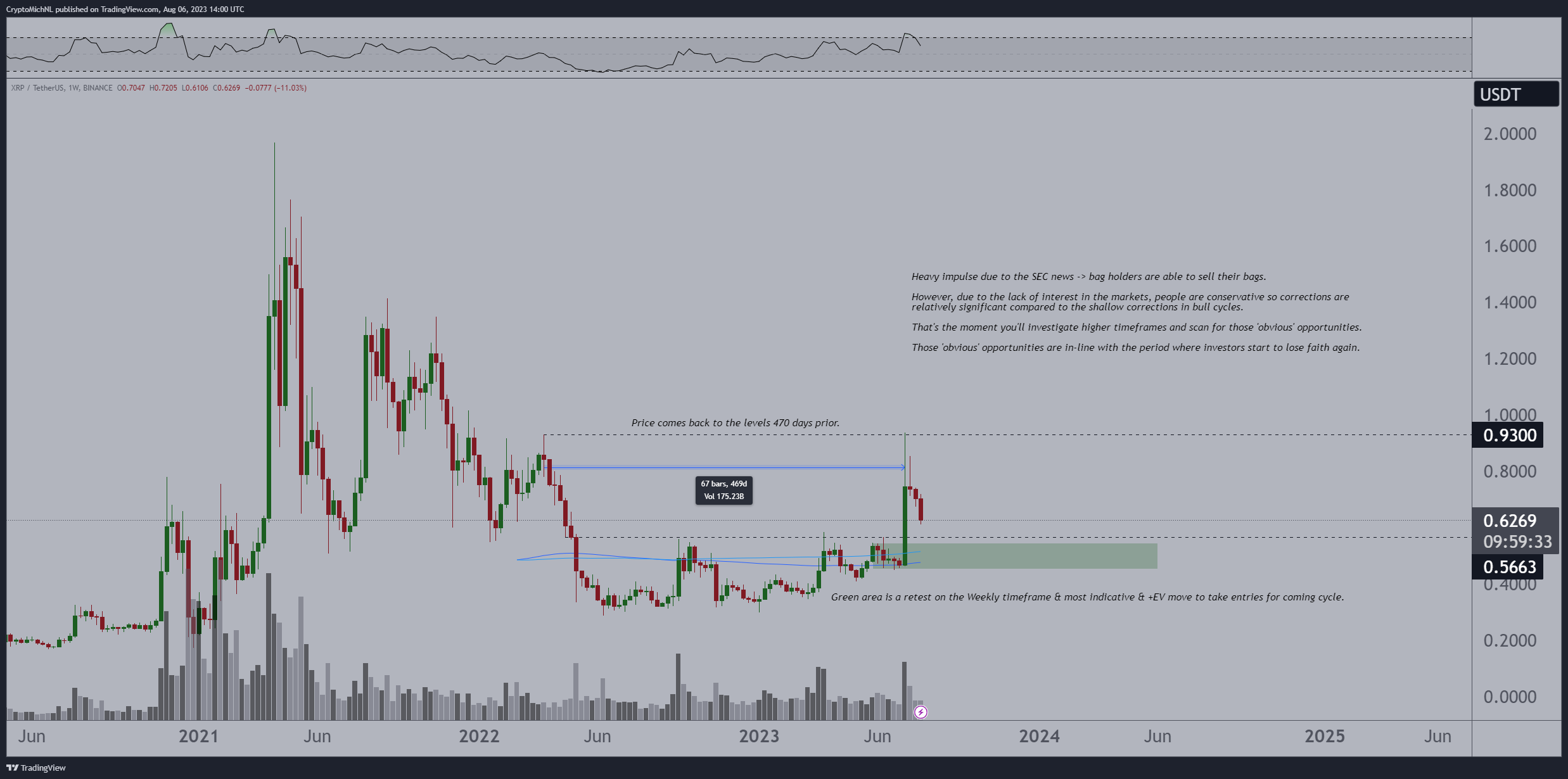 The accompanying image shared by the analyst features a weekly XRP chart. He emphasizes that due to the current conservative sentiment in the market, corrections during this bearish phase are more significant compared to shallow corrections seen in bull cycles.
The key takeaway is that as investors start losing faith, the price retraces to levels observed around 470 days prior. Van de Poppe marks a green area, representing a price range of $0.45 to $0.56. According to him, this green area is a potential retest on the weekly timeframe and the most indicative entry point for the upcoming cycle.
However, it is essential to note that the crypto market remains highly volatile and largely unpredictable. As a result, investors should consider this a mere educational analysis of XRP's price trajectory and not investment advice.
Meanwhile, XRP has held up well above the $0.62 price territory. The asset is changing hands at $0.6260 at the time of reporting, down 10.75% over the past week. Despite the ongoing retracement, XRP retains a 33.85% gain in the last 30 days.
Follow Us on Twitter and Facebook.
Disclaimer: This content is informational and should not be considered financial advice. The views expressed in this article may include the author's personal opinions and do not reflect The Crypto Basic's opinion. Readers are encouraged to do thorough research before making any investment decisions. The Crypto Basic is not responsible for any financial losses.
-Advertisement-