Amid the latest XRP recovery campaign, a prominent market watcher has revealed new resistance and support levels worthy of note.
Following persistent declines, XRP is looking to recoup the losses of the past few days. Amid this recovery campaign, notable analyst Dark Defender has revealed new resistance and support levels for market participants to note.
The analyst recently took to X to call attention to these current levels. He emphasized that signs from XRP's daily chart point to a positive price outlook, as the daily wave trend boasts a green signal.
Daily #XRP Wave Trend Signals Green.#Targets:

R: $0.60442, $0.66492 short term#Supports:

S: $0.52862, $0.39169

Above $0.93, we will hit $1.33 first then $1.88. pic.twitter.com/DpH38yojOJ

— Dark Defender (@DefendDark) August 23, 2023
Support and Resistance Points
According to Dark Defender, XRP's first support level currently stands at $0.52886. Trading for $0.5276, XRP is now below this support point, having shed off some of the gains accumulated yesterday.
A positive start to the morning saw XRP rise to $0.5368. However, the asset is now on a downward slope, with the support at $0.52886 compromised. The next line of defense sits at $0.39169.
If XRP rebounds, Dark Defender believes the first fierce resistance the asset would face is at $0.60442. The last time XRP witnessed this price was over a week ago. 
Despite trading below this value for eight days, XRP has the potential to surpass it should the recovery extend. Recovering the first resistance point would bring the next target at $0.66492 in view. According to Dark Defender, these are the short-term targets.
For the long term, the analyst believes XRP could reach parity with the dollar and overtake it. Recall that XRP soared to $0.9380 on July 13 following the positive ruling from Judge Analisa Torres. 
Dark Defender sets a first target of $1.33 when XRP overcomes the resistance at $0.93. If the asset towers over the $1.33 price point, the analyst sees a rally to $1.88. This would represent a 258% rally from XRP's current price.
XRP Price Outlook
XRP's recent recovery move follows a downturn that began on August 15. XRP had held above the $0.60 psychological support, hedging against dips below the level. 
However, the bears compromised this support level when the downturn kicked in on August 15. XRP eventually lost $0.60 on August 16, dropping to a two-month low of $0.4226 the following day. Despite a mild recovery from this low, XRP remained bearish.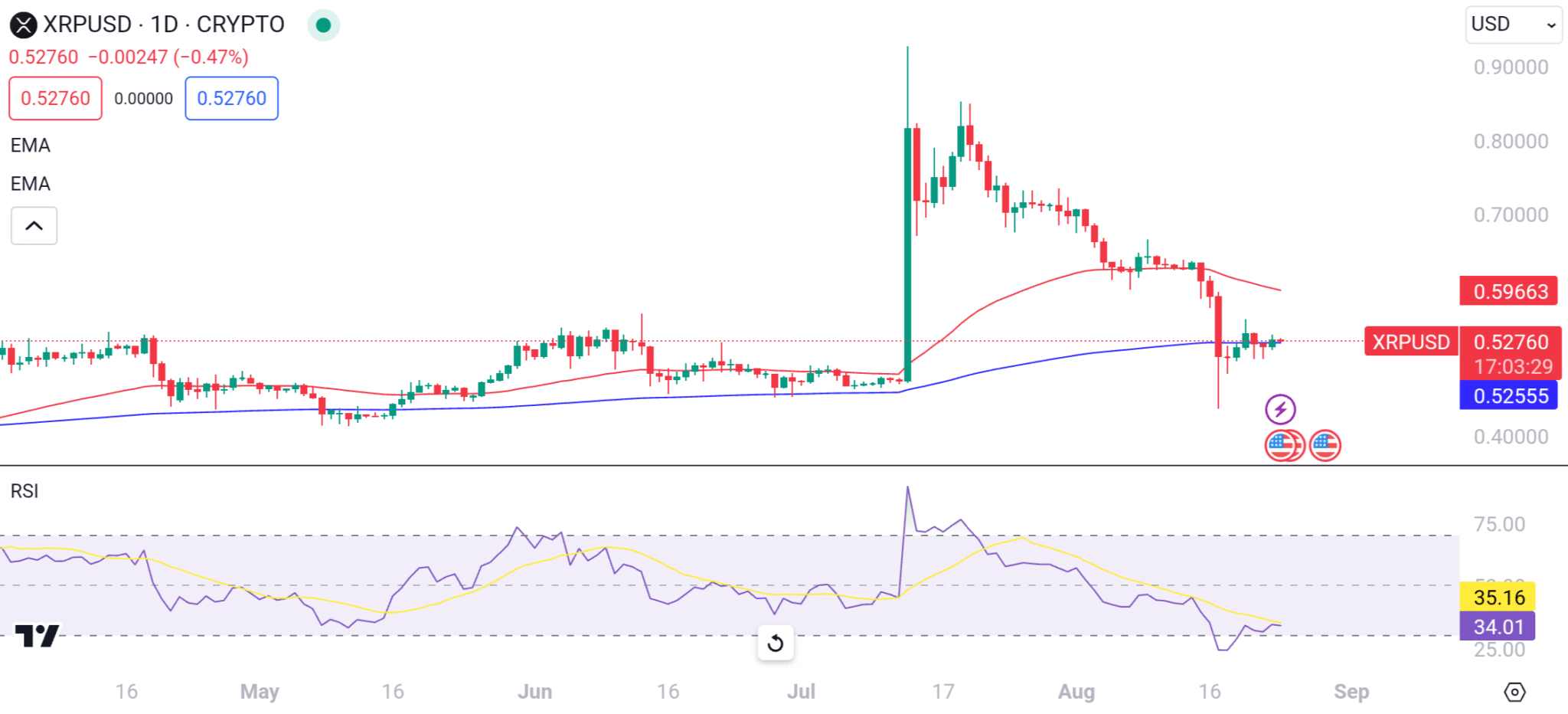 Now, amid a recovery stationed by the market, XRP is on a path to recoup these lost values. However, caution is advised, as the extent of this recovery campaign remains to be seen.
XRP is trading for $0.5276, down 0.47 in the past 24 hours. The asset is facing a discouraging 9% drop in the last seven days. Despite this bearishness, XRP trades above the 200-day EMA ($0.5255) while below the 50-day EMA ($0.5966).
XRP's position below the 50-day EMA and the tumbling daily RSI signal bearish sentiments in the market. At an RSI of 35, XRP is a few points away from the oversold territories, which would suggest a looming trend reversal.
Follow Us on Twitter and Facebook.
Disclaimer: This content is informational and should not be considered financial advice. The views expressed in this article may include the author's personal opinions and do not reflect The Crypto Basic's opinion. Readers are encouraged to do thorough research before making any investment decisions. The Crypto Basic is not responsible for any financial losses.
-Advertisement-