CryptoQuant Head of Research Moreno has provided data addressing concerns of a bank run on Binance amid growing allegations surrounding the exchange.
Amid growing concerns surrounding Binance, Julio Moreno, the Head of Research at CryptoQuant, has offered a comprehensive analysis, debunking the notion of a bank run at the exchange.
Contrary to claims that Binance was facing a bank run, Moreno's evaluation, shared on X (formerly Twitter), presents a different perspective. 
"Binance is experiencing a bank run".

1. No. Reserves are still moving within historical patters. Since 2018, Binance's Bitcoin reserves have never declined beyond 16% from their previous All-time-high.
This would be the metric to watch.

2. For comparison see this metric for… pic.twitter.com/BKIJZ7L4qx

— Julio Moreno (@jjcmoreno) August 24, 2023
According to his findings, historical patterns indicate that Binance's Bitcoin reserves have not derailed from the usual patterns. The chart corroborates claims that the exchange's BTC reserves have not seen unprecedented declines.
Notably, the reserves have not plummeted beyond 16% from their previous all-time high since 2018. Monero emphasizes that market participants should closely monitor this benchmark as a critical metric.
Moreno compares Binance and FTX, Sam Bankman-Fried's collapsed crypto empire, to add context to his data.
He highlights that FTX's reserves never rebounded after declining by 50% from their all-time high in August to September 2021. This contrast underscores the resilience and consistency displayed by Binance's reserves.
Allegations Surrounding Binance
At the center of these discussions lie claims that Binance CEO Changpeng Zhao is offloading Bitcoin holdings to prop up the exchange's native token, BNB, and maintain its position around the $200 mark. 
Amid these allegations, prominent figures within the crypto community have voiced concerns over Binance's credibility. 
Veteran trader Peter Brandt labeled Binance a global scam, particularly targeting BNB. Brandt's remarks were a response to Mike Alfred's claims that Changpeng Zhao was strategically selling BTC to safeguard BNB. 
Alfred, in turn, predicted that Binance could halt customer withdrawals, urging investors to exit the platform preemptively.
A few individuals have reported difficulties with withdrawals from Binance. Some of these claims appear genuine. However, skepticism has emerged regarding the authenticity of others.
Investigations have revealed that some screenshots circulating in support of withdrawal issues had been digitally manipulated.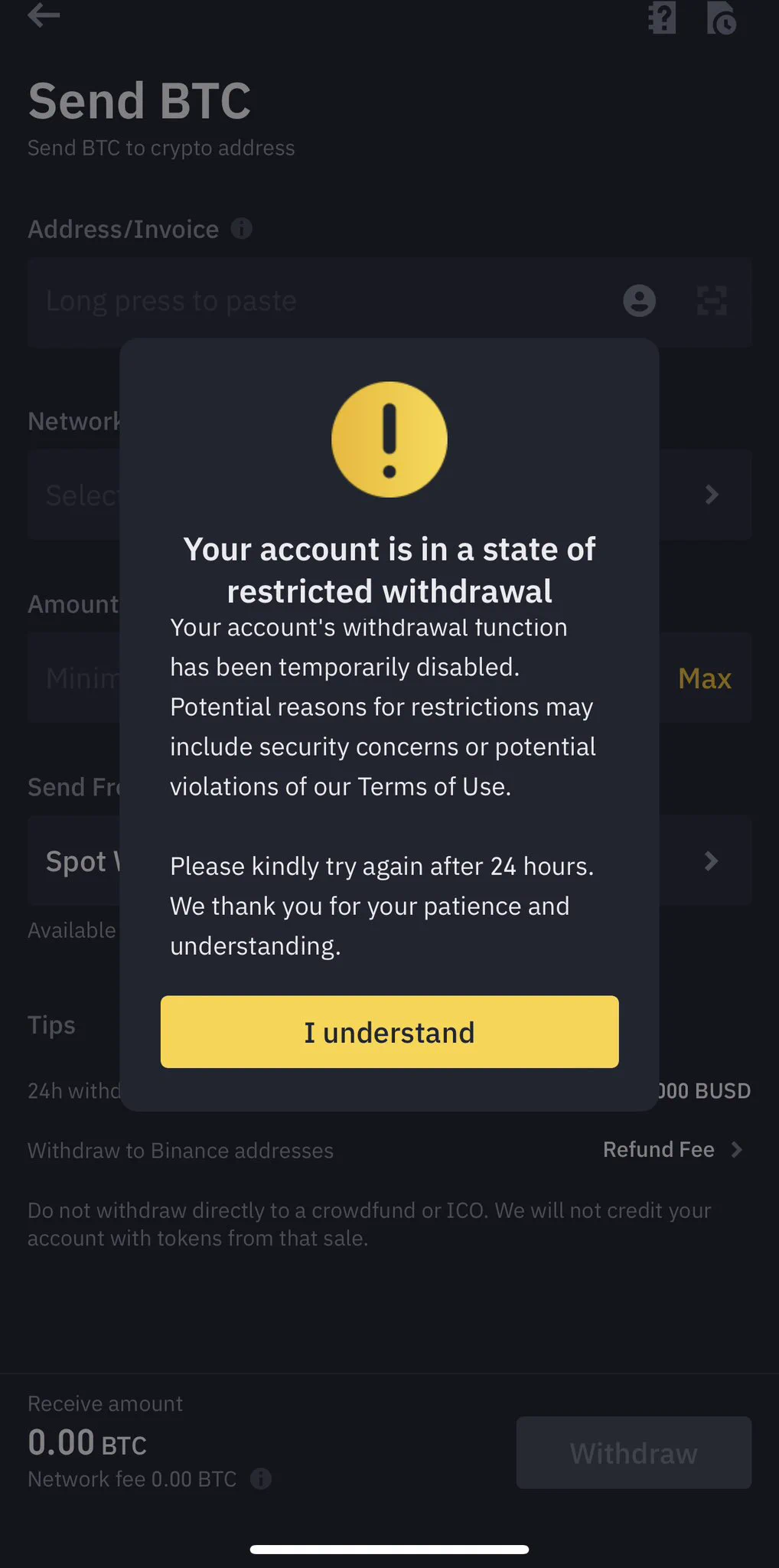 Furthermore, some of the accounts raising alarms are automated bot accounts. This has prompted some to speculate that these claims might be part of a coordinated effort to spread FUD. However, this remains speculative.

Adding to the chorus of concerns, prominent figures in the crypto community have engaged in the discussion. Marty Bent, co-founder of The Standard BTC, and others addressed the possibility of a bank run during a segment of the Rabbit Hope Recap podcast. 
RHR #267: Bank Run on Binance? with @ODELL and @MartyBent https://t.co/5flwNpzCf4

— Rabbit Hole Recap (@rabbitholerecap) August 24, 2023
The rising worries within the community compelled Julio Moreno to step forward with his comprehensive report as a counterpoint to the apprehensions expressed in the podcast.
Past Concerns
This would not be the first round of concerns raised about Binance. The exchange came under more intense scrutiny last December on the heels of the FTX collapse, as investors became more alert to potential implosions.
Binance recorded its largest intraday BTC withdrawal on December 13, totaling 39,637 BTC. However, Binance Chief Zhao remained confident, noting that he is very welcoming of the practice to "stress test" exchanges at times.
These mass withdrawals stemmed from growing concerns surrounding the exchange after it temporarily halted USDC outflows. Binance was able to process all withdrawals without issues. 
Shortly after the mass exodus of funds, a CryptoQuant report confirmed no shady on-chain activities with the exchange. Zhao also revealed that things had stabilized.
Follow Us on Twitter and Facebook.
Disclaimer: This content is informational and should not be considered financial advice. The views expressed in this article may include the author's personal opinions and do not reflect The Crypto Basic's opinion. Readers are encouraged to do thorough research before making any investment decisions. The Crypto Basic is not responsible for any financial losses.
-Advertisement-