Assessing the potential of Shibarium to help Shiba Inu hit a price of $0.001 or $0.0001.
Shiba Inu is up in the last 24 hours by 2.12%. This uptick comes after the Shiba Inu team shared that Shibarium has successfully relaunched for public benefit. The re-launch comes after initial challenges that arose upon the first launch.
Prior to Shibarium going live, several Shiba Inu community members speculated about the potential of Shibarium to propel the price of Shiba Inu. 
Shibarium vs Shiba Inu Price
It is crucial to stress that Shibarium's primary goal is not around artificially inflating the value of Shiba Inu. Instead, the project is about enriching the Shiba Inu ecosystem. It includes reducing transaction costs and enhancing transaction time, alongside bringing more utility to the ecosystem.
Despite not being primarily designed to inflate Shiba Inu's price, Shibarium's offerings could stimulate demand for Shiba Inu, potentially leading to an uptick in its value.
Nonetheless, it is crucial to note that the extent of Shibarium's influence hinges on the level of adoption. Interestingly, this is already materializing.
On Tuesday, The Crypto Basic reported that Shibarium reached a new milestone demonstrating the surging interest in the SHIB ecosystem. In particular, Shibarium wallets surpassed 100k. This value is particularly significant given that The Crypto Basic reported 48k wallets the previous week.
Impact on Shiba Inu
According to data from CoinMarketCap, Shiba Inu's trading volume has grown by over 37.22% in the last 24 hours. This puts Shiba Inu as the nineteenth most traded crypto among over 20k coins on the market.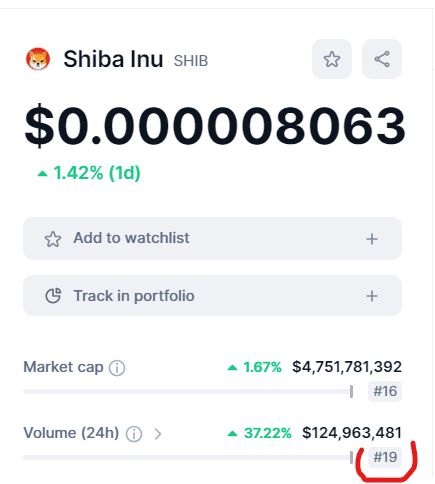 Additionally, since the first unveiling of Shibarium, no fewer than 33 trillion Shiba Inu tokens have been shifted from their previous idle locations. Whale Alert captured the movement of major Shiba Inu investors in multiple tweets between August 17 to 23.
Shibarium went live for the first time on August 16. Since then, 33,324,070,168,510 SHIB tokens have shifted locations.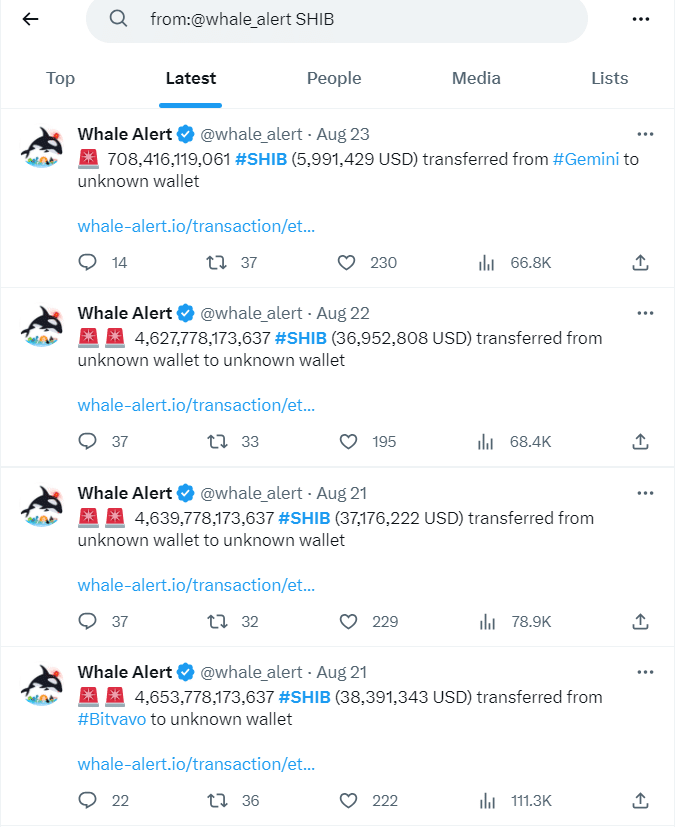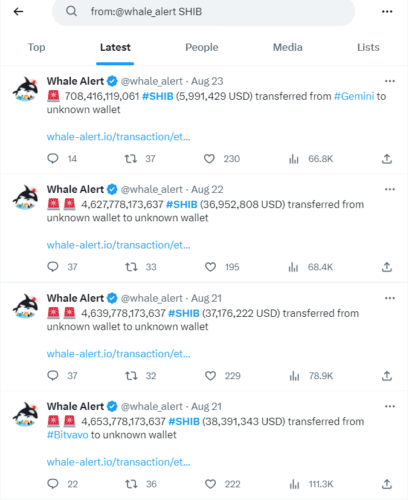 Amid the growing adoption rate of Shibarium, its impact on Shiba Inu remains to be seen. At its current price, a rally to $0.001 would require a 12,302% increase while a surge to $0.0001 demands an appreciation rate of 1,140%. It remains unclear if SHIB can hit these targets.
Ultimately, as the broader crypto community's interest in Shiba Inu increases following Shibarium, the events are expected to impact the value of SHIB. As The Crypto Basic reported, an expert recently argued that Shibarium will see Shiba Inu to $0.01.
Follow Us on Twitter and Facebook.
Disclaimer: This content is informational and should not be considered financial advice. The views expressed in this article may include the author's personal opinions and do not reflect The Crypto Basic's opinion. Readers are encouraged to do thorough research before making any investment decisions. The Crypto Basic is not responsible for any financial losses.
-Advertisement-