A prominent crypto influencer predicts an XRP price explosion as investors believing in its long-term potential continue to amass the asset for six years.
In a recent tweet, prominent crypto influencer John Squire highlighted a noteworthy observation about XRP's state in the market. Squire particularly drew attention to the extended period of accumulation that XRP has undergone for the past few years.
According to him, XRP has been in an accumulation phase for about six years. He argued that the uptrend following this prolonged phase would be phenomenal, surpassing the predictions and anticipations of market participants. 
In his words, "The explosion will exceed all expectations."
Are people even aware that $XRP has been in an accumulation phase for probably about 6 years?

The explosion will exceed all expectations.

— John Squire (@TheCryptoSquire) September 12, 2023
XRP Accumulation Phase
Notably, an asset in an accumulation phase implies it has been in a relatively stable or sideways price movement after a previous uptrend or downtrend. In the case of XRP, the last significant uptrend was in 2018, when it touched an all-time high (ATH).
However, through the years, XRP's value regressed from the $3.8 ATH to its current position of $0.477. Experts have argued that these periods of passive performances indicate traders and investors are stockpiling XRP at what they perceive to be favorable prices.
The goal is to accumulate a significant position before the next potential price move.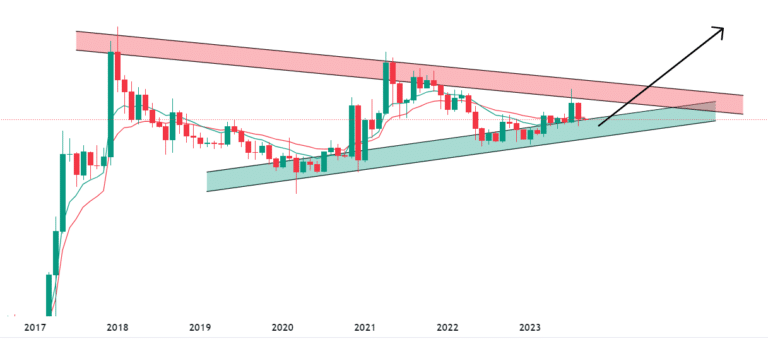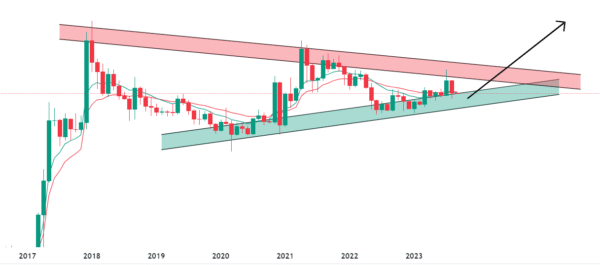 Meanwhile, Squire is not the only top pundit with the sentiment that XRP could break out significantly after the prolonged downturn. Many analysts have highlighted that XRP's six-year candlestick patterns have formed a design similar to the type witnessed just before its 2018 ATH bull run.
The formed pattern is called a symmetrical triangle, as depicted in the chart below.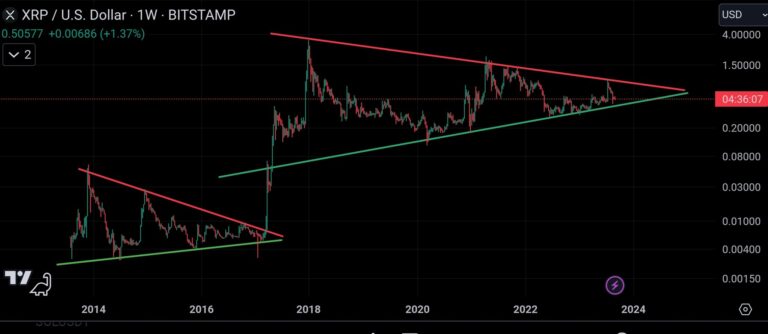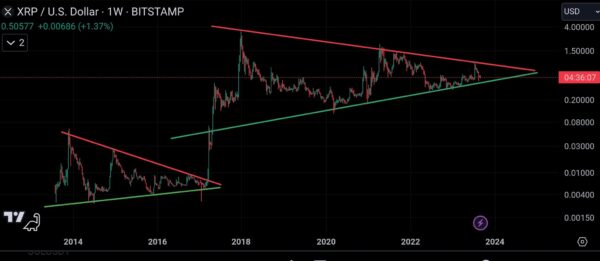 While Squire gave no particular XRP price target to look for, other analysts believe double and triple-digit gains for XRP are within reach.
Interestingly, some other experts projecting XRP increased value completely ignore the chart patterns. They base their XRP outlook on asset's economic solutions. As The Crypto Basic reported, a banking expert argued that XRP's place in the cross-border payment landscape could see its value above $500.
Follow Us on Twitter and Facebook.
Disclaimer: This content is informational and should not be considered financial advice. The views expressed in this article may include the author's personal opinions and do not reflect The Crypto Basic's opinion. Readers are encouraged to do thorough research before making any investment decisions. The Crypto Basic is not responsible for any financial losses.
-Advertisement-