TrueUSD (TUSD) has witnessed a crash in its daily market share on the world's largest exchange Binance, slumping from over 30% to 5.6%.
Notably, TUSD has continued to lose more market share on the world's largest exchange since early this month, per recent data from the market intelligence provider Kaiko.
As a result of the persistent decline, BUSD, whose market share has remained fairly stable, has now overtaken TUSD in market dominance for the first time in four months. TUSD only towers above First Digital USD (FDUSD) and USD Coin (USDC) in dominance.
#TUSD market share on Binance has collapsed from more than 30% to just 5.6%, now even lower than BUSD's for the first time since May. pic.twitter.com/lzyCyvrG4p

— Kaiko (@KaikoData) September 15, 2023
TUSD has been relinquishing its market share on Binance to Tether (USDT), the largest stablecoin by market cap. Remarkably, USDT has dominated the entire stablecoin market on the exchange, with its share recently soaring to the 80% mark. 
Interestingly, despite FDUSD witnessing a lower market volume overall, the BTC/FDUSD trading pair commands a greater volume than the BTC/TUSD pair. BTC/FDUSD boasts a 24-hour volume of $345.64 million, while BTC/TUSD only sees $156.22 million in volume.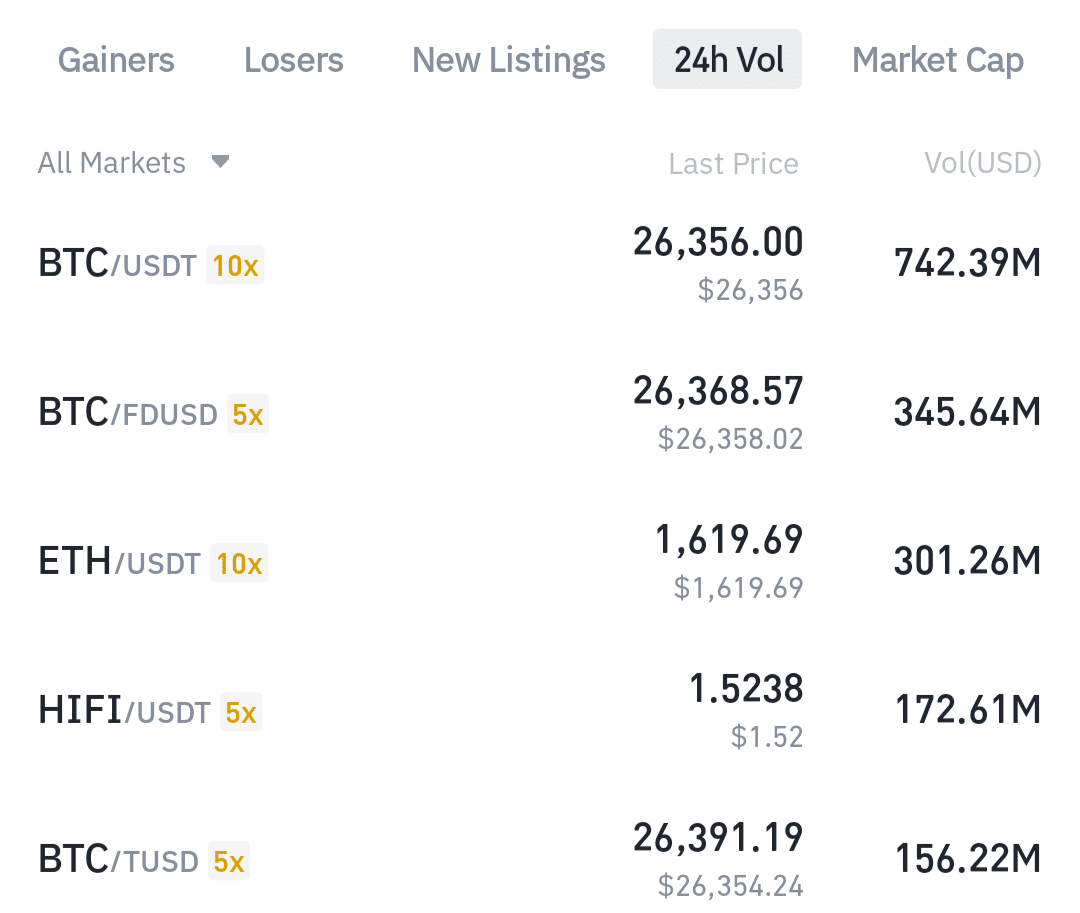 Possible Triggers
This prevailing drop in TUSD volume on Binance comes shortly after the exchange re-introduced taker fees for the BTC/TUSD pair. Recall that Binance had removed maker and taker fees on BTC/TUSD on March 11. The exchange also removed maker fees for all trading pairs with TUSD in June.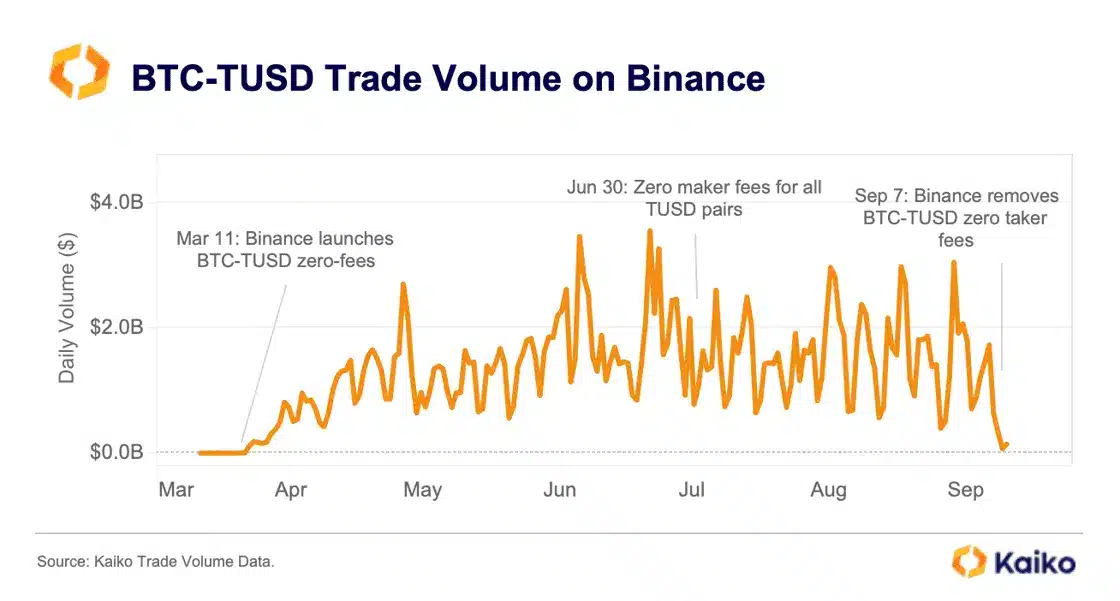 However, Binance decided to re-introduce taker fees for the BTC/TUSD pair last week, allowing only zero maker fees. Meanwhile, the BTC/FDUSD pair enjoys both zero maker and taker fees. This has contributed to the shift in investor interest. The BTC/TUSD pair saw a rapid decline in volume.
Furthermore, the shift could have been compounded by concerns surrounding TUSD following regulatory issues faced by Prime Trust, a partner to TUSD's issuer, Trust Token. In June, Trust Token had to suspend redemption and minting of TUSD through Prime Trust.
Announcement:

TUSD mints via Prime Trust are paused for further notification.

Thanks for your understanding and we are sorry for any inconvenience. Please contact [email protected] for any further questions.

— TrueUSD (@tusdio) June 10, 2023
However, the TrueUSD team assured that the minting of the stablecoin through other partners will continue. The team emphasized that Prime Trust's regulatory issues do not affect TUSD or its general operation.
Nonetheless, amid the growing concerns, TUSD de-pegged on Binance.US. The stablecoin dropped to $0.80 on the exchange before eventually picking up. Also, in July, Kaiko raised concerns about its relative lack of transparency compared to other stablecoins.
Recall that TUSD gained the spotlight in February when Binance adopted it after abandoning BUSD due to regulatory issues Paxos faced with the NYDFS. Binance also minted $50 million in TUSD in February. 
The adoption by Binance and the zero-fee trade promotion skyrocketed the stablecoin's volume. Now, it is facing persistent declines.
Follow Us on Twitter and Facebook.
Disclaimer: This content is informational and should not be considered financial advice. The views expressed in this article may include the author's personal opinions and do not reflect The Crypto Basic's opinion. Readers are encouraged to do thorough research before making any investment decisions. The Crypto Basic is not responsible for any financial losses.
-Advertisement-