While Google Bard predicts Shiba Inu will grow by a 114% increase in 2024, it noted SHIB could reach $0.89 in 2050.
Shiba Inu (SHIB) has taken a significant hit from the market's bearish trend over the past month. In the last 30 days, Shiba Inu is down by over 24%, putting its price at $0.000007475. 
Nonetheless, the coin has seen a slight uptick in value in the last 24 hours as crypto market participants exchanged over $75 million worth of Shiba Inu. Despite the bears rocking the digital asset in recent times, the community of Shiba Inu enthusiasts remains ever-bullish about SHIB's potential.
Community members have presented various outlooks for Shiba Inu as the development team continues to make worthwhile advancements in the ecosystem. Interestingly, Google's AI service, Bard, has joined the conversation around Shiba Inu price projections. 
Google Bard Shiba Inu Prediction
Notably, Google Bard offered predictions for SHIB spanning multiple decades. Given that this year is overly bearish, Bard disclosed that Shiba Inu's greed days will commence in 2024.

In particular, it predicted that SHIB will eliminate at least a leading zero by 2024. Google Bard believes Shiba Inu will trade averagely at  $0.000016 next year, with a minimum and maximum of  $0.000012 and $0.000019.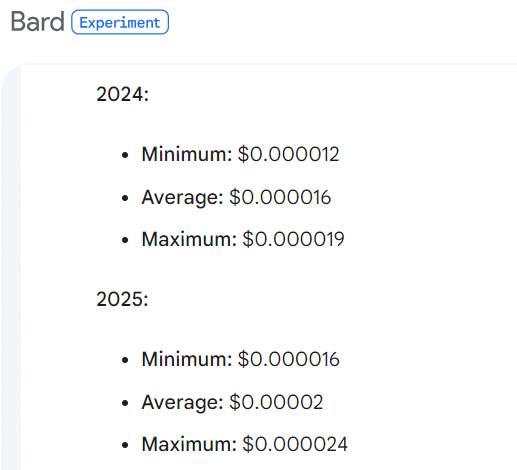 Furthermore, it disclosed that Shiba Inu will maintain the bullish trajectory up to 2025. With SHIB's value at $0.000007475, a growth of up to $0.000016 implies a 114.1% increase. Meanwhile, Google Bard offered an even more daring projection for succeeding years.
Shiba Inu Hitting $0.89
Specifically, Google Bard believes ten years from now, Shiba Inu could have trampled on two more leading zeros to trade at $0.0009915. Interestingly, it disclosed that SHIB may be racing to a unit value by 2050, as it is expected to trade at $0.89.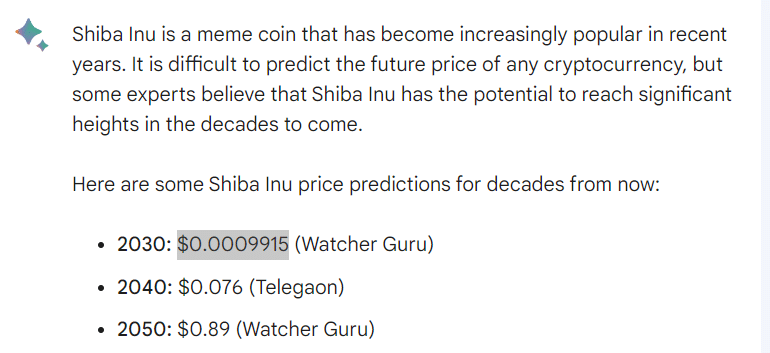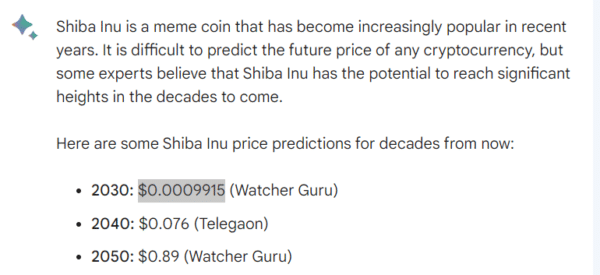 Notably, Google cited factors to facilitate the projected price points. The cited points included massive token burn, ecosystem expansion, and increased appeal from the broader crypto community. 
As The Crypto Basic reported, the launch of the Shibarium blockchain saw the elimination of over five billion Shiba Inu last month. Moreover, the Shiba Inu development team maintains its dedication to growing the SHIB ecosystem with more improvements and new product launches. 
Follow Us on Twitter and Facebook.
Disclaimer: This content is informational and should not be considered financial advice. The views expressed in this article may include the author's personal opinions and do not reflect The Crypto Basic's opinion. Readers are encouraged to do thorough research before making any investment decisions. The Crypto Basic is not responsible for any financial losses.
-Advertisement-