XRP has kickstarted a journey that could see it embark on a historic rally, according to notable crypto analyst EGRAG, who sets up an ultimate target of $7.
EGRAG's analysis examined XRP's movements on the monthly chart. He revealed that since the lows of June, XRP has been steadily advancing along its trajectory, and, in his words, "the train has officially left the station and is on its way to Valhalla."
The analyst stresses that XRP could drop to the $0.40 to $0.33 range. Notably, this range resides in a trendline, which EGRAG dubs Rail A. As recently reported by The Crypto Basic, the analyst previously stressed that XRP could drop to these levels.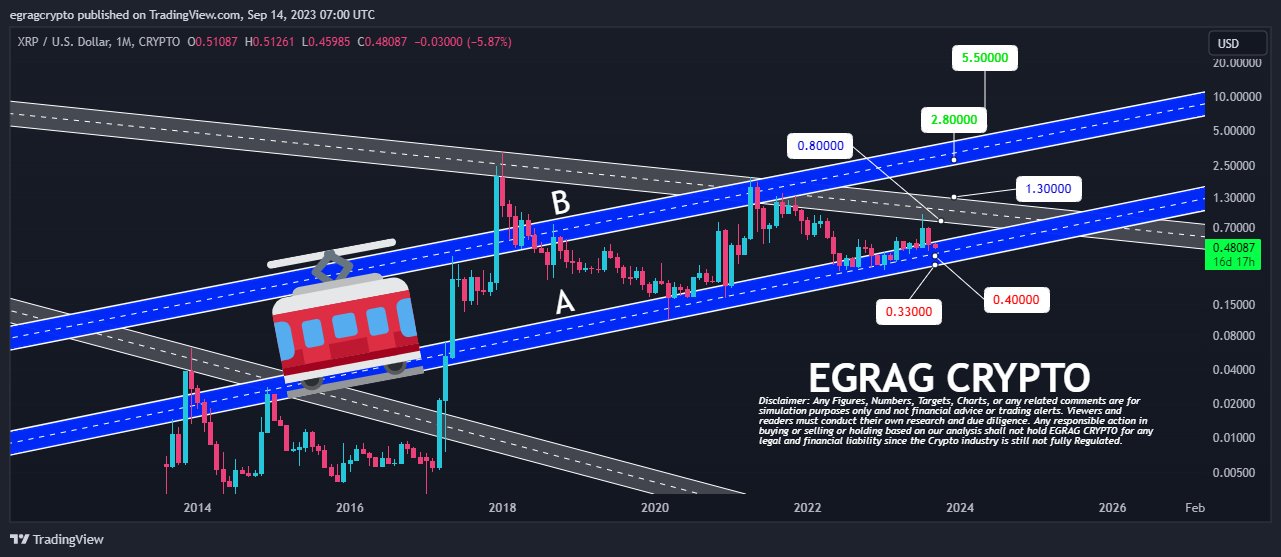 Despite the possibility of such a drop, EGRAG remains resolute, leveraging dollar-cost averaging to stay composed. He is confident that XRP will ultimately break free from this range on its journey to new heights.
EGRAG sets his sights on specific price targets as XRP ascends. He identifies $0.80 and $1.3 as the next major hurdles when the asset breaks out of Rail A. He says conquering the $0.80 resistance is the first crucial step, with the second key resistance at $1.3.
XRP at Rail B
However, the real excitement begins when XRP breaches the $1.3 resistance. EGRAG envisions a scenario where XRP soars to Rail B, a trendline above Rail A. 
Here, the price projections become even more astonishing. EGRAG suggests that XRP could reach levels as high as $2.8, $5.5, or even a staggering $6 to $7. These projections would represent some monumental gains for investors.
EGRAG's ambitious targets imply substantial surges from XRP's current price, particularly the $7 target, which demands a 1,300% increase. When questioned about the timeline for these targets, EGRAG emphasized that such predictions come with inherent uncertainty.
Meanwhile, amid the backdrop of EGRAG's bullish analysis, XRP has managed to reclaim the $0.50 threshold, currently trading at $0.5005. This move follows a dip to the $0.4590 support on Sept. 11. XRP has recorded four consecutive days of gains since then. 
In the short term, the asset seeks to recover the losses incurred on Sept. 10 and 11. XRP has witnessed a 0.95% decline over the past week but has maintained a 3.74% gain in the last three months.
Follow Us on Twitter and Facebook.
Disclaimer: This content is informational and should not be considered financial advice. The views expressed in this article may include the author's personal opinions and do not reflect The Crypto Basic's opinion. Readers are encouraged to do thorough research before making any investment decisions. The Crypto Basic is not responsible for any financial losses.
-Advertisement-