Prominent market watcher EGRAG recently laid out a compelling case for XRP to rally to $1.4 amid projections that the Ultimate RSI indicator is moving towards oversold territories after 2,100 days.
EGRAG's analysis hinges on XRP's performance relative to the Fibonacci 0.5 level at $0.57. According to him, if XRP successfully closes above this level, accompanied by unmistakable confirmation, a surge to $1.4 could be imminent.
Delving deeper into EGRAG's analysis, the accompanying chart reveals a color-coded roadmap highlighting XRP's current position and potential direction. The chart illustrates four distinct zones below the $0.57 threshold, each represented by a different color.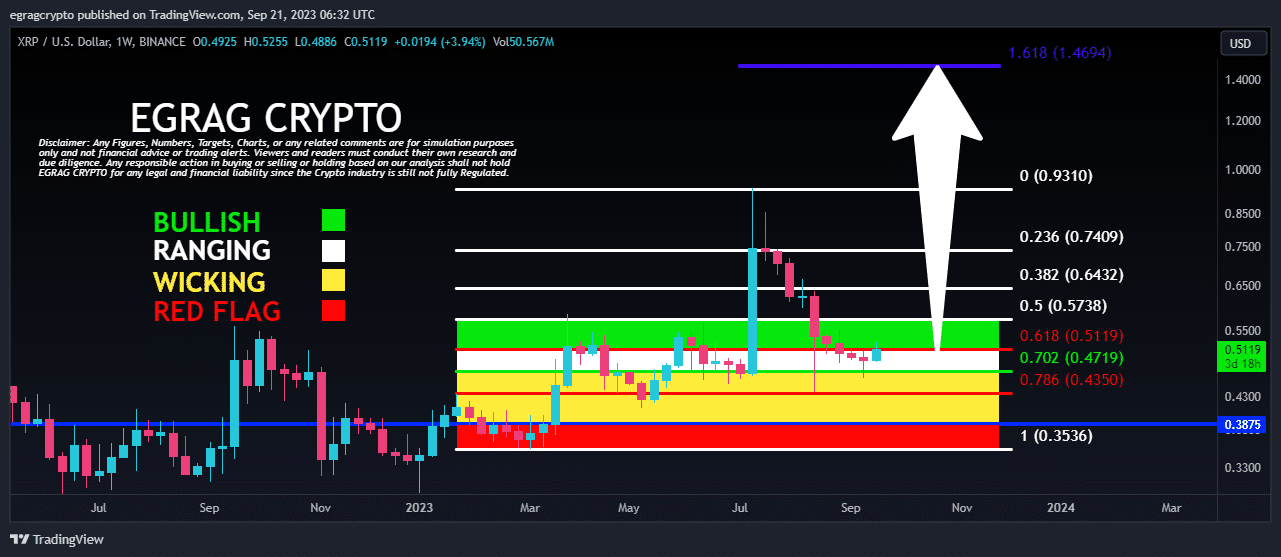 XRP Color-Code Roadmap
Firstly, there's the bullish green zone, spanning from $0.5119 to $0.5738. This zone signifies a bullish momentum, indicating that XRP may be gearing up for an upward movement.
Just below the bullish green lies the ranging territory, depicted in white. The zone lies within the price range from $0.4719 to $0.5119. Historically, XRP has spent significant time in this area, especially following the correction from its previous high of $0.93.
Moving further down the chart, the expansive yellow "wicking" area comes up, ranging from $0.3875 to $0.4719. This area serves as a cautionary zone, as XRP tends to enter it during periods of market uncertainty.
Lastly, the red flag territory, as the name suggests, is represented in red. It extends from $0.3536 to $0.3875. Whenever XRP enters this area, it signals that the bears have taken control of the market. Notably, XRP hasn't been in this zone since January.
Currently, XRP trades within the ranging area, hovering around the $0.5089 price. It recently breached this zone and ventured into the bullish green territory upon reclaiming $0.52. Nevertheless, the ascent met resistance, pushing XRP back into the ranging area.
Conditions for the $1.4 Target
For EGRAG's prediction to materialize, XRP must conquer the green zone and close above $0.57. It's worth recalling that EGRAG previously identified a formidable resistance point at $0.55, which could pose challenges on XRP's journey.
However, should XRP overcome this resistance and achieve a close above $0.57, EGRAG's rally to $1.4 projection gains significant credibility. This would require XRP to surge by an impressive 175% from its current price.
Additionally, EGRAG called attention to the Ultimate RSI, highlighting that XRP has failed to reach the oversold territory for 2,100 days or 69 months. He noted that XRP is now moving towards the oversold area, projecting a significant price shift once this occurs.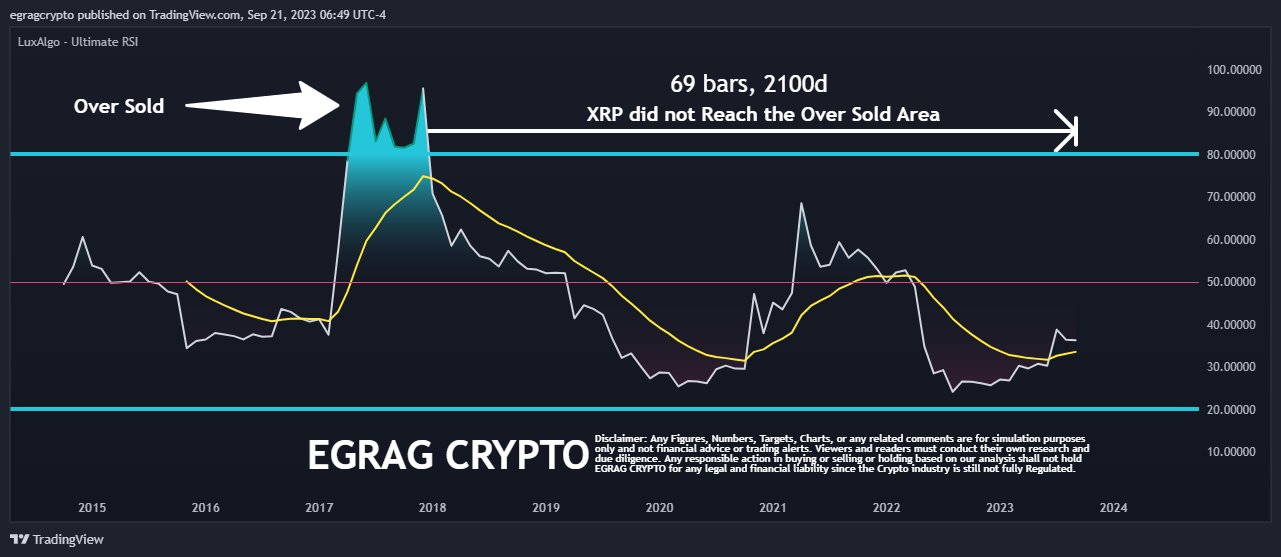 In one of his latest analyses, EGRAG also provided an update on the ASO indicator today, confirming that the bullish cross is getting closer. The analyst had previously noted that once the blue line of the indicator crosses above the pink line, it would signify that XRP is gearing for a massive move up.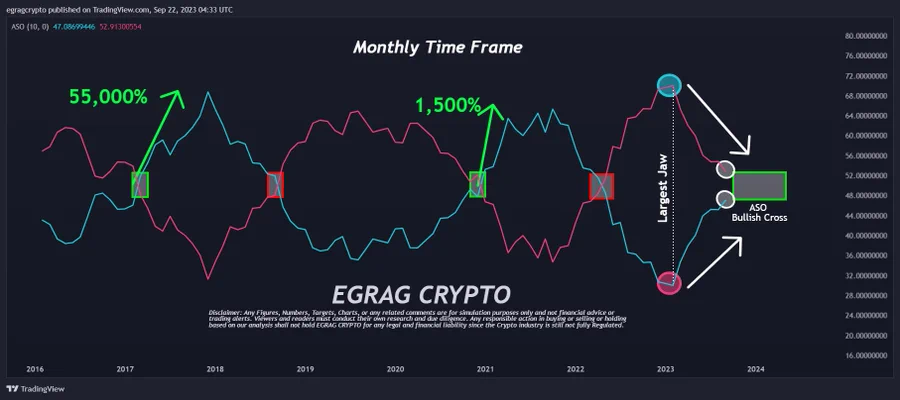 If XRP eventually reclaims the $1.4 target, it would support this crossover, ultimately leading to a more impressive rally. Meanwhile, XRP is down 0.92% over the past 24 hours, with a value of $0.5089 at the reporting time.
Follow Us on Twitter and Facebook.
Disclaimer: This content is informational and should not be considered financial advice. The views expressed in this article may include the author's personal opinions and do not reflect The Crypto Basic's opinion. Readers are encouraged to do thorough research before making any investment decisions. The Crypto Basic is not responsible for any financial losses.
-Advertisement-