Ripple recently released its Q3 2023 XRP Market Report, detailing several metrics in the third quarter, including the fact that XRP now commands 5% of trade volume on U.S. exchanges.
The report spotlighted a series of charts and tables to illustrate the dynamics of the XRP market throughout Q3 2023. According to the report, most of XRP's trading volume, about 60%, came from Binance, the world's largest exchange.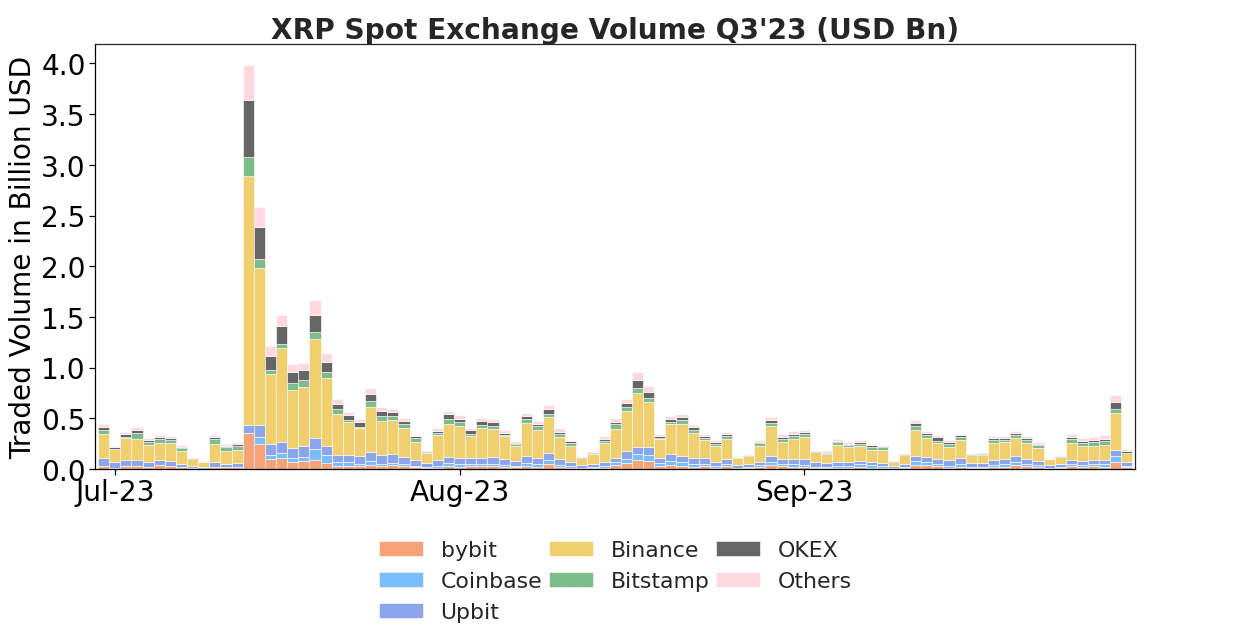 An interesting point from the report is XRP's resurgence in U.S.-based exchanges. Recall that exchanges such as Coinbase and Kraken re-enabled XRP trading after the July 13 ruling. Gemini, another U.S.-based trading platform, listed XRP for the first time shortly after.
Following this wave of extended support, U.S. investors got expanded exposure to XRP amid the price rally the asset witnessed. The latest Ripple report confirms that XRP trading volume surged to make up nearly 5% of all volume on U.S.-based exchanges.
Other Crucial XRP Metrics in Q3 2023
The report also highlighted XRP's price and realized volatility, noting that volatility saw significant spikes on two important dates: July 13 and August 17. The former was the day Judge Torres ruled that XRP is not a security, while the latter marked a significant risk-off move in the market.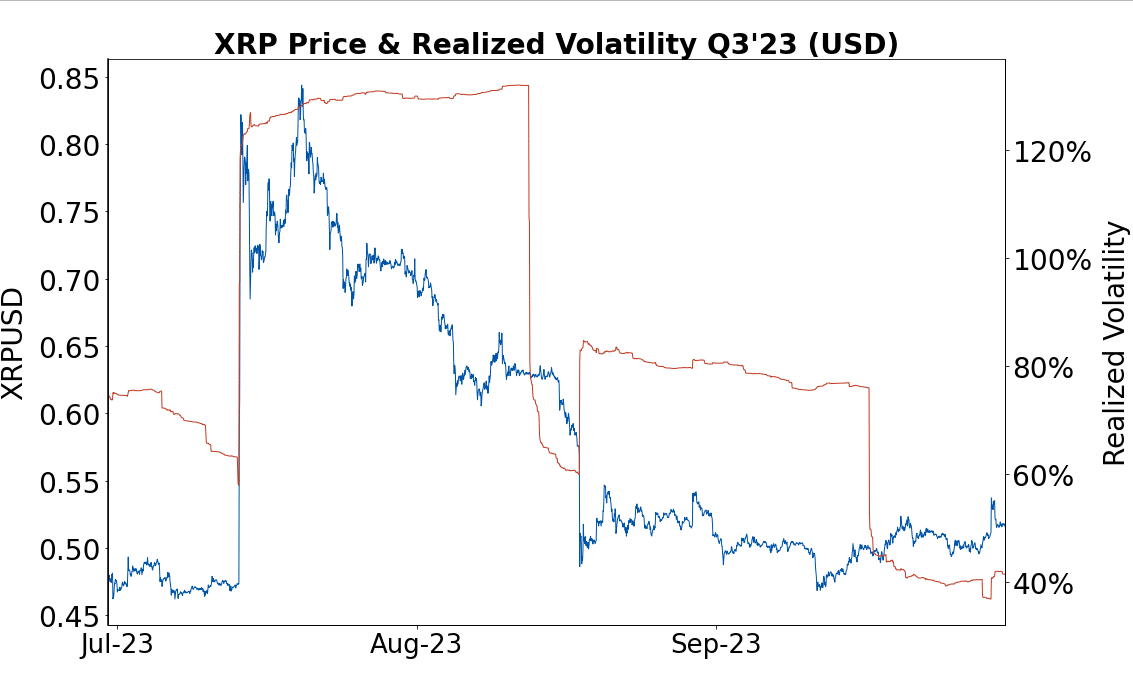 However, this metric dropped at the end of the quarter. Volatility surged above the 120% territory in August but slumped to a historic 40% toward the end of Q3. The provided chart shows that this drop in volatility started at the beginning of September and further became worse as the month came to a close.
Meanwhile, in a table that followed, Ripple showed a snapshot of major asset prices and volumes at the close of the third quarter. Notably, XRP boasted a 7-day ADV (Average Daily Volume) of $326 million, a 30-day ADV of $293 million, a 90-day ADV of $501 million, and a 365-day ADV of $657 million.
The report illustrated XRP's trading volume throughout the quarter. It spotlighted a notable spike in volume to $4 billion on July 13, the day of the pivotal court ruling. While volumes dropped following the spikes, they remained within the range of $300-400 million per day by the end of the quarter.
Ripple also highlighted a crucial aspect of XRP trading activity in the third quarter. Interestingly, most XRP trading now occurs with stablecoins, as opposed to fiat currencies. This was due to most exchanges facilitating XRP trading against USDT.
Follow Us on Twitter and Facebook.
Disclaimer: This content is informational and should not be considered financial advice. The views expressed in this article may include the author's personal opinions and do not reflect The Crypto Basic's opinion. Readers are encouraged to do thorough research before making any investment decisions. The Crypto Basic is not responsible for any financial losses.
-Advertisement-