The VeChain (VET) network is witnessing a rapid increase in interest and adoption, as market participants create over 21,000 new addresses in a day, bringing total wallets to $2.28 million.
The VeChain team revealed this remarkable feat in a post on X today, confirming that the network recently recorded an impressive addition of 21,381 addresses yesterday. Notably, at the time of the disclosure, total addresses had surged to 2,275,590 (2.275 million).
21k new wallets in a day – impressive numbers! Great to see our network growing stronger by the day.

If you're new to the ecosystem, check out some of our tools and resources:

Wallet (browser extension/mobile): https://t.co/jxKfLbLfNz

dApps: https://t.co/km6uryovub

Block/NFT… pic.twitter.com/imeTYNelN7

— vechain (@vechainofficial) November 3, 2023
However, current data puts this figure at 2,280,730 (2.28 million), marking an increase by over 5,000 addresses since then. Data from VeChainstats, a VeChain-focused analytical platform, reveals that daily new address count has reduced, but remains at an encouraging 15,071 addresses a day.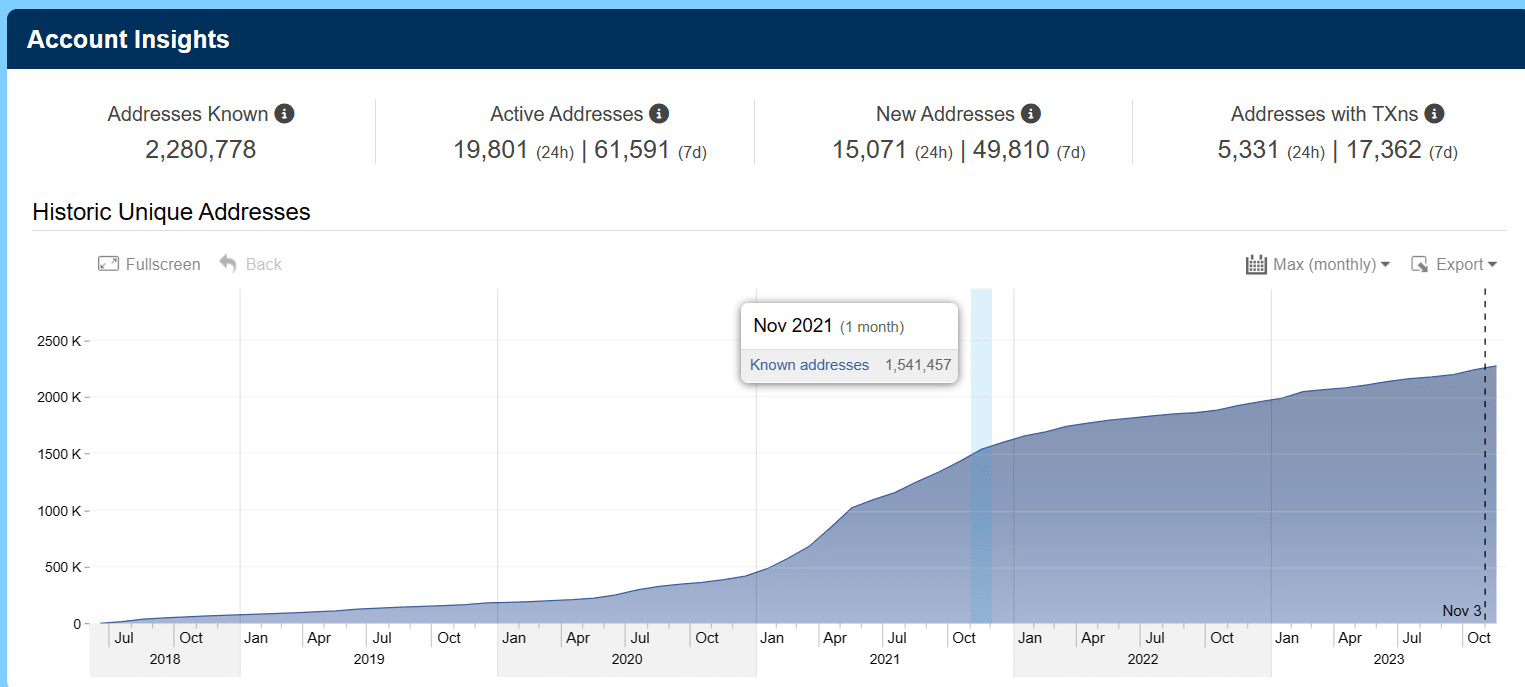 In addition, addresses have seen a rapid increase over the last three years. Interestingly, the network hosted a mere 387,727 addresses as of November 2020. This figure increased by over 1 million a year later to 1,541,457 in November 2021.
However, since hitting the 1.8 million mark last May, the increase in address count on the network has slowed, averaging 28,000 new addresses a month. The next spike in this metric came up in February when the network witnessed nearly 60,000 new addresses.
The increase rate from May 2022 till date adds some context to the magnitude of the recent surge, with the 21,000 new addresses yesterday almost the same value as the amount recorded each month from May 2022.
Besides an increase in new wallets, the VeChain network is also witnessing a surge in active addresses. This metric demonstrates the readiness among market participants to leverage the blockchain for transactions. Active addresses over the last 24 hours have increased to 19,801. 
VeChain Observes Mixed Metrics
These recent impressive stats come up at a time when the VeChain ecosystem is observing mixed signals amid prevailing market conditions. The protocol's treasury value dropped from $380 million to $311 million in the second quarter of this year, per reports from The Crypto Basic. 
Nonetheless, amid the team and community's perseverance, the VeChain protocol has captured significant interest of late, recently featuring on Forbes as an innovative startup for the industrial manufacturing scene. 
In addition, prominent blockchain researcher Collin Brown asserted last month that VeChain would lead the logistics market, projected to hit $18 trillion by 2030. Brown emphasized that the protocol's advantage over others is the use of blockchain.
Meanwhile, VET, the native token for settling smart contracts on VeChain, has faced a roadblock to its rally amid a drop in momentum within the broader crypto market. VET is down 3.57% over the last 24 hours, trading for $0.0187 as of press time. Volume is also down 19% to $33 million in the past 24 hours.
Follow Us on Twitter and Facebook.
Disclaimer: This content is informational and should not be considered financial advice. The views expressed in this article may include the author's personal opinions and do not reflect The Crypto Basic's opinion. Readers are encouraged to do thorough research before making any investment decisions. The Crypto Basic is not responsible for any financial losses.
-Advertisement-