There are some very basic Points to focus upon when selecting cryptocurrency exchanges
Choosing right cryptocurrency exchanges can be one of the most important initial tasks an interested trader or investor must fulfill.
Read also: Binance Exchange Review
Choosing the wrong crypto exchange can potentially lead to a road full of hacks, distractions, and unnecessary efforts.
In the search for the right cryptocurrency exchanges, one must first need to know what they want to achieve. For example, is the goal simply to invest in the longer-term or to trade on a regular basis?
Investors could look for crypto exchanges, these are platforms where you can buy and sell actual digital assets.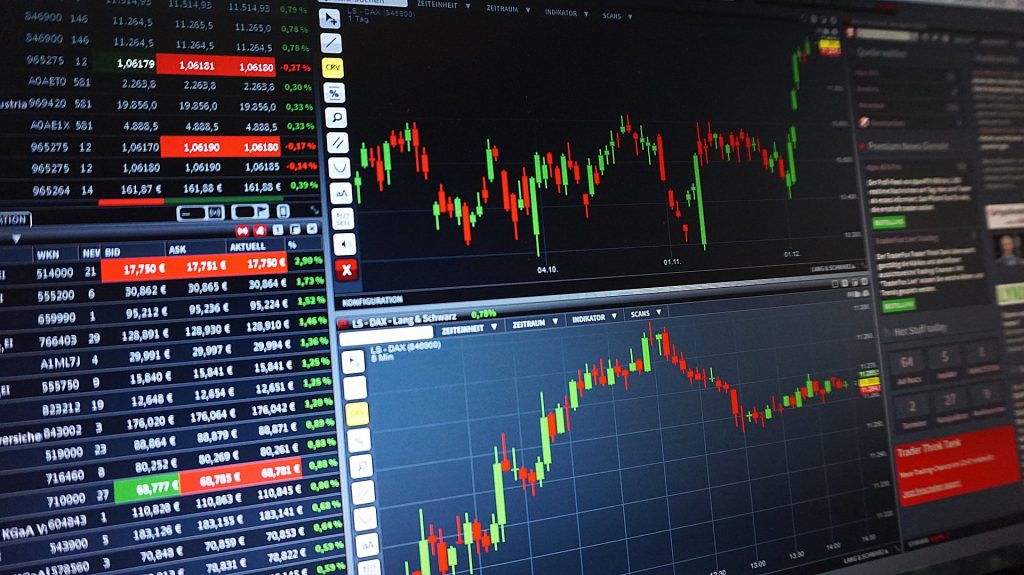 Cryptocurrency exchange
Spot Bitcoin Crypto (BTC) that is the actually buying bitcoin Crypto, sell, or transfer
On the other hand, traders may be interested in finding derivatives, trading in products such as futures and options based on the movement in prices of the underlying securities.
Once the trader has set his goals, it is important to consider aspects such as country-specific regulations, crypto exchanges security and a variety of other aspects.
The key points are discussed in detail after the video
Video Source Youtube Investor Trading Academy
Key Points when selecting cryptocurrency exchanges
The key points are:
Know Your Customer (KYC)
Different cryptocurrency exchanges are governed by different laws and regulations based on their locations, practices, and offers.
Some cryptocurrency exchanges have KYC and Anti-Money Laundering procedures where users are bound to submit their personal information during account creation.
These requirements vary from exchange to exchange. Some platforms require KYC and AML to withdraw money or lift certain restrictions.
Read Also: What is Bitcoin and How Does it Work
Customers must present copies of the photo ID and sometimes proof of residence.
Many crypto exchanges today also ban customers who are located from certain countries like Iran, North Korea etc.
The reputation of cryptocurrency exchanges
Since the cryptocurrency space is still largely a new industry, it is important to know the reputation of cryptocurrency exchanges.
Many cryptocurrency exchanges were involved in criminal activities, hacks, and exit scams, leaving their users in a bad situation.
It is important to research different crypto exchanges, to search them in Google in addition to the term "fraud" and to evaluate the results.
Searching for cryptocurrency exchanges in various forms of social media can also be helpful in determining if complaints have been submitted against them.
A look at the terms and conditions of each platform can also be helpful if you find that something is alarming or inappropriate.
Coinbase, Binance, Kucoin, Kraken, Bitfinex, OKex all are the leading reputable cryptocurrency exchanges
Crypto Exchange Security Level
Every cryptocurrency exchanges have their own security methods. Verify that the exchange offers two-factor authentication (2FA). If not, the cryptocurrency exchange may not be acceptable under today's security standards.
Also, check which 2FA type is compatible, Google Authenticator, Authy, and Yubikey are three common ways for 2FA, as they are likely to provide better security than 2FA based on a mobile text.
Every cryptocurrency exchanges also have various other security measures that may need to be reviewed, such as reserves for cold storage and custody services.
Binance exchange and coinbase have the top-level security level for its customers
Volume on crypto exchanges
Crypto exchanges vary based on the number of participants that are using at a given time and the amount of each traded asset.
This aspect can be important as it affects how easily users can enter or leave positions while trading.
If a trader wants to sell 100 Bitcoin crypto, he is unlikely to be able to do so on a low volume crypto exchanges because there may not be enough buyers at the current market price, forcing the trader to sell at lower quotes on the market.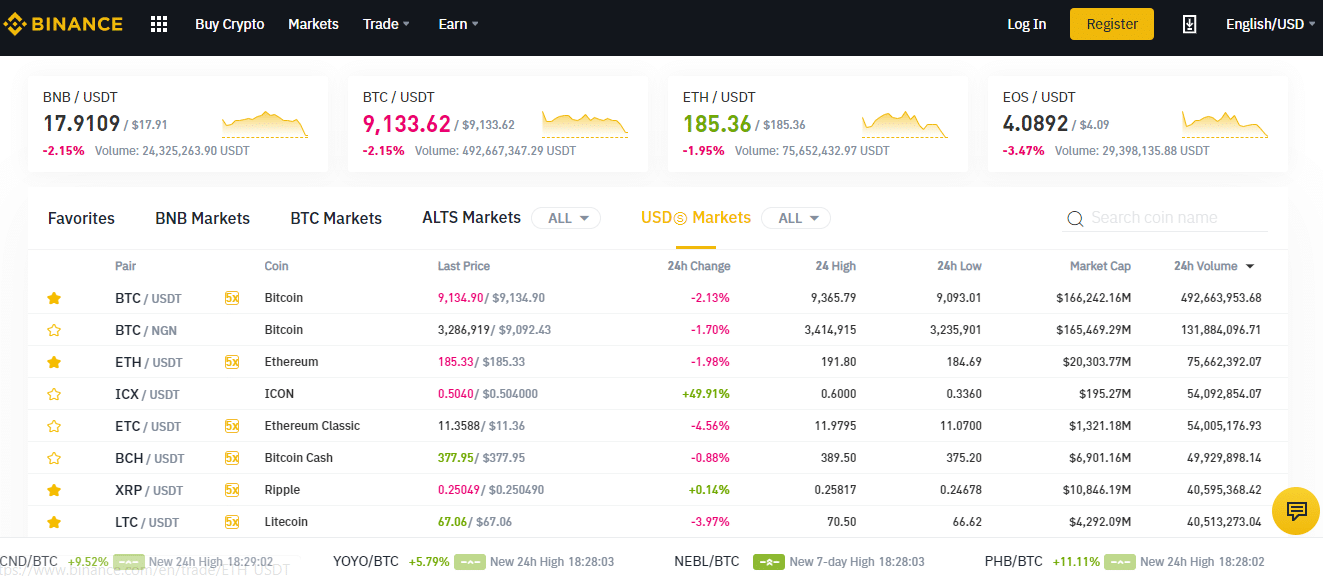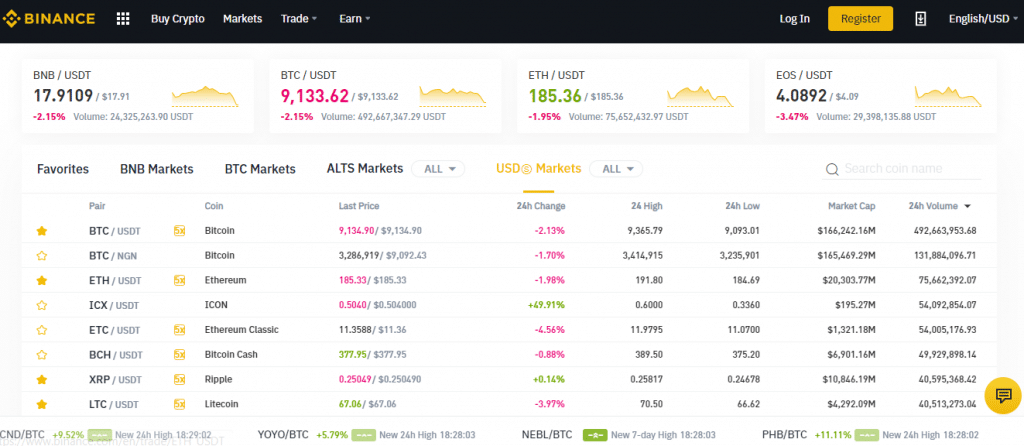 The volume of crypto assets on Binance exchange 
Volume problems often make it difficult to buy or sell large volumes of crypto assets.
Checking the volume can sometimes be a difficult task as crypto exchanges publish fake volumes.
One method is to look at the order book on different crypto exchanges and to note what amounts of each asset are in the order book and how far the price levels are from each other.
Another way to assess the volume is to review third-party websites that offer this kind of data.
Three websites that list different types of volume data are CoinMarketCap, OnChainFX and Coin 360
Binance exchange leads in term of the volume being traded in crypto assets making it a very attractive exchange for trading
Key Points

The most important points to keep in mind when choosing a cryptocurrency exchange are the reputation of a cryptocurrency exchange, the level of security its is providing to its customers and the volume of cryptocuurency assets being traded on that exchange
Prices of Crypto Assets
The prices of assets also vary across multiple crypto exchanges. Crypto assets may trade higher or lower on exchanges due to the location of participants, volume and other factors.
Identifying these discrepancies can play a role in choosing crypto exchanges, especially when cryptocurrencies are concerned.
Read Also: How To Trade Bitcoin Cryptocurrency
Selection of Crypto Assets
The best digital assets such as Bitcoin Crypto (BTC), Ethereum Crypto (ETH), Ripple (XRP), Cardano (ADA) and Litecoin Crypto (LTC) are widely used on most cryptocurrency exchanges.
Other smaller coins and tokens may not be available on certain crypto exchanges.
Therefore, it may be important to know which crypto assets each cryptocurrency exchanges are offering and to select the appropriate options.
Fees of cryptocurrency exchanges
Most cryptocurrency exchanges charge a small fee for each trade. These fees vary by platform and are usually based on a percentage of each trade.


Binance exchange fee structure
Fees are more important to traders as compared to investors because traders buy and sell more frequently and are charged more frequently, although this depends on the size of each trade relative to the size of the investment.
Exchanges also have withdrawal fees
Binance exchange has very less trading fees
Insurance fund
Users can also note whether their crypto exchanges have an insurance fund or not. Certain crypto exchanges have the means to compensate customers under certain circumstances like hacking of a crypto exchange
Other crypto exchanges are covered by the Federal Deposit Insurance Corporation (FDIC), which can protect a certain amount of US user funds.
Fiat Crypto Exchanges
Traders and investors will likely require fiat-compatible crypto exchanges at some point in their careers, allowing them to transfer national currencies (USD, GBP, EURO, etc.) to the crypto world for trading purposes and out of it to cash the profits.
Some crypto exchanges have different Fiat options that are compatible with certain banks, others are not
Binance exchange has many options of converting your crypto assets to Dollar, Euro, GBP, and more fiat currencies
Create an account on Binance Exchange and safe up to 5% of your trading fees by clicking here
Leverage Trading Option
Derivatives exchanges often offer leverage. The leverage allows traders to borrow a specific amount of funds for trades based on the amount of money they hold on that exchange.
Leverage can be important for traders who want to take short-term positions with larger volumes.
Several exchanges offer leverage ranging from 1x to 100x, although different platforms may have different rules regarding liquidation levels and margin calls.
Bitmex is so far the best crypto leverage exchange, leading the  crypto industry in leverage trading


Create an account on the world top leverage crypto exchange BITMEX and get 10% discount on trading fees by clicking here
Keeping in mind the above points you should do your own research as doing your own basic research is one of the most important aspects of the crypto market not just in terms of crypto exchanges, but across the entire industry.
Frequently Asked Questions
How do cryptocurrency exchanges work?
They allow you to exchange one cryptocurrency for another, buy and sell coins, and exchange fiat money for crypto.
Crypto exchanges determine the exchange rate of currencies – both coins and tokens. The cryptocurrency rate usually depends on the actions of sellers and buyers, although other factors can affect the price.
Some of the crypto exchanges are made for traders, while others are made to exchange fiat currencies to crypto
Cryptocurrency exchange also charge fees for withdrawing crypto from your accounts and charges fees on any buy or sell trades you make on them
Basically, crypto exchanges work similarly to regular exchanges that deal in stocks
Why prices vary on crypto exchanges?
The prices vary on crypto exchanges vary because each cryptocurrency exchange calculates the price of cryptocurrencies depending on its trading volume and the demand and supply of its users.
This means if it's a top crypto exchange with a lot of users and trading volume, the more market-relevant the price will be of its crypto assets will be
What are Crypto Trading Pairs?
The cryptocurrency trading pairs are described as trade between one type of cryptocurrency with another.
Consider a trading pair of bitcoin USD
With bitcoin usd trading pair you can buy bitcoin by giving away your USD or you can sell your BTC to get usd
Can someone profit from price difference on crypto exchanges?
Yes, you can profit from price difference at different crypto exchanges. If you are an active trader you can watch the prices of different crypto assets at different cryptocurrency exchanges.
You can buy any cryptocurrency at a lower price on one crypto exchange and sell it to other exchange for a profit of some percents normally 1 to 3 percent
But you have to keep in mind the cost of withdrawal fees of an asset from one exchange to another and the trading fees of the cryptocurrency exchanges when buying or selling.
This process is little technical and requires some basic trading skills
Where Cryptocurrency can be exchanged or what are the best crypto exchanges?
The cryptocurrencies can be exchanged anywhere, there are thousands of crypto exchanges doing business, but the best crypto exchanges with a lot of features are
Coinbase
Bitfinex
Okex
Kucoin
How many Crypto exchanges are there in the market?
According to coinmarketcap there are more than 1500 crypto exchanges working out there
How crypto exchanges make money?
The most common way of crypto exchanges to make money is by deducting trading fees on every single trade the users make on these exchanges
Trading fees may vary from exchange to exchange, most common is 0.1 percent on every single trade whether buying or selling
Where is Coinbase located?
Coinbase HQ is located in San Francisco, California USA, with offices in New York USA, Portland, USA and 16 different locations worldwide
Where is Binance Exchange located?
Binance HQ is located in Ta' Xbiex, Malta and offices in London, Singapore, Germany France, and 6 other locations worldwide
Follow Us on Twitter and Facebook.
Disclaimer: This content is informational and should not be considered financial advice. The views expressed in this article may include the author's personal opinions and do not reflect The Crypto Basic's opinion. Readers are encouraged to do thorough research before making any investment decisions. The Crypto Basic is not responsible for any financial losses.
-Advertisement-