According to Flipside Crypto, at the moment, Ethereum 2.0 validators earn about $1.7 per day or about 3.2% per annum.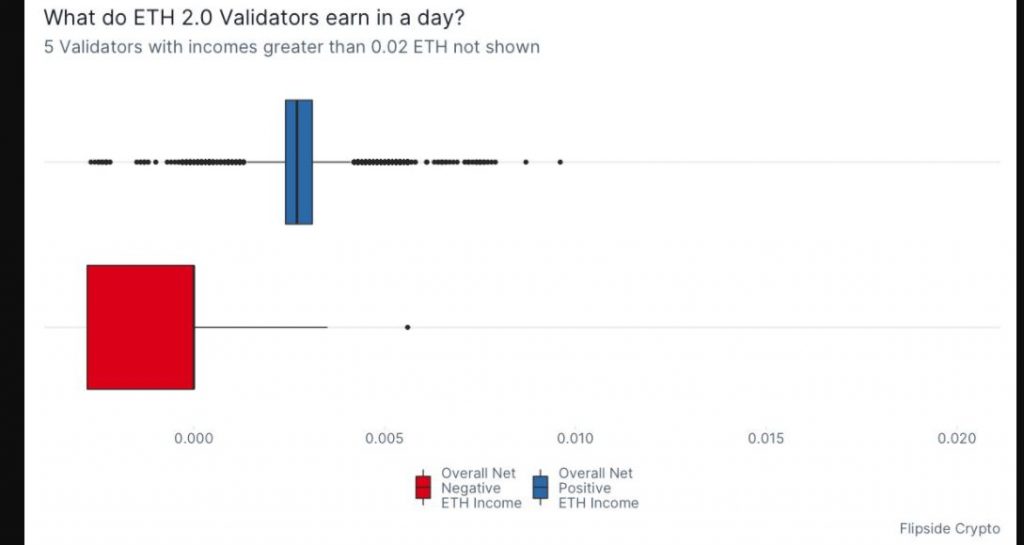 The Average income from Ethereum 2.0 staking for a validator with 32 ETH is 0.002792 ETH per day. At the same time, for a particular day, some validators receive significantly less rewards, and some more.
To participate in ETH 2.0 staking, you need to stake 32 ETH, so the average daily income of the validator corresponds to 0.008725%. In a year, they should receive an income of about 3.2%, but it will decrease with the growth of the number of validators. In addition, according to Flipside Crypto, 30 validators were excluded from ETH 2.0 staking because of incorrect setup.
The zero phase of Ethereum 2.0 called Beacon Chain was launched on December 1. With the launch of the Beacon Chain, the possibility of staking ETH to participate in the confirmation of transactions and generate income has appeared. At the time of launch, 881,569 ETH were staked in the Deposit contract, and 21,063 validator nodes were active in the main network.
Note: All the figure mentioned in our post are from Flipside crypto. We bear no responsibility whether these figures properly display ETH staking rewards or not.