Ethereum 2.0 launched on December 1, 2020. How to become an ETH 2.0 validator, and what to do if you cannot buy 32 ETH?
On November 24, 524,288 ETH were collected in the Ethereum 2.0 deposit contract, which was necessary for staking and launching the first phase of Ethereum 2.0, known as the Beacon Chain.
The new version of the network automatically launched on December 1. After the launch, any participant in the cryptocurrency industry can become a validator.
We have prepared a guide on how to participate in Ethereum 2.0 staking.
What is Ethereum 2.0 Staking?
Staking in Ethereum 2.0 is depositing ETH in a smart contract to participate in the network as a validator and receive rewards for confirming blocks. Staking will become possible after launching a new version of the Ethereum network that will work on the new Proof-of-Stake (PoS) consensus algorithm.
Staking is a process similar to mining. In PoS-based networks, validators perform the same functions as miners. They are engaged in creating new blocks and confirming transactions for fees.
Instead of using computational resources, validators store coins in the wallet. To become an Ethereum 2.0 validator, you need to deposit at least 32 ETH for staking. At the time of writing, the cost of such a deposit is above $ 18 thousand.
Rewards of Validators
Only validators that actively stake their Ethereum are rewarded. Validators disconnected from the network are penalized. The penalties are equal to the rewards for active participation.
How To Participate In ETH 2.0 Staking?
Users wishing to become validators have two options to participate in staking.
Self-staking
Individually Depositing 32 ETH and independent launch of the validator node in compliance with the technical requirements. The staked ETH will not be available until the launch of Phase 1.5, which will happen in 12-24 months, depending on development speed. After the launch of Phase 1.5, a lock time will be set to prevent massive ETH withdrawal.
To become an independent ETH 2.0 validator, you must follow the instructions on the Ethereum.org website, which includes three main steps:
1. Acceptance of the terms and conditions of the network as a validator. The nine terms and conditions must be read and accepted, including acknowledging perceived risks, consequences of malicious and unfair behavior.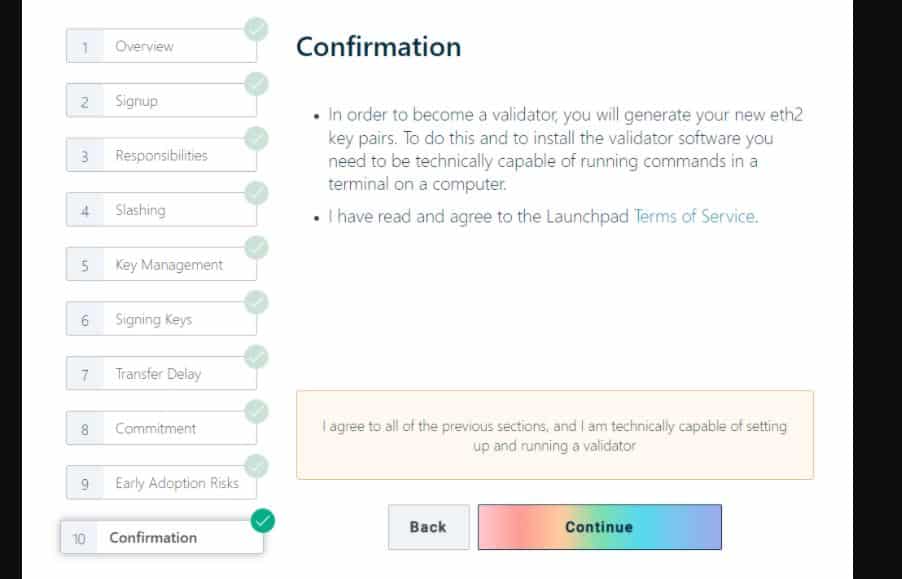 2. Creation of validator keys offline. To process incoming validator deposits from the ETH 1.0 chain, you need to run the ETH 1.0 client parallel with the ETH 2.0 client. At this point, you should select ETH 1.0 client and follow the installation instructions on the website.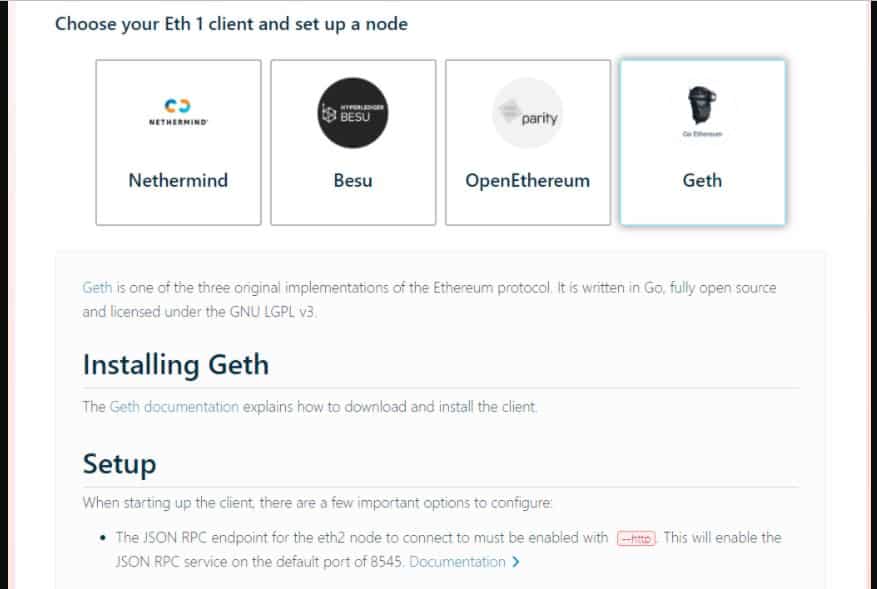 Then you need to select the ETH 2.0 client.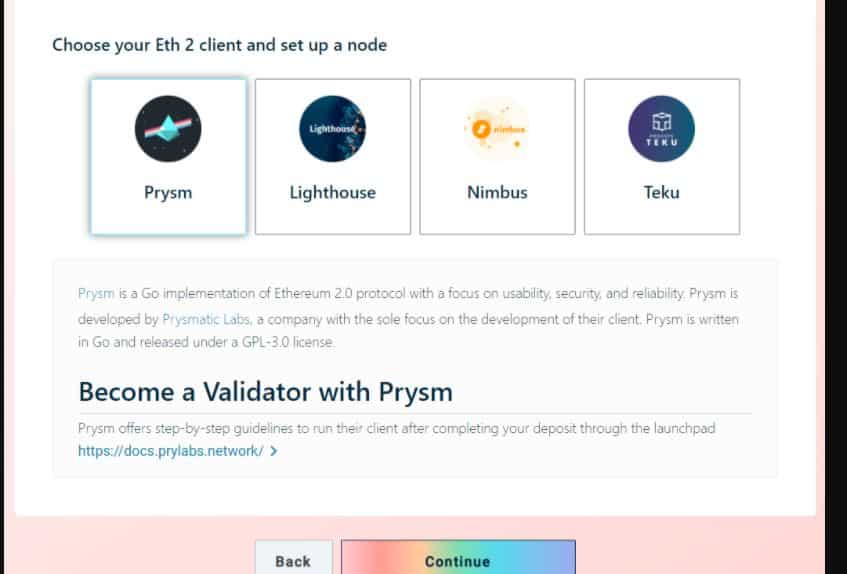 Next, you need to indicate the number of nodes that the user plans to manage and select the device's operating system. Then download the CLI application from the GitHub Ethereum Foundation, or choose to build a client from a Python source.
You must strictly follow the instructions and generate keys for the deposit. Validator key stores should be available in the new validator keys directory. Load the deposit data file Deposit-data- [timestamp] .json, which is located in the /eth2.0-deposit-cli/validator_keys directory, in the window provided.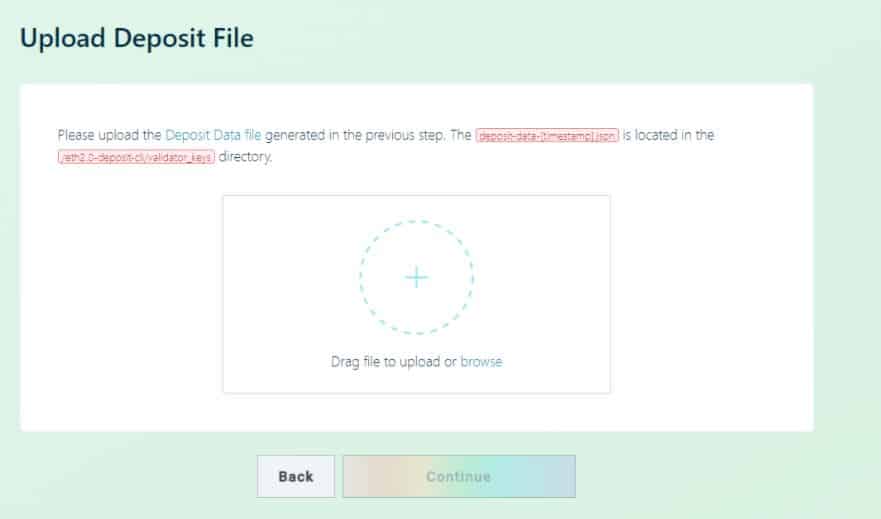 3. Convert ETH to ETH 2.0. At this step, you need to transfer your ETH to the specified address of the smart contract as per the instructions.
In addition to starting the node yourself, you can use the Preconfigured Validator Nodes. This will save time and effort in the initial setup to run the validator. Simultaneously, maintaining the node's operation is also user responsibility, and 32 ETH must be deposited for staking.
Another option is to use services and pay them to manage the node. This is suitable for large ETH holders and institutional investors. Examples of such services are Stakewise Solo, stakefish, Staked, Attestant, Blox Staking.
Joint staking
In Joint Staking, your deposit your Ethereum to a staking service provider like Staking pools, cryptocurrency exchanges, etc.
There are security risks associated when you are trusting the intermediaries. But with the help of these pools or exchanges, it is possible to participate in staking without having 32 ETH.
The validator's reward is affected by the total number of ETH deposited for staking. The validator's maximum annual return can range from 2 to 20%.
At the moment, 32 ETH is almost $ 18,000, so not everyone has that much to launch their validator node. To start staking with a small amount of Ethereum, you can use the services that offer joint staking in Ethereum 2.0.
Ethereum 2.0 developers have published a list of such services but emphasize that none of them has passed the developers' unique verification. Users must independently assess the risks and opportunities of each service.
There are three options for joint staking.
Staking Pools
In staking pools, any amount of ETH can be deposited for staking. A pool work best for people with less than 32 ETH. In staking pools, crypto-assets of people are combined for staking purposes. Staking rewards earned are distributed among the pool members in proportion to their contributions. Staking pools are decentralized, transparent, and verifiable in any blockchain explorer.
With the pools' help, you can combine your Ethereum with other participants to become an ETH 2.0 validator. Since most of the coordination will happen through smart contracts, you need to make sure the service has passed a security audit before sending ETH to the pool contract.
Most staking pools issue tokenized versions of staking, ETH like rETH. These ERC-20 tokens represent not only Ethereum but staking income as well. Tokens can have the same symbol or name, but they are different assets with different liquidity.
Pool validators are either managed by well-known staking service providers or by a dynamic set of contract users. The staking pool receives commissions from users or deducts fees from them to operate pools.
Advantages: The main advantage is that you can earn rewards by staking Ethereum even if you don't have 32 ETH.
Disadvantages: There is a risk of smart contract vulnerabilities. There is a risk of pool frauds and loss of funds, hacks of pool assets.
Examples of Pool services: Rocket Pool, Stkr, Stafi Protocol, Stakewise Pool, Lido Finance, Etherchest, Stakehound, StakeDAO, CanEth Pool.
Lending Platforms
The ability to borrow tokens for ETH deposited in staking. Suitable for traders and investors looking to maximize profits.
Only one lending platform allows you to use deposited ETH for staking as collateral for obtaining a loan. LiquidStake from DHARMA Capital allows ETH holders to borrow USDC using staked ETH as collateral.
The user can benefit from the opportunity to generate income through staking and retain the ability to trade, invest, or hold their crypto assets. LiquidStake consolidates customer's crypto assets and transfers them to major staking service providers. Credits can be obtained from the very beginning of ETH staking or later.
Advantages: Low capital requirement.
Disadvantages: Risk of intermediary, risk of the validator's liquidation or liquidation penalty.
Crypto Exchanges
The easiest option is to transfer ETH to a crypto exchange that offers staking rewards.
Most exchanges have yet to launch co-staking products, but some have already announced plans to bring such solutions in the future. The situation is likely to change after the launch and testing of Beacon Chain.
It is not yet clear how the exchanges will deal with the indefinite lockout period. Exchanges may offer fixed income products in which coins are locked for a predetermined period without the possibility of withdrawal. Custodian wallets are likely to provide solutions with a more extended blocking period for assets. Exchange commission structures are often not transparent, so it is unclear at what intervals exchanges will accumulate rewards.
To participate in staking through an exchange, you must register with them and transfer ETH to their wallet. With your funds on exchanges you lose control over the private keys.
Advantages: Ease of use. You can stake any amount of Ethereum for staking, even if it is less than 32 ETH.
Disadvantages: Non-transparent reward structure, intermediary risk, loss of control over private keys, and crypto-assets.
Examples of Exchanges: Bitcoin Suisse, Coinbase, Binance, Kraken, CoinDCX, TokenPocket.
Conclusion
To become a validator, you need 32 ETH, without delegating your Ethereum to intermediaries. With the current value of ETH over $ 600, becoming a validator is impossible for most users.
It would be best if you kept in mind that the reward for validators' will decrease as more and more Ethereum is deposited for staking. The earlier the validator node is deployed, the greater the rewards you get in the early stages. But after the full launch of Ethereum 2.0, you may get 2% annual returns or even less.
Staking profitability is low, and validators also bear financial risks. ETH deposited for self-staking cannot be withdrawn until Phase 1.5 rolls out, and that is 1-2 years away. In joint staking, all depends on the rules and guides of the service provider. Validators can be fined for poor performance or violation of protocol rules.
Users without technical knowledge who want to deposit Ethereum for staking can use preconfigured validator nodes or different validator services as described above.
For investors who want to stake but do not have sufficient capital to run their independent validator, joint staking solutions are developed that eliminate concerns associated with long holding Ethereum.
Despite the small number of services offering ETH joint staking, You can still take advantage of pools, cryptocurrency exchanges services.
When choosing a staking service operator, it is necessary to carefully study the proposed service, the size of the commission for services, liquidity, the reliability of smart contracts, and take into account the risks associated with the complete or partial loss of control over the keys.
Read Also:
Follow Us on Twitter and Facebook.
Disclaimer: This content is informational and should not be considered financial advice. The views expressed in this article may include the author's personal opinions and do not reflect The Crypto Basic's opinion. Readers are encouraged to do thorough research before making any investment decisions. The Crypto Basic is not responsible for any financial losses.
-Advertisement-