Things are going fast for Synthetix Network token. The token started the month with a value of 4.750 USD, and reached the peak of 8.258 USD. That's an increase of more than 72 percent. But why is it going so fast?
Coinbase adds SNX
According to various media, the main reason for SNX's price increase is listing on crypto exchange Coinbase, one of the largest crypto exchanges in the world. SNX was also launched simultaneously on Aave and Bancor.
But there are more reasons why SNX is shooting to the moon. The primary reason is that Synthetix token network is being used more actively.
Number of users is increasing
Synthetix is ​​a protocol that allows you to create synthetic tokens with ETH as collateral. For example, there are synthetic Bitcoin, Litecoins and Binance coins. You can then bet these coins on a DeFi platform. DeFi includes all kinds of financial services via smart contracts on the blockchain. You can lend your coins  to earn interest on Defi.
On Synthetix platform you can then use your coins to achieve a high annual return, based on the cash flow mechanism of the protocol. The yield on staking is determined on the basis of the fees paid on the Synthetix protocol. These fees are distributed to SNX stakers.
DefiPulse keeps track of how much value is stored in DeFi protocols. The Synthetix platform is in fifth place, just behind the popular Uniswap. More than $ 1.2 billion in assets are stored in Synthetix protocol. That includes synthetic tokens, as well as staking. Such high amount of total value locked in Synthetix shows community trust on the project.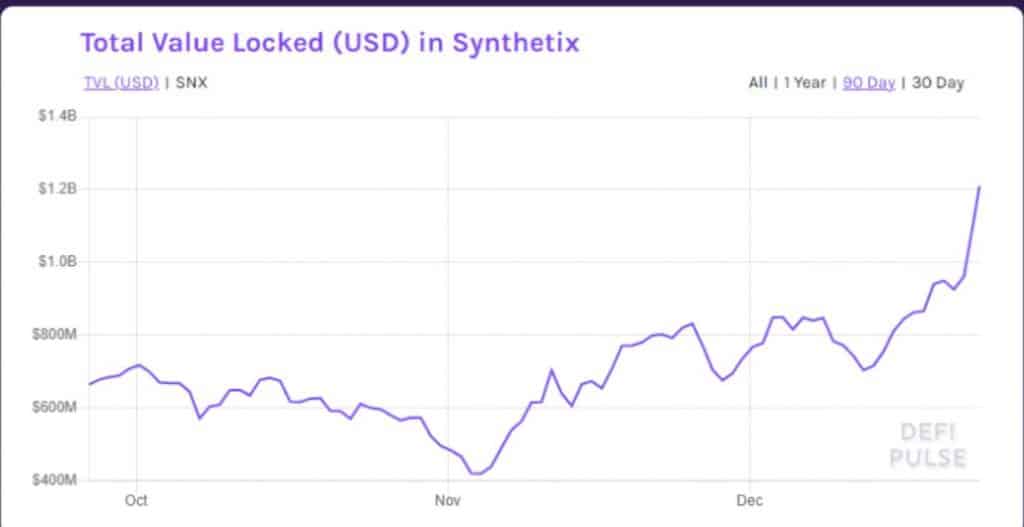 In short, there are two important factors for SNX's price growth. SNX listing by Coinbase that often generates positive sentiment, but the increase is also supported by the growth of the Synthetix platform as more than one billion dollars are locked in Synthetix.
If the overall crypto market remains stable we can surely see very nice growth in the price of SNX coin.