Every year, the question arises in which coins will offer the most significant potential and what are the Best Cryptocurrency To Invest In. This article will guide you on Best Cryptocurrency To Invest In 2020.
Read also: What is Bitcoin and How Does it Work.
First of all, as The Crypto Basic Team, we would like to point out that the following information cannot be considered investment advice. We only share our thoughts about the crypto market. Readers are encouraged to form their own opinions on this website's content and conduct their research.
Read Also: How to Buy Bitcoin Cryptocurrency
To choose the best cryptocurrency to invest in 2020, we tried to consider all the critical factors that can significantly influence a cryptocurrency price. In our view, these are acceptance, demand, and cost. From our point of view, the most critical issue is acceptance.
Read Key Points when selecting cryptocurrency exchanges.
The price is only likely to increase if the project creates numerous use cases through new partnerships.
Read Binance Exchange Review, a mini-encyclopedia on Binance.
At this point, it ignores that news is a significant price driver in the crypto market, but eventually, acceptance also increases demand by building new use cases.
Read: Top 17 Best Crypto Trading Bot
The price performs a role for many private investors as cheaper coins are more affordable. New investors, in particular, start with smaller amounts and prefer the so-called "penny" coins.
We have selected the following coins as our top best cryptocurrency to invest in 2020.
Bitcoin
We put Bitcoin (BTC) at the top of the list as it has tremendous growth potential in 2020. From a technical and financial perspective, BTC is the most popular and widely used cryptocurrency on the market.
The current market also sees Bitcoin's price as a profitable buying opportunity. If you want to add an attractive cryptocurrency to your portfolio, Bitcoin is the right decision. You can buy Bitcoin from popular crypto platforms like Coinbase and Binance.
Ethereum
Ethereum, as the second-largest cryptocurrency by market capitalization, with a current price of 228$, is one of the strongest cryptocurrencies. It has a solid foundation as more than 3500 Dapps are built on ETH, and the number is growing every day.
Ethereum is facing a big year. Ethereum will soon enter the "Serenity" phase (or Ethereum 2.0).
Even if the roadmap is no longer up to date, as the Istanbul Hard Fork and the Beacon Chain (Serenity Phase 0) is delayed somewhat, it gives a good overview.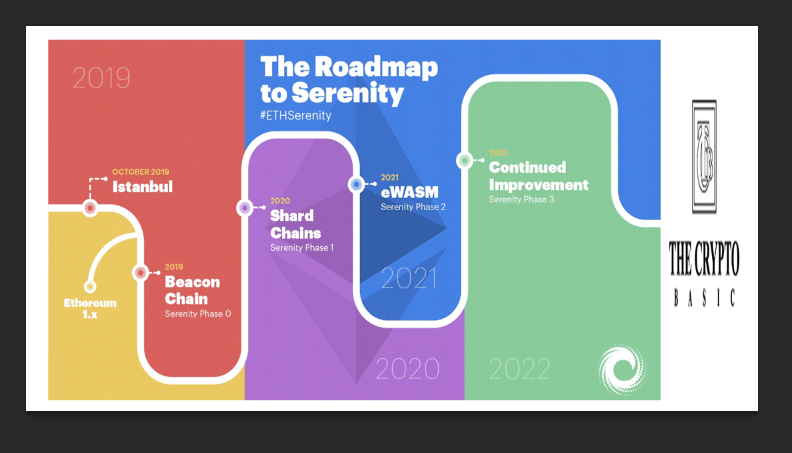 The launching of Ethereum 2.0 will be a powerful determinant in the price of Etherum.
Read Also: What is Ethereum-How Does it Work.
Already in 2019, Ethereum showed that it is still the number 1 smart contract platform. With the Ethereum Enterprise Alliance, there are numerous strong partners and global corporations behind the project.
For example, Microsoft launched a token-based reward program for the Microsoft Azure platform on the ETH Blockchain in early December 2019.
As Forbes reported, Ernst & Young, one of the world's largest professional service companies, is investing in the development of data protection tools for the Ethereum ecosystem.
Read Also: What Is Cryptocurrency Mining?
The "Nightfall" project, as Forbes writes, "is a great example of how one day all companies will use the public mainnet for transactions with sufficient data protection convenience."
Decentralized Finance (Defi) is a topic that has already dominated in 2019 and could become even more prominent in 2020.
As ConsenSys recently found in a report, Defi has the potential to grow into a billion-dollar industry. In this respect, there are numerous arguments that 2020 will be better for the Ethereum price than in 2019.
VeChain
VeChain has caused a sensation in the past two months. For a long time, the Singapore-based project flew under the radar of many investors.
However, in the past few months, the project has received increasing attention and not without reason. Since the VeChain Thor blockchain's main net launch, the team has been able to establish numerous well-known partnerships like no other project on the crypto market.
Read Also: Best 12 Profitable Staking coins List and Exchanges.
The use cases of the VeChain Thor blockchain focus on digital business transformations in various industries such as fashion, wine, automotive, food safety, carbon emissions reduction, and agriculture.
The partners include global groups such as the DNV GL Group, PriceWaterhouseCoopers (PwC), the National Research Consulting Center (NRCC) from China, DB Schenker, Kuehne & Nagel, the BMW Group, and Renault.
Read in Detail: Dogecoin Mining-How To Do it Properly-Is it Profitable?
Most recently, VeChain has entered into a cooperation with the Anhui Tea Industry Association in China. Up to 670 Chinese companies from the tea industry can use the VeChain Thor blockchain.
Why could the big breakthrough come in 2020? Xi Jinping, China's head of state, made a speech in the crypto scene in October 2019, in which he announced a major blockchain initiative.
Read Also: How To Trade Cryptocurrency-Best Cryptocurrency Trading Strategies
As the VeChain Foundation highlighted in a blog post, the focus is on creating value through blockchain. VeChain corresponds to this standard, as it was stated in the publication.
Read Also: Can you Buy Bitcoin At Walmart?
The cooperation between VeChain and the Anhui Tea Industry Association corresponds precisely to the government's goal of increasing all participants' competitiveness through blockchain technology.
In this respect, China could become an essential factor for VeChain if other use cases and partners in China follow.
Basic Attention Token
The Basic Attention Token (BAT) is trading at around $ 0.21 at the time of writing and could benefit even more from the Brave Browser's growth in 2020 than it did in 2019.
At the beginning of December, the Brave Browser developers reported an increase in active users to 10.4 Million.
Also Read: Cryptohopper Trading Bot Review
This corresponded to a tripling of active users within a year.
The Brave Browser aims to revolutionize the online marketing industry and build a decentralized ecosystem that brings users, publishers, and advertisers together and distributes the monetization of advertising revenue through the Basic Attention Token (BAT).
Read 3Commas Crypto Trading Bot Review.
Suppose the number of active users, especially publishers and advertisers, continues to increase as much as in 2019. In that case, the BAT course could benefit greatly.
The team behind Brave also speaks for the success of the project. With Brendan Eich, Firefox, and Mozilla's co-founder and creator of JavaScript, the project led by a strong personality. The project also has a well-known list of investors, including Founders Fund, Foundation Capital, Propel Venture Partners, and Pantera Capital.
Read also: What is cryptocurrency staking
Tezos
Tezos (XTZ) has raised $ 232 million in its ICO and seems to be one of the best platforms for dApps and smart contracts due to steady growth.
A currency that even caught the attention of the famous Winklevoss twins in 2018.
It is currently one of the frontrunners, which forecast is very optimistic for 2020. Institutional money is also entering the Tezos ecosystem.
You can buy Tezos (XTZ) on top crypto exchanges like Coinbase, Toro, and Binance
Cardano
Cardano cryptocurrency (ADA), created by Charles Hoskinson, definitely belongs to the Penny Coins category at a current price of $ 0.0799.
Despite the low price, Cardano has excellent potential. This was shown a week ago when the Incentivized Shelley test network with stake pools was launched.
Read Also: Coinrule Review-A Crypto Trading Bot Perfect For New Traders
Two hundred forty stake pools formed Within the first 48 hours, and over 5.4 billion ADA, around 17 percent of the total supply, were delegated. Shelley's launch on the Mainnet is expected to take place in 2020.
The participation in the proof of stake will probably increase significantly again, mainly because exchanges like Binance will also offer to stake for their users.
Besides, Cardano has announced a massive marketing campaign for 2020, carried out by the well-known McCann Dublin agency, which has worked with Microsoft, LinkedIn, and Norwegian Airlines.
Ripple
When it comes to Best Cryptocurrency To Invest In 2020, you can't avoid Ripple. Ripple now operates with many well-reputable partners and is number three currency.
The purpose is to use the Rippel XRP tokens to make the global payment system faster and cheaper.
Banks cut billions in fees every year to transfer money across national borders. Sharing money from banks is not only expensive; it sometimes takes days.
With Ripple bank, transfers can be significantly cheaper and go within seconds.
The problem of Ripple is that it is a company and is not decentralized. Also, not all tokens are in circulation, Ripple holds a large number of XRP tokens, and Ripple price is positively affected when these X|RP tokens are sold in the market.
That is why a petition asks Ripple to destroy all the other ripples the company still has.
You shouldn't invest more than five percent in Ripple.
Chainlink
Chainlink was already the biggest winner in the top 40 in 2019, according to CNF.
With a price increase of 586 percent (until December 15), the LINK course showed strong growth since the beginning of the year.
Read Also: Compared To Digital Markets, Traditional Markets Have More Stability-Why?
In June 2019, an announcement came that Google is working on a project that uses Chainlink.
The tech giant wrote in detail that it works on applications that store cloud-generated data on a blockchain.
The Google project used Chainlink to integrate the external data into the blockchain. Chainlink also has SWIFT, Oracle, Gartner, and IC3 as partners. 
Intel, HyperLedger, and the EntETHAlliance joined to drive blockchain adaptation in the corporate sector in October.
But why does Chainlink have great potential in 2020? In 2020, the topic of how external data get into the blockchain has become even more critical. And Chainlink is providing the best solution to it.
Chainlink is optimally positioned with its Oracle technology to strengthen partnerships and integrate them into new services.
Binance Coin
Last but not least, there is a coin from the top crypto exchange Binance. The significant benefit here is that traders buy BNB coin because it gives them discounts on trading fees.
Binance desires to buy back more and more BNB over the years, so its coin price could increase.
The coin is similar to stock because it belongs to a specific company. And it has been shown that the BNB is relatively constant and profits even when the market is falling.
Which cryptocurrencies do you think are the best cryptocurrency to invest in 2020? We'd love to hear your feedback in the comments!
Follow Us on Twitter and Facebook.
Disclaimer: This content is informational and should not be considered financial advice. The views expressed in this article may include the author's personal opinions and do not reflect The Crypto Basic's opinion. Readers are encouraged to do thorough research before making any investment decisions. The Crypto Basic is not responsible for any financial losses.
-Advertisement-