Ethereum (ETH) price broke All time high  (ATH) and managed to surpass $2000.
With the price of Bitcoin rising in January 2021, Ethereum also joined the rally and its price gradually increased from $700 to above $2000. ETH that went up to $2040 increased by 250% on daily basis from January, 2021 onwards. According to Santiment data, the number of addresses holding more than 10 thousand ETH reached 1287 on February 14.
CryptoQuant CEO Ki Young Ju made some statements for ETH. Young Ju pointed out three main things for Ethereum.
Young Ju said that the price of ETH this year is different from 2018. The CEO listed the differences as follows:
The amount of ETH in exchanges is lower in 2021.
The amount of ETH withdrawn from exchanges is higher this year.
The selling pressure seen in 2021 is weaker compared to 2018.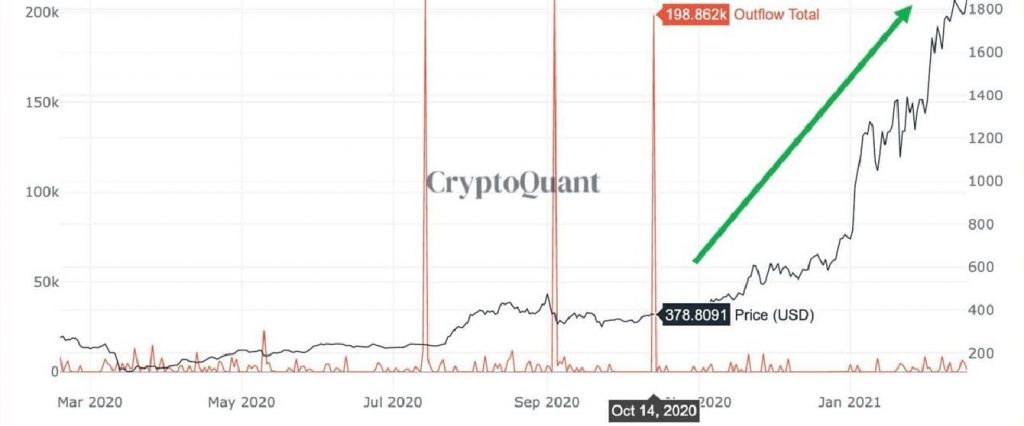 There were three major withdrawals from Coinbase cold wallets in 2020. The amount of ETH withdrawn from the exchange was around 200 thousand ETH in all three transactions. Ki Young Ju suggested that these transactions may belong to institutional investors.
He Said:
There were three consecutive massive $ETH outflows from Coinbase cold wallets last year.

Speculative guess but those might be OTC deals for institutional investors like $BTC Coinbase outflows.
According to CoinGecko data, ETH has a market value of $219 billion, trading volume of $34 billion in 24 hours. The current price of ETH, which is most traded on Binance exchange, is at the level of $2022.