March was a good month for the Bitcoin and Ethereum miners. The BTC miners made revenue of $1.75 billion, and ETH miners recorded a profit of $1.38 billion.
Revenue from BTC mining in March increased by 28.7%, while the profit growth of ETH miners was only 0.73%. At the same time, the percentage of income from transaction fees decreased for both groups.
In February, Ethereum miners received 52.87% of the profit from commissions (Transaction Fees), in March this figure fell to 47.22%. Bitcoin miners received $167.21 million in transaction processing fees, which is 9.55% of the total profit. Compared to February, the reduction in the commissions volume was 10.7%.
On March 20, a record daily profit of BTC miners was recorded, in just a day they received a little more than $60 million.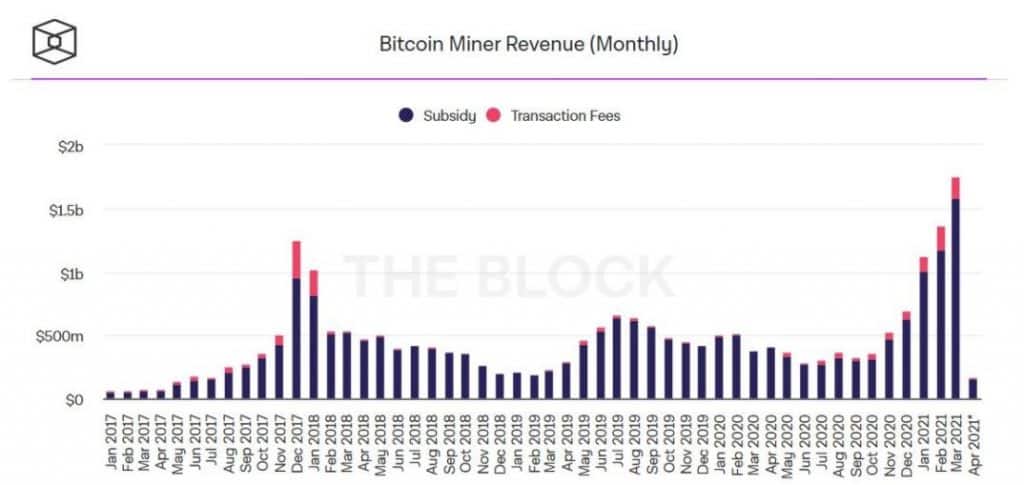 The interest in mining remains at an extremely high level, which leads to a shortage of ASIC miners in the market. In the secondary market, the devices are sold at a price five times higher than the prices of pre-orders.

On April 2, the BTC mining difficulty was recalculated. Bitcoin mining difficulty grew by 5.82% and for the first time in history exceeded 23.14 trillion.
Read Details: Bitcoin Mining Difficulty Reaches All Time High