Despite the fall of the cryptocurrency market, Ethereum miners made All-Time-High profits in May 2021. As of May 24, the gain of the ETH miners was $1.93 billion.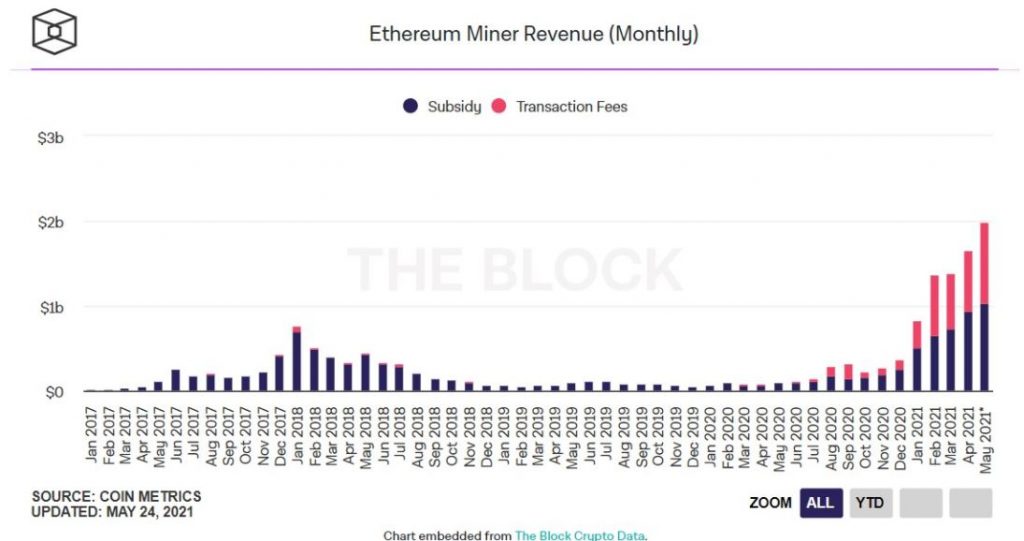 The income of miners from commissions amounted to $922.46 million, and the profit from the blocks extraction was $1.01 billion. Almost half of the profits were generated by the miners from transaction fees. The month of May has already become a record in terms of the amount of miners income, and by the end of the month, this figure will exceed $2 billion.
In early May, the Ethereum price rose above $4,000. Therefore, it is not surprising that the miners received a record income because the cost of electricity remains the same, but ETH was sold for a higher prices.
Since January, the Ethereum miners have been receiving more and more returns. In January miners made $829 million, then in February, Eth mining profit grew to $1.37 billion. Last month, Ethereum miners made $1.7 billion. This month which is still going on, ETH miners have already achieved All-Time-High Profits and can easily cross 2 billion profit mark.