- Advertisement -

Medical Industry reforms are accelerated since 2020. It is a high profile industry where a small change can develop world fate for good. Blockchain technology is doing great in medical digitalization, reforms and medical innovations.
Vechain has emerged as a leader in health care industry. Vechain has made many partnerships in health care sector in one year. Below are the details of Vechain progress in Health care sectors since May 2020.
The World's First Blockchain-based IVF Service App
Most Recently VeChain has brought the technological potential of blockchain to a new sector in collaboration with DNV and one of China's most important healthcare facilities, Renji Hospital. The partners launched MyBaby, a blockchain-based service app for In-Vetro fertilization (IVF). The app purpose is to mitigate the stress associated with IVF process by providing women and their families with a tool to help manage and improve the IVF process. The app enables hospitals to provide better data management services and can help families track their children's progress. In addition, the app was created to be a useful tool for reducing the anxiety, depression and stress associated with this process.
Read More: Renji Hospital To Launch The World's First Blockchain-based IVF Service App Together With Vechain And DNV
Other Vechain Contributions In Healthcare Blockchain Applications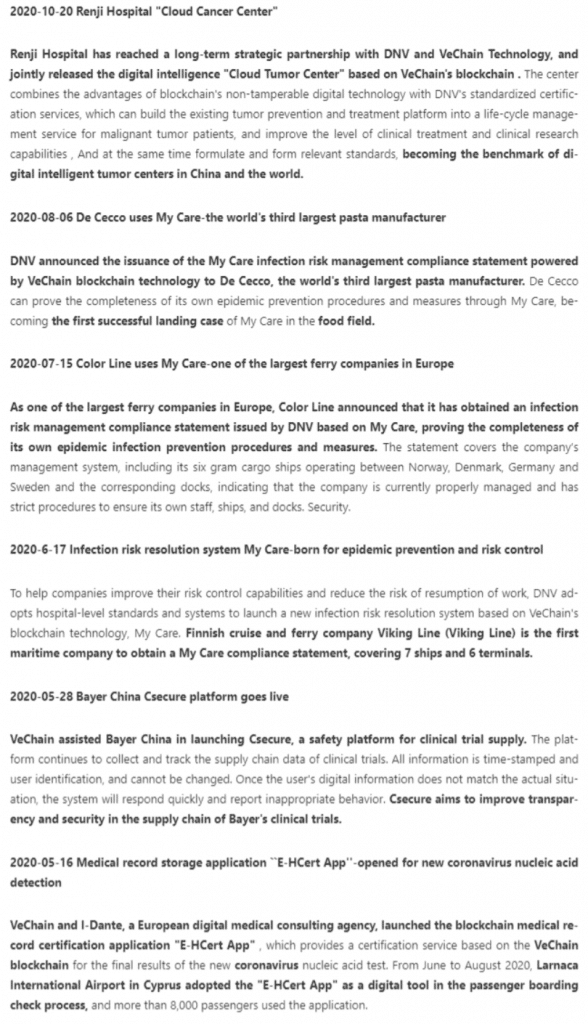 Vechain Lover @eisenreich Tweeted:
VeChain x Healthcare Blockchain Applications 🏥

With the successful rollout of MyBaby, it's a good time to look back on some of VeChain's other projects in health and safety. 👇

From Bayer China to My Care to E-HCert, VeChain's just getting started. #VeChain $VET #VeFam pic.twitter.com/GTSPEc9eZ5

— eisenreich Ⓥ (@eisenreich) June 7, 2021