The recent rise in popularity of Cardano (ADA) has resulted in the asset registering significant market cap, surpassing some traditional assets.
Data shows ADA market capitalization as of June 15, 2021 is $50.42 billion, higher than Coinbase $49.43 billion. However, ADA market cap is slightly behind telecommunications giant Vodafone.
Online gaming company Roblox's market cap of $49.05 billion also lags behind Cardano. The company has secured a dominant position in the US iPhone market, recording $3 million in daily revenue as of June 2021.
Read: Nasdaq Admire Cardano As "By The People, For The People" Type Of Currency
ADA is a relatively new asset and its market cap highlights the tremendous journey that cryptocurrency has made since launch.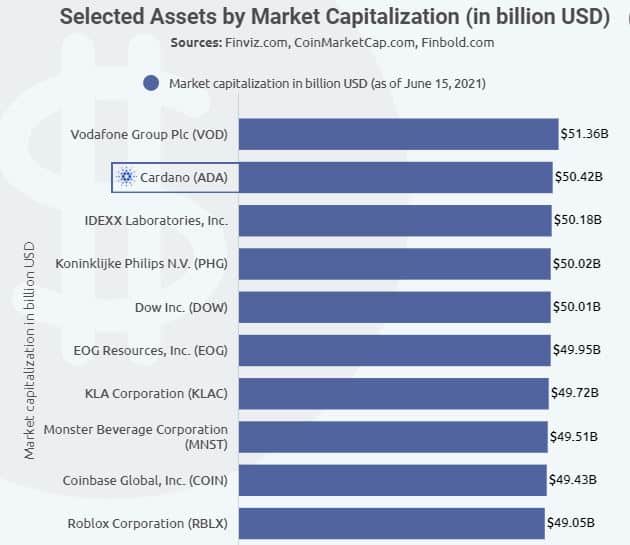 Overall, the ADA market cap is the result of the recent bull run of cryptocurrencies and ongoing Cardano network activity. Since the beginning of the year, ADA has grown more than 750%, ranking as the fifth largest cryptocurrency by market capitalization.
The Cardano ability to matchup with traditional assets by market cap is associated with ADA bullish momentum throughout the year. The cryptocurrency has attracted attention and capital inflows from thousands of investors.
Read: IOHK Researching On 'Stablefees' for Cheaper Cardano Transactions
Cardano network has seen wider adoption, and real-world use cases. Cardano signed an agreement with the Ethiopian government to streamline the country's education system, helping teachers and students share resources to improve productivity.
Read: Mike Novogratz Criticize Cardano "They Have Done Something To Create This Weird Cult" Charles Hoskinson Responded
ADA is also finding its way into the payments sector after Maltese real estate company Dreamflats launched cryptocurrency payments to pay for leases. Payment will be made for the Mercury Towers by Zaha Hadid Architects.
Read: How Cardano Blockchain Is Changing Everyday Life
Cardano continuous network growth and development increase investor confidence in the digital currency. The Cardano blockchain has achieved 100% decentralization in block production, which is an important milestone. Additionally, as part of increasing decentralization, Cardano has also released a new version of the Cardano Node, the Testnet version of AlonzoBlue 2.0. Cardano has stressed his commitment to building a system that will process billions of transactions annually.  In early June, Blockchain-Cardano announced that it was doing research on Stablefees.
Read: The Road To Alonzo Continues-IOHK Launched The Cardano Alonzoblue2.0 Testnet
With the continued growth of the Cardano blockchain, ADA market capitalization is likely to continue to gain more attraction.