- Advertisement -

Grayscale seeks to increase its assets under management with the asset manager taking a key interest in DeFi focused crypto-assets according to the latest update.
Grayscale has updates their "Assets under consideration list" with 13 new assets.
The 13 new Assets included are BNT, CRV, ICP, KAVA, KNC, ,LRC, ,NEAR, MATIC, REN, SOL, UMA, ZRX.
On 17th June, Grayscale revealed a list of new crypto assets that the asset management firm is considering adding to its trusts.
Of the 31 crypto assets outlined as (Assets Under Consideration) Include big names like Cardano, Monero, And Tezos.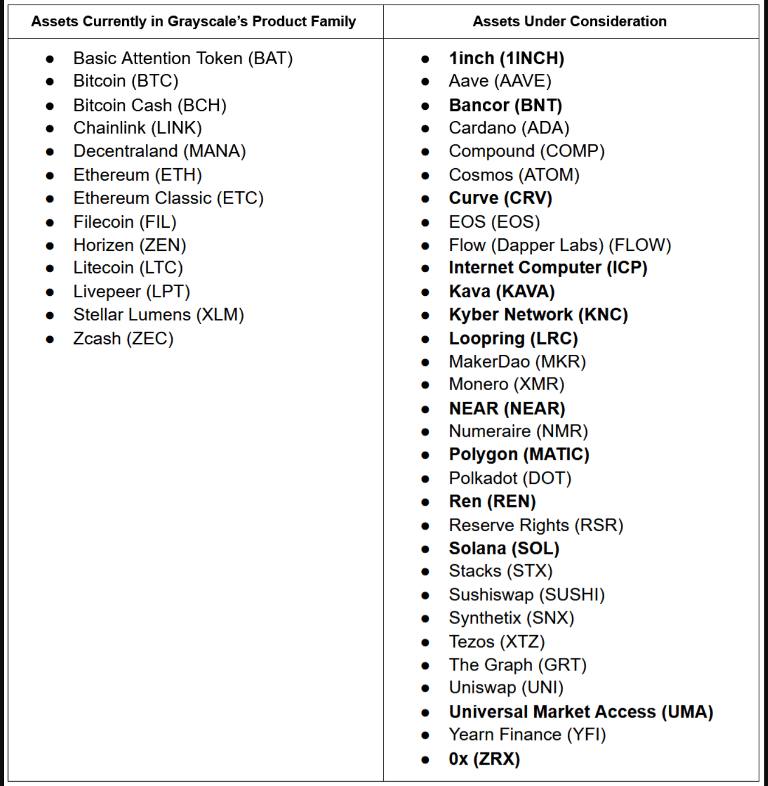 We're always exploring new assets that can help us grow our family of investment products. Here are 13 additional we'll explore: $1INCH $BNT $CRV $ICP $KAVA $KNC $LRC $NEAR $MATIC $REN $SOL $UMA $ZRX. Follow along to get updates as we expand this list! https://t.co/5BU92rVZOM

— Grayscale (@Grayscale) June 17, 2021
Recently Grayscale Buys The Dip Adding $2 Billion in Bitcoin and Other Crypto.
In a recent tweet, Grayscale Investments said that as of Monday, June 14, the total amount of crypto funds managed by its team were worth $35.5 billion. On Friday, June 11, the company announced that the total value of AUM was $33.5 billion. Thats about 2 Billion Dollars addition in crypto funds managed by Grayscale over weekend.
Last weekend, Grayscale bought $2 billion in Bitcoin, Ethereum, LINK, Livepeer, Zcash, Litecoin, and more, in addition to BAT, according to a table posted by the company in a tweet.
06/14/21 UPDATE: Net Assets Under Management, Holdings per Share, and Market Price per Share for our Investment Products.

Total AUM: $35.5 billion$BTC $BCH $ETH $ETC $ZEN $LTC $XLM $ZEC $BAT $LINK $MANA $FIL $LPT pic.twitter.com/DaGRDu6A6L

— Grayscale (@Grayscale) June 14, 2021