As crypto market crashed Cardano price droppe 30% from June 20 to June 22. After a sharp falls comes a sudden price increase as ADA is all set to retest $1.46, but on-chain data shows that climb will not be easy.
Read: Why China Is Cracking Down On Bitcoin Mining And Crypto Trading
Cardano price touched May 19 low of 1.041 USD creating a bottom and risen sharply. ADA 200 day moving average provided a solid support to the fast falling Cardano prices. More upward movement seems to be coming, But on-chain data shows that upswing will not be easy.
Read: China Crypto Crackdown Expands As China Central Bank Restrict Banks and Payment Providers to Deal with Crypto-Related Businesses Including Exchanges
Cardano price sets a local low at $1.041 which was a 30% decline. After the lows ADA price rise sharply and currently trading at 1.27 USD. The next hurdle for ADA is $1.461.
The bulls need to push through $1.367 to reach $1.461. A 4-hour candle closing above $1.491 will indicate buying opportunity. it will also tag the supply zone, ranging from $1.535 to $1.644.
Support: 0.993 to 1.0741
Resistance: 1.367 to 1.461
ADA On-Chain Data:
As ADA price drops Cardano new addresses increases by 23% that shows investors keen interest in buying ADA at low prices.
The IntoTheBlock's Global In/Out of the Money (GIOM) model shows that the uptrend face a tough journey.
Read: Why Crypto Market Lost $120B In A Day And $270 Billion In 1 Week
About 215,000 addresses purchased 3.92 billion Cardano at an average price of $1.34 and these investors are "Out of the Money."
This group of underwater investors are present up to $1.88. Therefore bulls needs to power up and smash through these resistance zones as weak hands would definately sell as ADA price will grow. The upward motion will be hindered if there is a rejection at $1.326.
Read: Input Output Global (IOG) Partner World Mobile Launching Their Token On Cardano
Investors should focus on the large transaction metric. This on-chain index tracks ADA transfers worth $100,000 or more and has increased from 2,500 to 4,540 in the past four days.


Often an increase in large transactions shows local tops, therefore, the recent increase in this on-chain index may indicate a coming potential sell-off.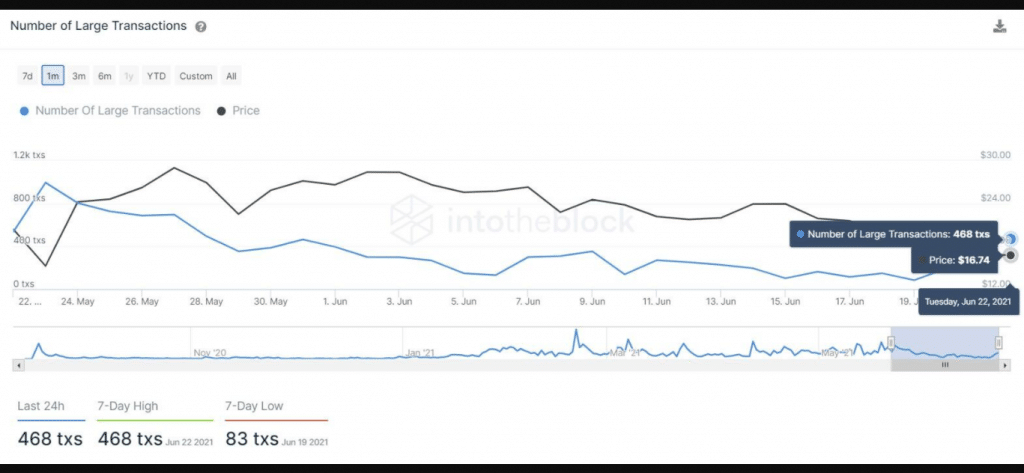 The worst scenario for ADA will be if prices breaks $1.00 support, that will bring more sellers and price can face a sharp decline up to 0.86 USD.