Novel innovations are seen every day in the world of crypto. From forward-looking currencies to progressive derivate platforms and exchanges, the crypto market is constantly changing. In today's article, we will review a crypto derivatives exchange that goes by the name of FTX Exchange. Despite being new in the market, the platform has created quite a name for itself.
Introduction:
If you closely follow cryptocurrency news, you would have surely heard about FTX Exchange. Partnered with Binance, the most significant crypto exchange globally, FTX Exchange is now the leading cryptocurrency derivative in the ever-changing world of crypto. With headquarters in Hong Kong, the FTX Exchange is designed with cutting-edge technology and is built specifically for professional or intermediate-level traders rather than investors. Now the question may arise, is FTX suitable for investors?
Unfortunately, this platform is not for those who are entering the crypto world as investors. This is because derivative trading is far more complex than traditional spot trading, resulting in higher losses. As it is recommended that beginners should start small, this platform is more appropriate for relatively experienced traders.
This industry-leading program was created in 2018 by Sam Bankman-Fried, who started as a simple trader on Jane Street Capital, and now is also the CEO of the company. It won't be wrong to say that the platform was built for traders by a trader.
Before launching this novel program, the creators established Alameda Research Ltd in 2017, a prominent liquidity provider for crypto. After founding FTX, Alameda assists the program in maintaining order books and providing 24/7 OTP service.
After seeing the program's initial success, Binance decided to partner up with FTX and became the lead investor. Seeing this, other leading companies like FB Capital, Greylock Partners, Kenetic, One Block Capital, and Proof of Capital decided to join the bandwagon, and all became seed investors of the exchange.
Therefore, FTX exchange is backed by many crypto ventures making it moderately stable. It also has a transparent system as the founders believe they have nothing to hide, making the exchange stable and trustworthy. What else would a trader need? And thanks to the FTX exchange, Alameda now manages over $100 Million of digital assets and trades that lead up to $1.5 Billion per day.
FTX Exchange Ranking:
It is no secret that FTX has made quite a name for itself in the crypto derivatives market. But how good is it as compared to other crypto derivative platforms? With over 1497 markets, the FTX exchange is rated 'A.' Being rated 'A' verifies the platform's transparency, proving that the FTX exchange is entirely safe to carry out all the trading activities.
Compared to 434 different derivative exchanges, the FTX exchange is ranked at #3 in transparency and volume. Dealing with a wide range of fiat and cryptocurrencies, the FTX exchange is one of the best in the market!
Prominent Features and Products:
This industry-leading exchange has been attracting and hooking thousands of users to its various remarkable features. As mentioned before, derivative trading is risky and requires a stable and secure exchange to carry out its activity. If you're looking for such a platform, FTX Exchange is the place for you.
The platform also offers various chat groups in more than ten different languages. In addition to that, FTX exchange also provides premium features that are rarely seen on any other platform, such as an OTC desk and unlimited withdrawals.
Some other notable features and products of FTX Exchange are:
One of the most prominent features of the FTX exchange is that it offers tremendous leverages to its users that lead up to 101x. Due to this, the profits of users skyrocket, and they get huge returns in no time. This feature is not seen in any of the platform's competitors.
FTX exchange was the first one in the industry to offer leveraged tokens to its users. It provides long as well as short-term tokens that lead up to 3x without even restoring the margin. This feature was highly appreciated in the market and became one of the main reasons for the popularity of the exchange.
Another notable feature of the FTX exchange is its ability to quick Fiat transfers. Platform users can make transactions and deposits in various Fiat currencies such as USD, EUR, AUD, GBP, and CAD. The exchange accepts bank transfers, debit cards as well as credit cards.
Easy Stablecoin Settlement:
In our opinion, this is by far the most noteworthy feature that the exchange offers. This feature allows the user to convert the currencies within their accounts effortlessly. In addition to that, the user can trade all their derivatives with only one margin wallet. This is a convenient feature for the traders to settle using stablecoins instead of the traditional and default USD.
Unlike the usual exchanges that accept only Fiat and Stablecoins as collateral, the industry-leading FTZ exchange allows users to use a range of cryptocurrencies as collateral, such as ETH, LINK, MKR, YFI, etc. In addition to that, the platform provides detailed guides and a support team in case a user faces any problem.
FTX Exchange Fees Structure:
As if offering a range of remarkable features was not enough, FTX Exchange provides its users with the lowest trading charges in the whole market! Most of the features are free such as OTC trading and Future Settlement. In addition to that, the deposit and withdrawal are also free. This is also a justifiable reason for the popularity of the platform in the market.
Presently, the trading fee ranges from 0.07% to as low as 0.04%. The system is designed so that traders with higher volumes are offered low trading fees. Due to this, making more considerable profits increases, which justifies the company's policy, go big or go home.

Furthermore, in leveraged tokens, FTX exchange demands creation and redemption fees of 0.10% and a daily management fee of 0.03%. If you decide to use the leverage of 50x, the trading fee will increase by 0.02%, and similarly, if you choose to use leverage by 100x, the trading fee will increase by 0.03%. This fee is paid in the insurance fund and is not seen in any other exchange platforms, including BTC-PERP and ETH-PERP.
FTT Token:
Just like most derivative exchanges, FTX also uses its utility token. The FTT token can be regarded as a reward token like the other native utility token of different platforms such as BNB for Binance. The FTT token gives multiple benefits to its holder. Unfortunately, the FTT token is not available for people living in the USA.
FTX Exchange also offers a specific trade discount for FFT holders. These discounts are based on your holdings and can range from 3% to up to 60%. It is pretty evident from the table below that holding an FTT token can be highly profitable for you.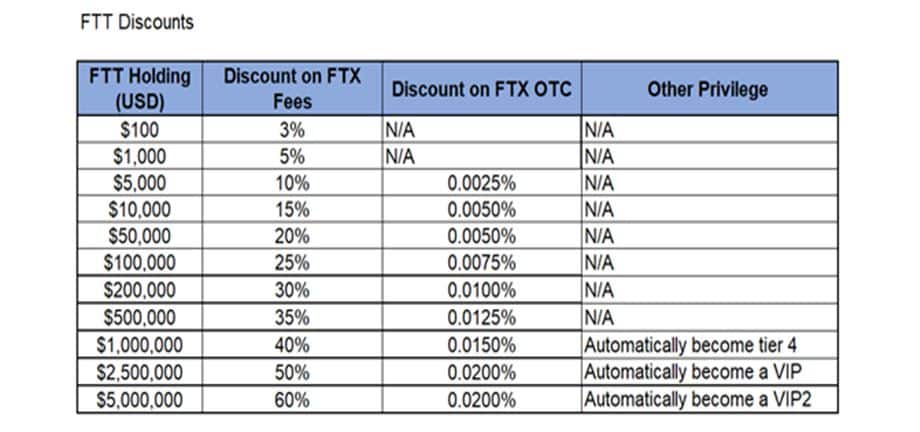 In addition to this, you can increase your rewards by staking your FTT tokens. By doing this, you would receive incentives such as:
Raised Referral Rates
Bonus Votes
Increased Airdrop incentives
Maker Free Rebates
How Safe & Regulated is FTX:
When you're running a platform in which Millions are being stored and traded, security is a big concern. Although the platform has never disclosed what security protocols they use to protect the data and funds of their users, we can assume that the FTX exchange uses standard bank-like security practices. No incident has been reported relating to a breach in the security system, which only proves that the exchange is entirely safe from any outside attack. The platform also takes pride in stating that they conduct regular security checks with the help of third parties like the industry-leading crypto security company like Blockchain Consilium.
Apart from this, the exchange uses standard protocols such as cold wallet storage and two-factor authentication to ensure the safety of its users. Therefore, FTX appears to be a secure platform backed by Alameda Research Ltd, which has never made other platforms successful too in the past.
As far as Regulation is concerned, FTX exchange is not regulated, and people inside the USA cannot trade through the platform.
Derivative Products on FTX
Another factor that makes FTX exchange the best derivative trading platform in the market is that the platform offers various innovative trading products. These products can be easily traded on the platform using a single-margin wallet. The products include:
FTX exchange provides its users with two future contracts, i.e., Quarterly and Perpetual Future, on numerous coins. These coins include BTC, EOS, BNB, and ETH. In addition to that, FTX exchange allows its user to trade various parts of the crypto market rather conveniently. Furthermore, the exchange allows its users to use fiat currency as collateral.
Some of the prominent FTX Future pairs are as follow:
BTC-PERP (Bitcoin Perpetual Futures)
ETH-PERP (Ethereum Perpetual Futures)
MTIC-PERP (Matic Perpetual Futures)
BNB-PERP (BNB Perpetual Futures)
Future pairs can be traded with a margin up to 101x by FTX users. Not only this, but they also help increase users' profits to an extent where they would not have been able to reach on their own.
Another innovative and remarkable trading product offered by the FTX Exchange is the leveraged tokens. These leveraged tokens aid the user with risk management. FTX Exchange provides traders with leverage as much as 101x, but as a safety precaution, by default, there is a maximum 10x leverage on all accounts.
ERC20 tokens and FTX exchange allow users to sell and buy them with up to 3x leverage. To top it all, the platform has a policy of no margin requirement for these tokens. These tokens are available for various prominent cryptocurrencies such as ETH, BTC, MATIC, and XRP.
Visit FTX Leveraged Tokens Market.
Another commendable feature of the FTX exchange is that it provides traders with options to buy or sell an underlying asset at the right time to be profitable for them. In opposition to the price volatility in the crypto market, experienced traders can use this feature to hedge their open position. This whole process can be regarded as similar to the futures trading feature in the platform. Selling and buying are also considered as "calls" and "puts." Moreover, the contract expires in USD.
FTX Exchange also allows the trader to trade their options contract expiring in USD with a Bitcoin Options Contract. Through options contracts, traders choose to go call or put their assets.
This innovative feature is primarily for beginners and fundamental traders. Through MOVE contracts available on FTX Exchange, users can trade according to the future volatility of the crypto market. These contracts allow the user to trade on the amount a cryptocurrency is moving, regardless of its direction. In MOVE contracts, only the volatility matters. The contract's value is also determined by the volatility of the cryptocurrency over a certain period.
For instance, in the case of Bitcoin, the value of the contract will depend on the amount of volatility that comes in the value of the coin is US Dollars. The current volatility of the market can be shown in the chart below.
Moving on to a relatively standard feature, FTX Exchange offers a spot market for the more traditional investors and traders to trade in the assets and cryptocurrencies of their own choice. Currently, the FTX Exchange provides almost all the most significant assets and cryptocurrencies, such as ETH, BTC, LINK, BNB, DOGE, USDT, and many more, for spot trading. FTX Exchange allows spot trading of an asset without any margin or collateral. 
Some of the leading trading pairs on the FTX exchange as per trading volume are BTC/USD, ETH/USD, USDT/USD, LINK/USD, BNB/USD, DOGE/USD, LTC/USD.
Account Types and Withdrawal limits on FTX
There is variety even in the types of accounts on the industry-leading FTX Exchange. The platform offers its users three types of KYC accounts, and each category has its requirements and perks. FTX Exchange allows you to withdraw up to $2000 daily by just providing the essential info. This category is called Tier 1. As you move up, the perks also increase.

In Tier 2, the platform requires the user to submit some legal documents in addition to proof of identity. When you qualify for this category, the exchange allows an unlimited amount of withdrawals in crypto. Similarly, to be eligible for the Tier 3 category, you have to fulfill all the previous requirements and submit a copy of your bank statements. After you're eligible for this, FTX Exchange allows unlimited withdrawals for crypto and fiat currencies.
Deposit & Withdrawal:
FTX Exchange has a relatively easy deposit and withdrawal process. The platform offers a variety of methods for users to deposit their funds. These generally include fiat, crypto as well as Stablecoin. The platform also allows the use of Credit cards to purchase crypto assets directly from the FTX exchange. Traders can also deposit their stable coins into their FTX account.
The cryptocurrencies that can be deposited on the platform are:
Bitcoin (BTC)
Ethereum (ETH)
Litecoin (LTC)
USD Stablecoins (USDC, USDT, PAX, TUSD, and BUSD)
Binance Coin (BNB)
FTX Token (FTT)
Bitcoin Cash (BCH)
In addition to providing such a variety of crypto deposit options, the FTX Exchange incentivizes its users with no crypto deposit or withdrawal charges. But, the fiat withdrawals that are under $10,000 are charged with a fee of $75. As mentioned earlier, fiat withdrawal is available only for users who are Tier 3 verified on FTX, and this process is carried out via a third-party OTC desk. It is suggested that you should contact FTX exchange customer support if you are depositing or withdrawing from the platform for the first time to avoid any future mishap.
Supported Currencies:
FTX Exchange provides its customers with a wide range of currencies by using which they can deposit, trade, and withdraw. These currencies are comprised of fiat as well as crypto currencies.
Some of the supported Fiat currencies are as follows:
USD
GBP
EUR
CAD
AUD
CHF
SGD
ZAR
In addition to these fiat currencies, FTX also allows a wide range of cryptocurrencies to be used. Thanks to the platform's innovative products and features such as leverage tokens, spot trading, and MOVE contracts, trading through these cryptocurrencies has become relatively easy.
Some of the supported Cryptocurrencies are as follows:
Bitcoin (BTC)
Litecoin (LTC)
Ethereum (ETH)
Binance Coin (BNB)
FTX Token (FTT)
Bitcoin Cash (BCH)
Tether (USDT)
Dogecoin (DOGE)
OKB
MATIC
Cosmos (ATOM)
XRP
ChainLink (LINK)
Ethereum Classic (ETC)
BitMax Token (BTMX)
Furthermore, the FTX exchange offers its users more than 20 perpetual swaps from which futures trading is available. Moreover, more than 45 leveraged tokens are supported by FTX for its users.
Mobile Trading App:
FTX exchange provides further ease to its users with a mobile trading app. This innovative app is availible on both Android devices and iOS, making it accessible for everyone. It has almost all the great features of the FTX exchange, such as market monitors and trading options. Currently being used by 100K+ people, this app has a long list of satisfied customers and an average rating of 4.5 stars on the app store.
FTX US
FTX.US is a partner company of FTX exchange which the US government regulates. FTX US makes it possible for US traders to trade and enjoy benefits of FTX US exchange. FTX has to made a separate platform for US traders in order to comply with strict US regulations. US users are not allowed on FTX main exchange so keeping that in view FTX launched, FTX US.  The platform uses the same features as the FTX exchange. Therefore, the users can enjoy the same perks as the original platform.
Just like the FTX exchange, FTX US also leads in the area of low trading fees. Starting from 0.4%, it goes as low as 0.05%. The higher the trading volume, the lower your takers' fees will be. This is a step to increase the profit margin of traders. In the case of withdrawal and deposit fees, bank transfers are completely fee-free, while wire transfers charge up to 1%.
The exchange also offers a wide range of fiat and cryptocurrencies to be used in trading. The platform supports six fiat currencies and approximately 19 cryptocurrencies. Supported Fiat currencies are USD, CAD, GBP, AUR, EUR, and SGD. While some of the supported cryptocurrencies are as follows:
ETH
BTC
LTC
DOGE
BCH
USDT
LINK
The FTX US is a secure and regulated platform. Traders can carry out their operations without any hesitation. The exchange uses all the required standard safety protocols, including two-factor authentication and different passwords for every feature to be on the safe side. In addition to this, the exchange has partnered with Chainalysis, which is a blockchain analysis firm. It regularly checks upon the platform's security system and ensures the safety of users' data and trading profits.
Conclusion
To conclude, FTX Exchange is undoubtedly one of the best crypto derivative exchanges in the market. The platform provides innovative and ground-breaking new features that are not seen in any other derivative exchange. FTX exchange is the go-to platform for every crypto trader with a secure and stable set of networks. Providing a wide range of new and innovative features such as leveraged tokens, move contracts, and spot market, the exchange is a must-try for all.
Unfortunately for the people living in the States, this derivative exchange is not available. However, the citizens can trade via a partner company called FTX.US. As we know that derivative trading is hazardous; therefore, the exchange should only be used by traders who have sufficient experience in this area. In addition to all this, to make user accessibility easy, FTX exchange also has a mobile app, so now you can monitor your profits on your phone too.
Frequently Asked Questions (FAQ's):
How Is FTX Exchange better?
Ranked at #3 amongst all the derivative exchanges in terms of transparency and volume, FTX exchange is undoubtedly worth it. But still, if you are curious to know how the platform is crushing its opponents, here is a list of reasons.
Backed by many crypto ventures, including Alameda Research Ltd and Binance, making it completely secure and stable.
The trading fee is the lowest as compared to other exchanges, thanks to FTT tokens.
No withdrawal and deposit fee.
Offers a variety of trading products.
Secure and Glitch free.
These are only a few reasons that advocate that the FTX Exchange is one of the best crypto derivative exchanges in the market.
Is FTX Exchange suitable for beginners?
No, FTX exchange is not precisely suitable for beginners. Derivative trading is relatively complex than traditional spot trading, and the chances of loss are also high. Therefore it is advised that more experienced traders should use the platform. But, the exchange has a very nifty support center which can be helpful to beginners.
What are the alternatives to FTX?
There are currently more than 436 derivative exchanges in the crypto market. FTX is among the best, but if you're still looking for another platform to perform your trades, some alternatives are Binance, Huobi Global, and OKEx.
Does FTX provide translation support?
FTX exchange has users all over the globe. Therefore the platform provides translation support to its users in multiple languages such as English, Traditional and Simplified Chinese, Japanese, and Korean.
Is any country banned from using FTX?
Due to regulatory issues, multiple countries have banned FTX exchange. Users from these countries can use a partner company of the exchange called FTX.US. The United States government regulates this exchange.The list of banned countries are as follows:
USA
Iran
Syria
North Korea
Singapore
Sudan
Cuba
Canada
Follow Us on Twitter and Facebook.
Disclaimer: This content is informational and should not be considered financial advice. The views expressed in this article may include the author's personal opinions and do not reflect The Crypto Basic's opinion. Readers are encouraged to do thorough research before making any investment decisions. The Crypto Basic is not responsible for any financial losses.
-Advertisement-