Each day new crypto newsletters are created. They describe the reality of cryptocurrencies and bring daily news from this area. Velocity of how fast new sites are created is huge and results in a large number of these crypto news sites.
If one would like to read what's new in cryptocurrencies in one place and save time, would probably look for sites called aggregators.
Kryptotipy.sk is one of them. This is a young project that already displays news from more than 100 different websites from more than 9 countries around the world.
It is probably one of the largest aggregators ever.
Haven't heard of it yet? Great! Read on.
Originally it is a Slovak project, but don't be afraid, the website is translated into another 5 languages, namely English, German, Dutch, Hungarian, Polish.
The main service is news in the news section [https://www.kryptotipy.sk/news].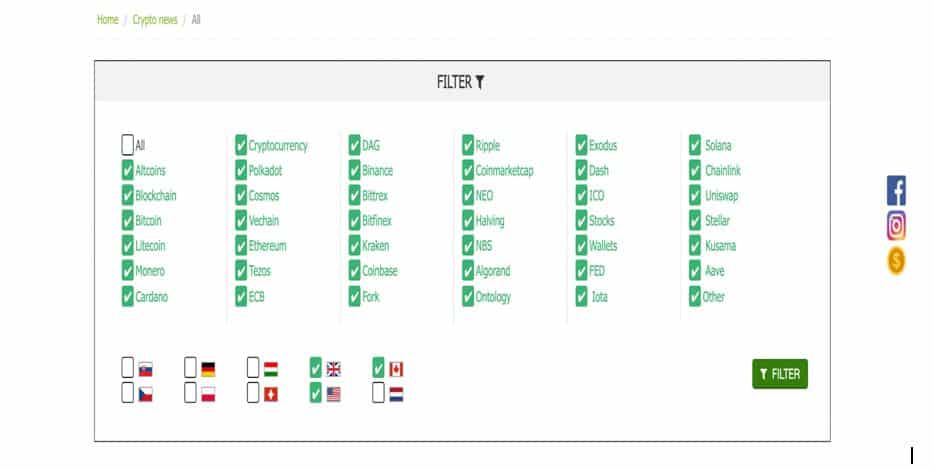 It is a space where you can filter crypto news by category and country of origin. For example, I am interested in what was written today on the subject of Bitcoin and Ethereum in Germany. I will check the Bitcoin, Ethereum and Germany categories in the filter. After pressing the filter button we have the latest German crypto articles from many sources on the topic of Bitcoin and Ethereum, even sorted by time of addition.
In addition to that, the interested one can find a dictionary on the site, which will help novices and advanced users to orient themselves in the domain of cryptocurrencies. There is also a section of external services, where interesting crypto projects are included. The crypto learning tab includes their own creation in the form of articles so far only in Slovak. These are mostly about passive income. In the last section you can find crypto curiosities about a few of the most interesting cryptocurrencies.
Among interesting resources you can find on kryptotipy.sk are cointelegraph.com, beincrypto.com, cryptopotato.com, and thecryptobasic.com too. You can see all resources that kryptotipy.sk aggregate in the resources section [https://www.kryptotipy.sk/sources].
Today, kryptotipy.sk loads more than 300 articles per day and over time this number only increases. If you feel that there are already a lot of crypto pages existing and you somehow lose their news, you are definitely looking for a single page with crypto news like kryptotipy.sk. Take a look.
Follow Us on Twitter and Facebook.
Disclaimer: This content is informational and should not be considered financial advice. The views expressed in this article may include the author's personal opinions and do not reflect The Crypto Basic's opinion. Readers are encouraged to do thorough research before making any investment decisions. The Crypto Basic is not responsible for any financial losses.
-Advertisement-