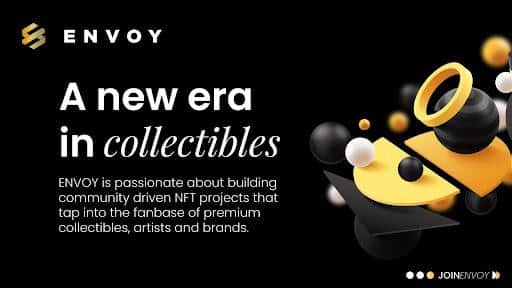 Willemstad, Curacao, 19th August, 2021,
ENVOY Network, a premium NFT label that brings in a new era of collectibles for entertainment, music artists and brands globally, has secured the conclusion of a $2.5 million financing round.
The new capital injection was led by a clutch of reputable investment funds, including AU21, 3comma, Prometheus Labs, Spark Digital Capital, Solidity Ventures, Paribus, Kyros Ventures, Stakely.vc, and Maven Capital.
The financing round was also bolstered by a powerful board of advisors featuring Austin Kramer, Miranda Huybers, Paul Doherty, Marlon Flohr and Perry van de Mosselaar.
The proceeds of this funding will be utilized in accelerating product development. The company is also looking to actively hire across many functions, including marketing, design and operations.
Many of the investors who came in this round provide great breadth in terms of perspective. It reflects the high interest among VC firms while jumping on the NFTs bandwagon as they increasingly consider it an investable technology.
"We are so happy with all of the great investors and advisors who came onboard to support ENVOY so quickly. It's a real honor to have them as a part of our global team. Creating meaningful premium quality projects is within our team's DNA, we have a solid background in various industries and are ready to bring this to ENVOY," said ENVOY CEO, Bram Verstraeten.
"With ENVOY and our partners we want to open up the NFT space to the mainstream. We are truly dedicated to creating meaningful projects that tap into our community and fanbase. Every individual will get the chance to own an NFT either through true purchasing or by engaging with the platform," Verstraeten added.
Dedicated to making non-fungible tokens accessible for everyone, ENVOY develops NFT projects for its clients, either from the bottom-up or in collaboration with selected partners.
These projects generate revenue from sales and royalties. With every release, ENVOY offers both premium purchases and unique community-driven NFTs to empower fans and give them access to their favorite artists' digital collectibles.
As a wider community perk, ENVOY also allows members to trade and collect unique community NFTs and gain rewards.
ENVOY delivers a robust business model for B2B partners – artists who hire ENVOY to create/market NFTs – or their clients who discover and purchase NFTs.
As far as the B2C model, the end-user can easily learn about ENVOY's offers, browse the selection of products, join the community, share and invite others, and then buy, collect or earn NFTs.
Sonny Christofilis from AU21 Capital said: "We look forward to partnering with ENVOY as they actualize the full potential of NFT's by introducing them to a wider audience. While NFT assets have exploded in popularity over the last year, we believe there is significant untapped potential for user base growth, and look forward to helping ENVOY actualize this potential in the coming months."
$ENVOY is the native utility token that enables users to participate in the community, armed with unique features including discounts on transactions, staking and farming, governance voting, exclusive access, airdrops as well as the ability to gain real-life benefits like access to personal AMA.
As a critical part of the ENVOY ecosystem, ENVOY VAULT™ tool is designed to help accelerate the development of community activity and buzz. To get access to VAULTS, members that own and farm $ENVOY tokens will be awarded with pearls, which are then used to unlock unique NFTs of varying Tier levels.
Looking to seize on the moment, ENVOY has already prepared a selection of initial NFT releases and will reveal many more trailblazing collaborations in the coming months.
About ENVOY
ENVOY Network is a premium NFT label and platform founded in 2021 by a team of industry experts from global organisations including: Spotify, Smash The House and Activision. The community focussed platform enables fans to purchase and trade unique pieces from their favourite artists and celebrities without needing to be a crypto expert. ENVOY collaborates with renowned talent including: artists, actors, celebrities, influencers, festivals, publishers, e-sports companies and IP owners to create impactful NFT's. For more information, visit https://www.envoy.art.
Contacts
CEO
Follow Us on Twitter and Facebook.
Disclaimer: This content is informational and should not be considered financial advice. The views expressed in this article may include the author's personal opinions and do not reflect The Crypto Basic's opinion. Readers are encouraged to do thorough research before making any investment decisions. The Crypto Basic is not responsible for any financial losses.
-Advertisement-