Smart Algo is a hi-tech company with seven years of experience in developing trading robots based on the latest AI technology. 
Offering automated crypto trading services, Smart Algo provides safe and reliable trading options that are aimed to help minimize losses and maximize profits. Using these robots, traders can buy and sell any cryptocurrencies, be it Bitcoin or altcoins, and earn a passive stable income.
Underlying Smart Algo's Mechanism
Users who choose to trade with Smart Algo robots don't necessarily need profound investment knowledge. Instead, the robots combine complex skills and algorithms that help them trade automatically and constantly improve their proficiency.
The technology is also reinforced with self-learning neural networks. As soon as the robots understand the basic, Fibonacci or fractal trading, they continue to analyze new data for further improvement.
In addition, the algorithms are specifically developed with the stop-loss system aimed at minimizing losses. 
Smart Algo's Features and Benefits Explained
Here are the possibilities traders can expect to get when using Smart Algo crypto trading robots:
After choosing the investment package, the clients only need to wait for a successful day to collect their profits at the end of the day. 
The users don't need any knowledge in the fintech world, as the robots have all the required information. What's more, the Smart Algo team can provide constant valuable recommendations for the trading newbies.
The Smart Algo robots trade non-stop 24/7, constantly providing clients with updates and making winning choices. This eliminates the constant need to sit in front of a monitor to follow the market.
With the risk control system and the stop-loss algorithms, Smart Algo offers a convenient and reliable risk-to-profit ratio. The company also provides the highest protocols to prevent users from cryptocurrency hackers.
For any questions, queries, or problems, users can refer to the company's Customer Support that works 24/7/365 in order to provide clients with advice, recommendation, or helpful tips.
Smart Algo offers customers the opportunity to get additional profits via a multi-level Affiliate Program. By inviting friends, family, or colleagues to join Smart Algo, users benefit from a percentage of the commission, starting at a minimum of 8%. 
Clients are guaranteed higher payouts if the newly invited partners start their own affiliate network at a later stage.
How to Trade with the Smart Algo Robots
Smart Algo Solutions provides a straightforward and UX-friendly cryptocurrency trading process:
Create an account with Smart Algo. 

Verify your email address.Additionally, you can install a two-factor authentication for the full safety of your trading accounts. 

Then, verify your identity by filling in your first and last name, address, valid phone number, and photo ID.

Once this information is verified, you can invest using credit or debit cards, BTC, or altcoins.

Start trading securely and monitor your results in your dashboard. 
Smart Algo's Investment Packages 
Registration at Smart Algo is free of charge. After passing a short sign-up process, users can choose the most convenient investment package for their wallets. Depending on the level chosen, clients receive 40%, 60%, 65%, 75%, 90%, and 100% profit accordingly.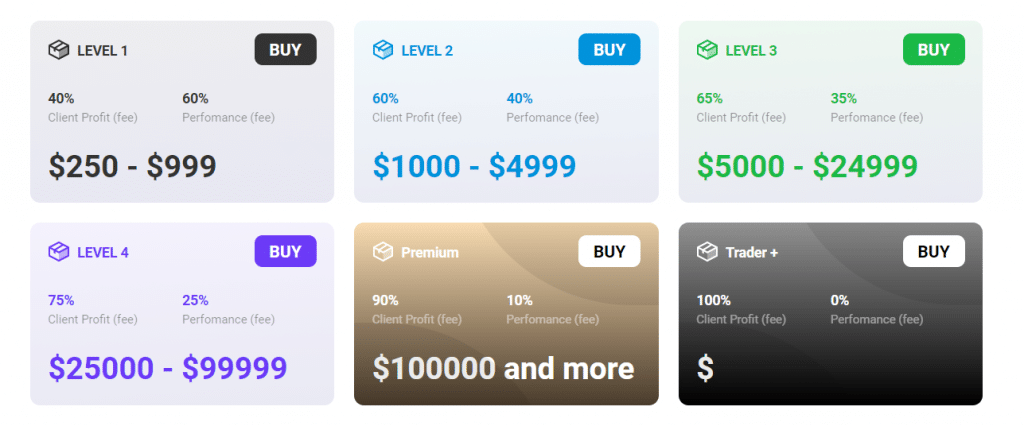 Conclusion
Smart Algo is considered to be a leading trading platform, providing advanced AI-based robots. The platform is incredibly user-friendly, so clients can easily create a free account and choose the desired investment package for further passive income generation. 
The Smart Algo services are safely developed to help clients maximize their profits while minimizing risks. Catch the moment and try the Smart Algo trading robots for experiencing stable, easy, and safe gains.
Smart Algo's Useful Resources