In this, in-depth article we have discussed What is Ethereum, its history, How Ethereum works, Advantages and Disadvantages of ETH, How to buy Ethereum from different resources, How to properly store your Etherum, ETH mining and Proof of stake plus detailed FAQ's in the end
What is Ethereum?
Ethereum is a public, open-source, blockchain-based, a distributed software platform that developers can use to build and deploy decentralized applications.
ETH is a decentralized system that uses a peer-to-peer approach.
Every single interaction takes place between the participating users is only supported by them without the involvement of a control authority.
Ethereum is based on decentralized operations, meaning it is not governed by any single power.
As a decentralized system, ETH is completely autonomous and is not controlled by anyone. It has no central source as it is run by thousands of volunteer computers around the world, which means it can never go offline.
Second, it is important to understand that although Ethereum and Bitcoin are constantly compared, they are two completely different projects with completely different goals.
Bitcoin is the first primary crypto and money transferal method based on and backed by a distributed public ledger technology
ETH used the technology behind Bitcoin and significantly expanded its capabilities.
It is an entire network with its internet browser, coding language and payment system.
Above all, users can use it to create their decentralized applications in the ETH blockchain.
These applications can either be completely new ideas or decentralized revisions of existing concepts.
The whole Ethereum operation is maintained by a  system called "nodes". Nodes are enlistees who download the complete ETH blockchain and fully reinforce all of the operation's customs, keep the network fair, and earn rewards.
Read Also: How To Trade Cryptocurrency-Best Cryptocurrency Trading Strategies
Ethereum History
Ethereum has a lengthy, argumentative history that has had a huge impact on the design of the ETH. The white paper introduced by Vitalik at the end of 2013 was the heart of the ETH era.
As a core concept the goal was to create a distributed computing platform that fully utilized the potential of blockchain technology.
The general ambition of the project outlined in the White Paper and the technical expertise of its founder got the attention of many in the cryptocurrency space.
The platform's core innovation, known as the Ethereum Virtual Machine (EVM), is a complete piece of software that works on the Ethereum network and enables anyone to run any program on the ETH blockchain despite any know-how of the programming language.
The result is the potential to build quality decentralized applications on an ETH platform.
Ethereum making started in 2014 with Vitalik with his modest team started through the Swiss company ETH Switzerland GmbH and the Swiss non-profit ETH Foundation.
In July 2014 ETH did a crowd sale that raised over $ 14 million. In September of the same year ETH was distributed to investors and the development team while the remaining funds went to the Ethereum Foundation.
In July 2015, the first trial main net version of ETH was released and was termed as the Frontier version. The first major upgrade to the Ethereum platform was released in March 2016 as Homestead that was considered stable and focused on gas prices, security, and transaction processing.
Read Also: How to Buy Bitcoin Cryptocurrency
How Does Ethereum Work?
Ethreum operation is based on smart contracts in which developers record the terms for their program or dapp on the Ethereum network to execute them.
They are called smart contracts because they deal with all aspects of the contract – enforcement, management, performance, and payment.
A smart contract is not intelligent or smart but it is rigidly uncompromising.
Once a smart contract has been made accessible on the ETH network, even the original author can no longer edit or correct it.
The only way to change a smart contract is to modify the entire network so a variance is practically impossible.
Read also: What is Bitcoin and How Does it Work
ETH was created with the capability to create complex contracts
With smart contracts, security means handling every possible way in which a contract can be executed with perfect accuracy to ensure that the contract does only what the author intended.
Ethereum started with the idea that "code is law". That said, an Ethereum contract is the ultimate authority and no one can override the contract.
Users generate transactions in the form of smart contracts that operate on ETH. When a user forwards a transaction to a contract, every computer working as a node on the network run the contract code and then register the output
The whole process is performed by utilizing the ETH Virtual Machine, which transforms the smart contracts into directions the computer can read.
To update the event, the process of mining is used. Mining is performed with a Proof of Work algorithm just like Bitcoin.
Read: Key Points when selecting cryptocurrency exchanges
Advantages of Ethereum
The ETH contracts are completely safe from third party tampering.
All decentralized apps and DAOs included in the network cannot be controlled by anyone. This excludes the conflict of fraud and corruption and makes the network safe from any tampering.
The entire platform is decentralized, which implies there is no possible single point of failure. Therefore all apps constantly stay online and they are never switched off.
Besides, due to its decentralized nature and cryptographic security, the Ethereum network is well protected against possible hacking attacks.
Disadvantages of Ethereum
Even though smart contracts are supposed to make the network flawless, they can only be as good as the people who write the code for them.
There is always room for human error and any error in the code can be exploited. In this case, there is no direct way to stop a hacker attack or exploiting this error.
The only possible way to correct any discrepancies is by rewriting the underlying code. However, this completely contradicts the nature of the blockchain, since it is supposed to be an unchangeable ledger.
How To Buy Ethereum
Ethereum (ETH) can be bought from three main sources
Cryptocurrency brokers like Coinmama, Bitpanda, eToro, and others
Trading platforms like Coinbase, Binance, Kucoin, Okex, Bitfinex and many more
In contrast to exchanges, There is some peer to peer exchange services that enable a more direct connection between users. Local bitcoins are an example of such an exchange. After creating an account, users can post buy or sell requests for ETH, including information about payment methods and prices. The users then browse through the listings of buy and sell offers and pick the trading partners with whom they want to do business.
Read: Binance Exchange Review, a mini-encyclopedia on Binance
How To Store Ethereum?
Ethereum like other cryptocurrencies can be stored in wallets, there are five main class of wallets to store ETH
Desktop Wallets
A desktop wallet is installed on the user's computer, giving complete control over funds and related security.
There are desktop wallets that enable users to download network blocks and verify their authenticity, as well as independently manage their funds.
Users of thin wallets do not have to download blocks and can download them on a portable device.
Best Ethereum desktop wallets are:
Online Wallets
When practicing a web-based wallet user's private keys are stored online on a server that is controlled by someone else and is connected to the Internet.
In this way, users can effortlessly access their credit from any device around the world.
However, there is always a risk that the server will be hacked or even the organization running the service can get control of your bitcoins
Best Ethereum online wallets are:
Mobile phone, cell phone Wallets
The main benefit of a mobile wallet is that the user's credit is always available. It is a very convenient method of paying for goods by scanning QR codes
Read: Top 17 Best Crypto Trading Bot
Best Ethereum mobile phone wallets are:
Hardware wallets
Hardware wallets are committed portable devices that contain private keys and make payment easier.
There are different types of hardware wallets, but all of them allow users to virtually carry any amount of cryptocurrencies in user pockets.
Also Read: Cryptohopper Trading Bot Review
Best Ethereum Hardware wallets are:
Paper Wallets
One of the safest options for Bitcoin storage is to use two QR codes that are generated using a specific service.
One of them is a public key, and address through which BTCs can be received.
The other is a private key that you can use to send bitcoins stored at that address.
Read: 3Commas Crypto Trading Bot Review
What Is Ethereum Mining?
Mining is a process where new cryptocurrency coins are created and added to circulating supply.
The miners of the Ethereum are paid with newly created ETH as a reward of mining.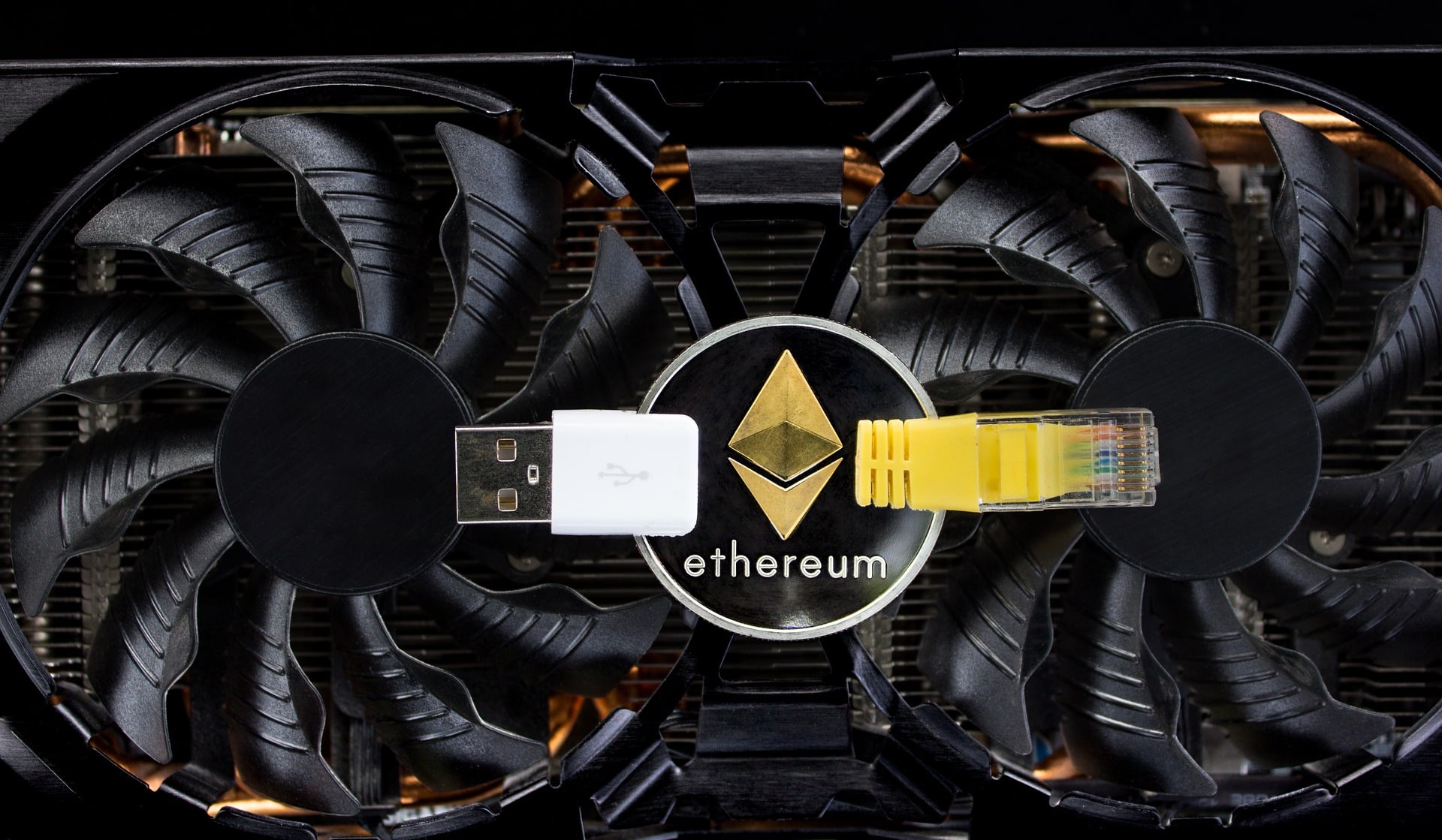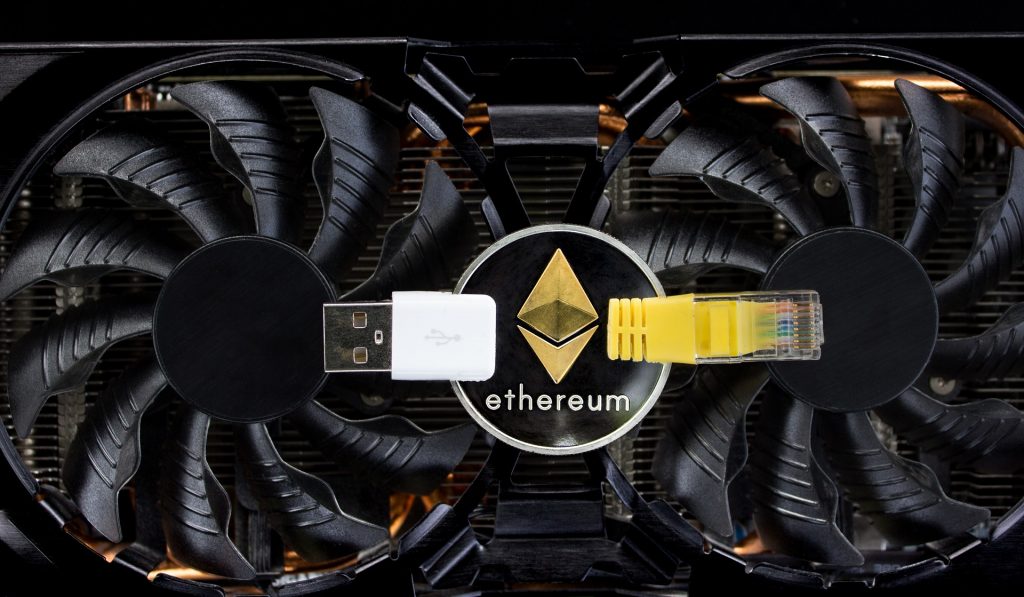 Mining Ethereum in this way is known as proof of work. It is called Proof of Work because the node has to prove that it has done the work by checking the transactions to get its ether reward.
The disadvantage of mining is that the application-specific integrated circuit "ASIC" used for mining ETH utilizes a lot of computing power and electricity which makes mining very expensive and complicated.
Read in Detail: Dogecoin Mining-How To Do it Properly-Is it Profitable?
What Is Ethereum Proof of Stake?
The other way is proof of staking to verify transactions and earn rewards. In proof of staking users only had to hold Ethereum in their wallets to become network validators and contribute to the Ethereum Blockchain.
Read also: What is cryptocurrency staking
Users need to hold a minimum of 32 ETH to earn 4% to 10% rewards annually, Users that are contributing to the Ethereum Proof of stake are known as Stakers or Stake Holders.
Read Also: Best 12 Profitable Staking coins List and Exchanges
Ethereum Resources
Some of the main resources for ETH are
Ethereum Founder: Vitalik Buterin
Purchasing Ethereum: Binance Exchange
Frequently Asked Questions
What Makes Ethereum So Valuable?
The feature that makes Etherum so precious is that you can edit the Ethereum code to build new coins on ETH Blockchain, You must notice that there are thousands of ERC20 tokens in the market, some of the well known are USDT, USDC, HuobiToken, PAX, etc all are using the Ethereum Blockchain
How New ETH Coins Are Created?
New Ethereums are produced by the process of mining. Mining is a process where you solve complex mathematical problems by mining hardware like ASIC rigs to invent new ETH. Mining demands a lot of energy and hardware specification so it is not fit for every one
How Many Ethereum Are In Market?
According to coinmarketcap at the time of writing, the circulating supply of Ethereum is 110,374,172 and it will keep rising with time as new coin are being  mined and added to circulating supply
What Is Ethereum Gas?
Gas is the number of fees that users must pay to run the contracts successfully. If the gas amount is not adequate, the contracts will stop functionally accurately
The likewise is the case in Ethereum transactions. Users pay the gas amount to the miners to complete the transactions on ETH blockchain. The miners may neglect the transactions with lower gas fees or such transactions may take a lot of extra time to complete because of lower gas fees
How long It Need To Mine Ethereum Block?
Approximately it took 15-20 seconds to add a new block to the Ethereum Blockchain
Can I Modify the Ethereum Transaction?
You must double to triple check a transaction before adding it to the blockchain, you must check the quantity of ETH being sent, the address where the ETH is going, and the fees you are going to pay again and again because when the transaction is recorded on the blockchain there is no way it can be replaced or changed, So you need to be extra care full before initiating any transaction
Are The Transactions On Ethereum Private?
No, because Ethereum is not a privacy coin. All the transactions are visible publically. Though the real name of a person is not stated on the transaction, there are techniques by which the transaction can be connected to your identity
How to deposit Ethereum on Binance Exchange?
If you have ETH on any wallet or cryptocurrency exchange you can deposit it on your Binance account is some simple steps
Log in to the Binance account, or create an account in the Binance exchange if you do not have one
Open your Spot Wallet and then select Deposit
From the coin list select Ethereum, copy the address and send your ETH to the corresponding address
Wait for the transaction confirmation, after the transaction is confirmed your Ethereum will be credited to your Binance account
How to store Ethereum on Binance Exchange?
You can store you Ethereum on Binance as it is easy and secure, You can not only trade Ethereum on Binance on hundreds of ETH trading pairs but there are alternatives methods like Staking and Lending, with which you can earn more with your ETH
How You Can withdraw Ethereum from Binance Exchange?
If you possess ETH in your Binance exchange account, you can withdraw it with some easy steps
First of all Log in to your Binance account
Click on the spot wallet and then select withdraw
Select Ethereum from the list and then select a network
Insert address of the recipient and amount you are willing to transfer and click on withdraw
A confirmation email will be sent to your email linked with your account, go to your email and confirm the transaction
Ethereum will be credited to your given address once the transaction is confirmed by the ETH Blockchain
Follow Us on Twitter and Facebook.
Disclaimer: This content is informational and should not be considered financial advice. The views expressed in this article may include the author's personal opinions and do not reflect The Crypto Basic's opinion. Readers are encouraged to do thorough research before making any investment decisions. The Crypto Basic is not responsible for any financial losses.
-Advertisement-