According to an Morning Consult poll, about 3 out of 10 crypto users were exposed to Kim Kardashian's Instagram advertisement that promoted "Ethereum Max."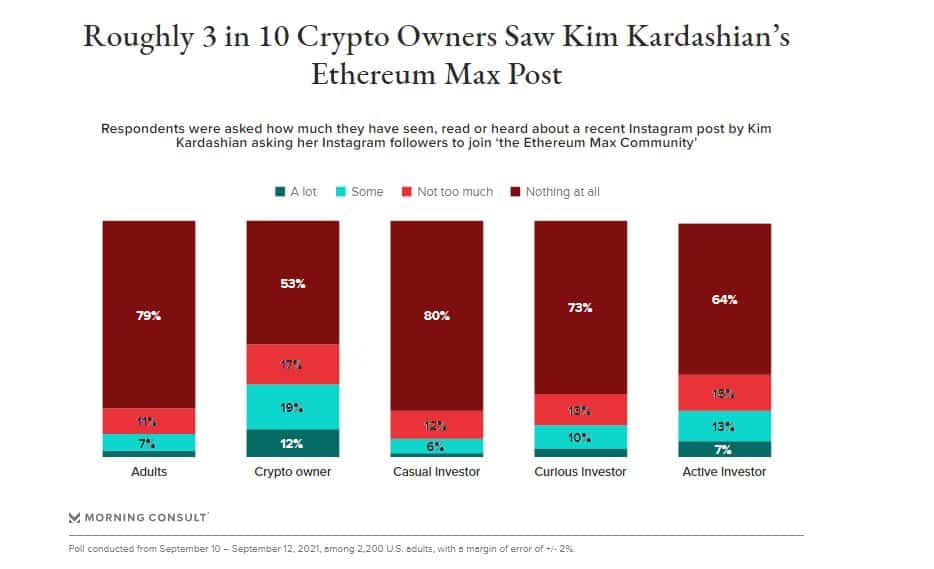 Morning Consult writes:
"Roughly 1 in 5 U.S. adults heard about Kim Kardashian's Instagram post promoting the cryptocurrency Ethereum Max.
Forty-five percent of crypto owners would be likely to invest in a cryptocurrency if a celebrity endorsed it, compared to 81 percent for a financial advisor.
Crypto owners are more likely to seek out investing tips on social media and brokerage or trading apps than general investors."
The famous model posted a story on Instagram about a questionable cryptocurrency to millions of followers in the middle of June.
Kim said that she received information about Ethereum Max from her friend.
The sketchy Ethereum Max doesn't have a whitepaper, and does not have any significant developer activity.
In the last month Financial Conduct Authority chairman, Charles Randell criticized Kardashian for using his massive crowd reach to promote a speculative digital token.
He said:
Kim Kardashian recently paid to ask her 250 million Instagram followers to speculate on crypto tokens by 'joining the Ethereum Max Community', it may have been the financial promotion with the single biggest audience reach in history.
 There is no shortage of stories of people who have lost savings by being lured into the cryptobubble with delusions of quick riches, sometimes after listening to their favorite influencers, ready to betray their fans' trust for a fee."
Kardashian isn't the only celebrity to be a part of Ethereum Max's campaign to promote the token. NBA superstar Paul Pierce, and legendary boxer, Floyd Mayweather also promoted the controversial ERC-20 token.