Based on data from Glassnode, the total amount of the mining fees in USD has increased by 275%, resulting in $40 million paid to miners per day.
Read: President Nayib Bukele Shares First Results Of El Salvador Mining Bitcoin With Volcanoes

Profits that are steadily increasing are mostly caused by the dramatic increase of Bitcoin prices. The all-time-high (ATH) of revenue reached in April, when Bitcoin traded at $60,000.
Read: Federal Reserve Chairman, Jerome Powell Said Fed Has No Intention To Ban Bitcoin Or Crypto
Profits of miners vary depending on the price of electricity, maintenance of mining equipment as well as market volatility and other factors like Chinese crackdown on cryptocurrency. Even though miners profits are exceptionally high, they suggest a potential increase in the selling pressure on the market.
The total value paid to #Bitcoin miners via the block reward (subsidy + fees) is hovering around $40M/day.

Compared to the 2020 Halving, current USD miner revenue is:
– 275% higher vs pre-halving (12.5 $BTC/blk subsidy)
– 630% higher vs post-halving (6.25 $BTC/blk subsidy) pic.twitter.com/mp072UtFyO

— glassnode (@glassnode) October 4, 2021
Prior to that, when mining was prohibited in a few provinces in China, the Bitcoin's hashrate dropped dramatically by nearly 50 percent, but it recovered from their slowly. Decreased selling pressure from miners can be valued at around $10 million per day.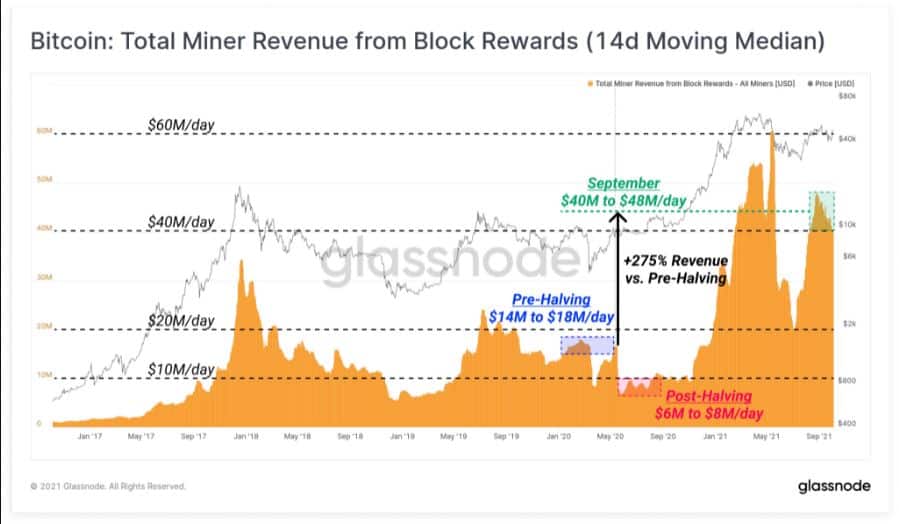 When comparing the current earnings with the halving which took place during the year 2020. Present mining earnings are considerably greater, with a growth of 275% prior to the halving and a 630% rise following the halving.
Read: Galaxy Digital CEO, Mike Novogratz Expects Next Bitcoin Rally in Late 2021
Following a decrease in rewards after halving, the price of Bitcoin has significantly increased to compensate the losses of miners.
Different Bitcoin market analysts have noted that halving events are popular in market participants as they typically demand miners to save their earnings to be able to sell them at high prices. Every halving event has brought an increase in the price of Bitcoin.