- Advertisement -

A project built from Australia, Ultra Protocol's core product is their multi-chain launchpad for Decentralised Finance (DeFi) with anti-money laundering and cybersecurity technology integrated into their platform. Aspiring to strengthen the security and growth of DeFi, Ultra Protocol provides a terrific foundation for services and projects through their security-focused platform. Currently in development, the Ultra Protocol platform will feature an innovative decentralized exchange (DEX), multi-chain secure-projects only launchpad and, exclusive merchandise for Ultra Protocol.
Complementing the multi-chain launchpad and DEX on Ultra Protocol, is Ultra Pay—a multi chain wallet, that will enable convenient and easy purchasing, selling and tracking on Ultra Protocol's platform, launching in Q2 2022 (tentative). The Ultra team will not be resting any time soon as adding on to the whole range of services provided by Ultra Protocol, will be their in-built NFT marketplace.
ULTRA: Laser-Focused on Security
Ultra Protocol is exclusively partnered with Hacken Foundation to ensure strong security of their upcoming multi-chain launchpad. Projects launched through their Incubator and all of Ultra Protocol's future products and services will be fully audited by Hacken through their partnership. This ensures consistency and reliability in their cyber security efforts.
The platform token's smart contract UltraSafe is also audited by Certik and Solidity Finance to assure users and investors of their reliability.
ULTRA Token Overview
Total Supply: 1,000,000,000,000,000
Market Cap: 8.5 million USDT
Transaction Tax: 8% (4% tokens distributed to all ULTRA holders, 4% sent to liquidity)
Blockchain: BSC
Launch Date: 13 May 2021
Coinstore Listing: 15 November 2021, 18:00 (UTC+8)
Deposit: 15 November 2021, 16:00 (UTC+8)
Trade: 15 November 2021, 16:00 (UTC+8)
Token Utility of ULTRA
ULTRA, native token of Ultra Protocol, has multiple use-cases with it being used as the primary unit of exchange cross the various sub-platforms and features on the main Ultra Protocol platform. For every ULTRA transaction made, holders of ULTRA will receive 'reflections' in ULTRA, incentivising and giving users a stream of passive income – more reasons to HODL ULTRA.
Ultra Protocol's vision, which is to provide a safe and secure financial platform leading into the decentralised finance era – with only audited and verified tokens being launched on their launchpad. This is being eagerly anticipated by the community and users who have fallen victims to too many rugs in the recent months.
With a multi-purpose platform consisting of a multi-chain launchpad, NFT marketplace, coupled with Ultra Pay integration certainly bodes well for Ultra's future prospects.
A Closer Look at ULTRA's Tokenomics
ULTRA has a total token supply of 1,000,000,000,000,000, with a transaction tax of 8%. More details of ULTRA's tokenomics are as such:
25% tokens used for presale to increase liquidity
40% tokens used for initial liquidity (liquidity locked for 79 years)
30% tokens burnt
5% tokens used for marketing and development
In every transaction, 4% are used to reward ULTRA holders to incentivise users to hold ULTRA. Another 4% will be directed back into their liquidity pool.
ULTRA's Upcoming Roadmap & Project Plans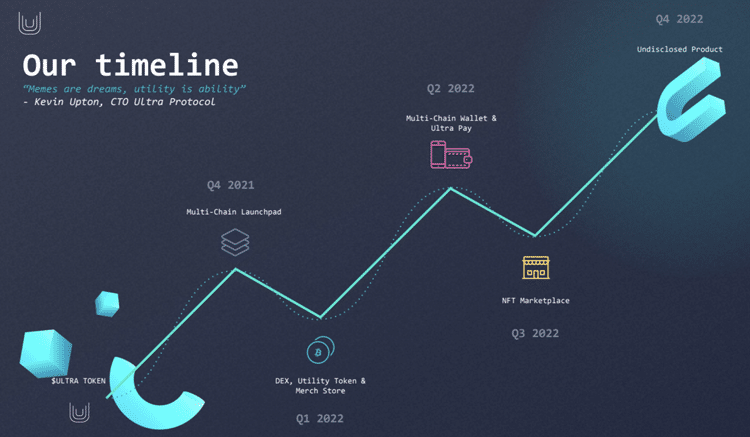 Currently in development and upcoming in Q4 2021, the Ultra Protocol team is fully focused on their multi-chain launchpad. The Ultra Protocol DEX, utility token and merchandise store is expected to be ready by Q1 2022, creating more use-cases and utilities for ULTRA.
ULTRA's Official Channels
Website: https://ultraprotocol.io/
Telegram: https://t.me/UltraSafeOfficial
Twitter: https://twitter.com/UltraProtocol
Get $ULTRA on Coinstore: https://www.coinstore.com/#/spot/ULTRAUSDT
Download the Coinstore app: https://www.coinstore.com
About Coinstore
Coinstore's goal is to advance the crypto industry to the next level and provide access to popular digital assets to the mainstream public. Encompassing a whole new concept of "fun" in finance, Coinstore plans to make digital assets available for everyone. Still in the early stages, Coinstore welcomes community members and interested influencer partners to collaborate in the up-and-coming stages.
Media Contact:
Charles Tan, Marketing Head, Coinstore
Liu Yi Yun, Branding Executive, Coinstore
Coinstore Social Media:
Twitter: https://twitter.com/coinstore_en
Telegram Discussion Group:https://t.me/coinstore_english
Telegram Announcement Channel:https://t.me/coinstore_global
Facebook: https://www.facebook.com/coinstore.en/
Website: https://www.coinstore.com
Discord: https://discord.gg/KKHtHa4KPX
Instagram: https://instagram.com/coinstore_exchange
Youtube: https://www.youtube.com/channel/UCHu0m61HHuDftQVE_0jHaYA/videos