Major League Soccer Star, Kieran Gibbs, has revealed his plan to convert half of his income to bitcoin (BTC) via his Tweet.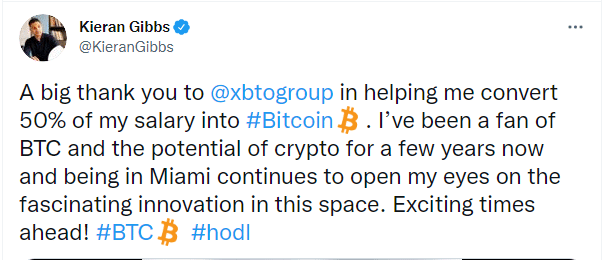 Gibbs plays as a left-back for IMCF and announced his decision to play for the David Beckham-owned team at the end of March 2021. Gibbs, 31, will utilize the crypto finance firm XBTO in December 2021 in order to convert 50% of his USD salary into BTC. XBTO says Gibbs won't be charged conversion fees and the funds will be sent to his bitcoin wallet.
In a statement sent to Bitcoin.com News, the IMCF star left-back Gibbs explained that he has been a bitcoin supporter for a while.
"I've been a fan of bitcoin and the crypto space for some time now, and I believe they have the ability to break down huge social and economic barriers — crypto are for everyone," Gibbs detailed. "I hope my partnership with XBTO can further the awareness and education of cryptocurrencies and their tremendous potential to positively impact global societies," the soccer player added.
Back in April, 2021, NFL Player for the Kansas City Chiefs, Sean Culkin, said that he will convert 100% of his salary to bitcoin.
He was reportedly the first NFL player to convert all his salary to the cryptocurrency.
Culkin posted the following tweet in April:
"I fully believe bitcoin is the future of finance and I wanted to prove that I have real skin in the game — not just trying to make a quick buck. I will be converting my entire 2021 NFL salary to bitcoin."