Bitcoin, the world's largest digital currency, on Friday fell as much as 7.8% to $54,377, its lowest since Oct. 12. It was on track for its biggest one-day drop since Sept. 20 and is now down more than 20% since touching a record high of $69,000 earlier this month.
El Salvador has taken advantage of this sell-off and acquired 100 extra coins with a discount.
This news is confirmed by President Bukele's Tweet on Black Friday, which states: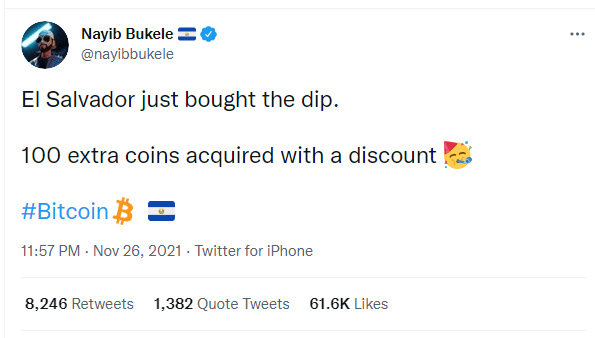 As reports of a new Covid-19 strain spread, tanking the price of many cryptocurrencies, El Salvador bought the dip. The country has added 100 more bitcoins to its treasury despite a recent warning by the International Monetary Fund (IMF), bringing the total number of bitcoins purchased to 1,220.
Bitcoin officially became legal tender in El Salvador in September; three months after the country's legislature passed the Bitcoin Law.
On Nov. 20, Bukele said that the country is going to build an entire city based on bitcoin, during a presentation at Bitcoin Week in El Salvador.
Financial Experts Price Expectations in the Limelight:
The discovery of a new coronavirus variant, B.1.1.529, may have weighed on Bitcoin, the world's largest digital currency, but financial experts expect its value to "double over the next 12 months."
The fall in Bitcoin value should be seen as a major buying opportunity, said Nigel Green, chief executive and founder of deVere Group.
Bitcoin is often referred to as "digital gold" because like the precious metal it is a medium of exchange, a unit of account, non-sovereign, decentralized, scarce, and a store of value.
Bitcoin is widely regarded as a shield against inflation mainly because of its limited supply, which is not influenced by its price.