Having to purchase expensive computer hardware to set up a mining rig limited a lot of mining enthusiasts. The cost of maintenance and power was another hurdle to deal with in other to run a mining rig and turn in a profit is what new miners are giving serious thoughts to.
Today, that has all changed has with the introduction of cloud mining.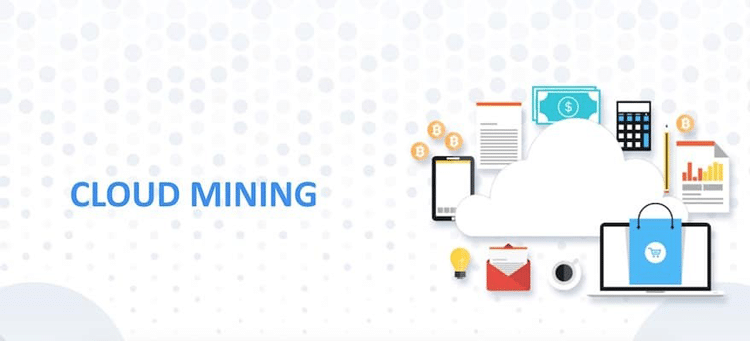 Key Takeaways
Cloud mining is more convenient for mining crypto than hardware mining, even though it yields less profit.
Kadena recently set a record for the most profitable crypto to mine.
Shamining has over 17000 authorized users, which makes it one of the best cloud mining platforms in the crypto market.
UnMineable charges a 1% mining cost for every user making use of its mining services, which is quite affordable.
Cloud mining is the process of using high-end computers to mine cryptocurrencies, and unlike the past, when you needed to get yourself costly machines, all you need to do is to team up with a professional miner or mining firm and make use of their processing power.
When you purchase a cloud mining plan, you are renting a portion of a large pool of processing power, which means you are more likely to outperform other, less powerful crypto miners who are racing against time to mine as much crypto as possible.
Updates on Profitable Mining
We have just two weeks till the end of the year and this year, we have seen some impressive cryptocurrencies record massive gains, which also led to huge profits for miners of these cryptocurrencies.
According to statistics, Kadena ranked as the most profitable crypto to mine at the end of November, which shows that mining crypto is still very much profitable and will continue to be even as we go into next year.
On an 18 terahash (TH/s) computer, miners can earn up to $326 per day mining Kadena.
When Bitcoin has initially introduced about 13 years ago, it could be mined using a central processing unit (CPU).
This implies that at the time, anyone with a good computer could mine for bitcoin (BTC) block rewards. Following that, users began to rely on equipment with specialized electrical circuits known as graphics processing units (GPUs).
Thanks to the advent of new technology, Bitcoin miners can now mine BTC using application-specific integrated circuit (ASIC) devices. The same goes for the mining of other cryptocurrencies.
Below is a chart showing the performance of Kadena in the past 24 hours, according to coingecko.com.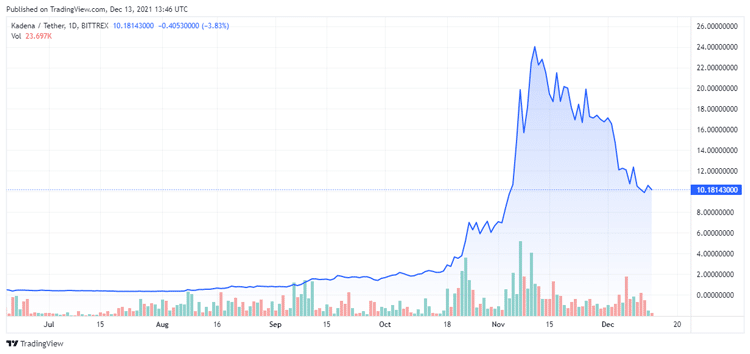 Source: CoinGecko
From the chart above, one can see that there was a massive gain of over 500% recorded by Kadena, which started somewhere around October, although the price has stabilized in the current month.
This just proves that miners are all but getting started when we talk about the amount of profitability they stand to gain from mining crypto.
Cloud Mining vs. Hardware Mining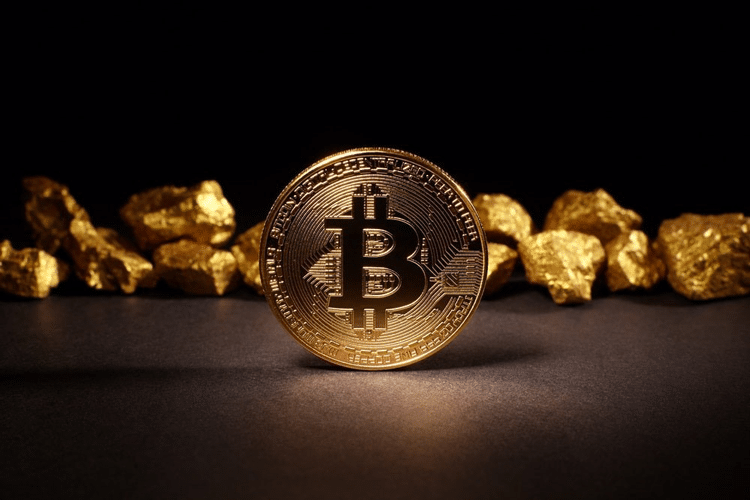 Obviously, not everyone can afford a large data center, which is why a new type of mining has recently gained popularity.
The process of mining Bitcoins or other cryptocurrencies using a remote data center with shared processing power is known as "cloud mining."
It implies that a cloud corporation buys specialized gear and houses it on their premises, while you pay the company to mine crypto.
In this situation, your payment will mostly consist of maintenance and power expenses, which may vary based on the country in which the firm operates.
When it comes to hardware mining, you'll need to learn a little bit about equipment, software, and cryptography to get everything set up and ready.
You will also need to consider a suitable location for computer mining rigs, or ASIC miners, as they often consume a lot of power, generate a lot of heat, and are noisy.
Mining alone consumes a significant amount of energy, coupled with the fact that doing it using hardware can be quite excruciating, especially because of the noisy nature of these machines.
As a result, hardware miners frequently form groups to mine cryptocurrency effectively using a variety of equipment.
All hardware miners, for the most part, join crypto mining pools to pool their resources and create one entity on the network. Also, pools yield higher rewards than solo mining since pools generate more hashes.
Cloud Mining Vs. Hardware Mining
| | |
| --- | --- |
| Cloud Mining | Hardware Mining |
| It is not expensive to undergo because you don't need to buy any hardware. |  It is expensive to undergo because you need to buy some hardware equipment. (Prices range from $300 to $40,000) |
| It is very easy and fast to start as all you need to do is to purchase mining contracts. | It takes time to start as you need to buy hardware equipment first, which can be quite time-consuming. |
| Cloud mining does not occupy any space and is noise-proof. | Hardware mining is noisy, takes up a lot of space, and you must also maintain the cooling of machines, dust cleaning, and performance monitoring. |
| Payouts are done every 24 hours. | Payouts are done in 10-15 months. |
| Virtually no electricity costs as data centers are located near the cheapest electricity resources. | High maintenance and electricity expenses. |
| Steady hash rates. | Hash rates are not steady. |
Shamining, UnMineable, and IQ Mining are some of the best sites where you can begin to do cloud mining. They are known to be very reliable and offer the best services while ensuring user satisfaction.
A comparison is given below to enable you to learn more about them:
Shamining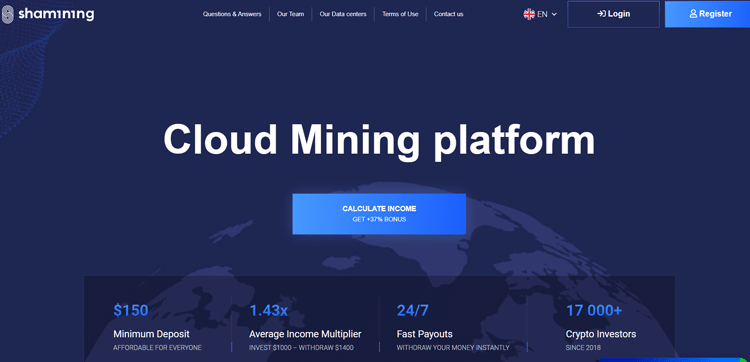 This is a user-friendly crypto platform that ranks high on lists of the finest and most reliable cloud mining services. The startup was founded in 2018 by a group of blockchain technologists and cryptocurrency experts from the United Kingdom.
Shamining has an excellent user interface that enables easy calculation of mining expectations and earnings.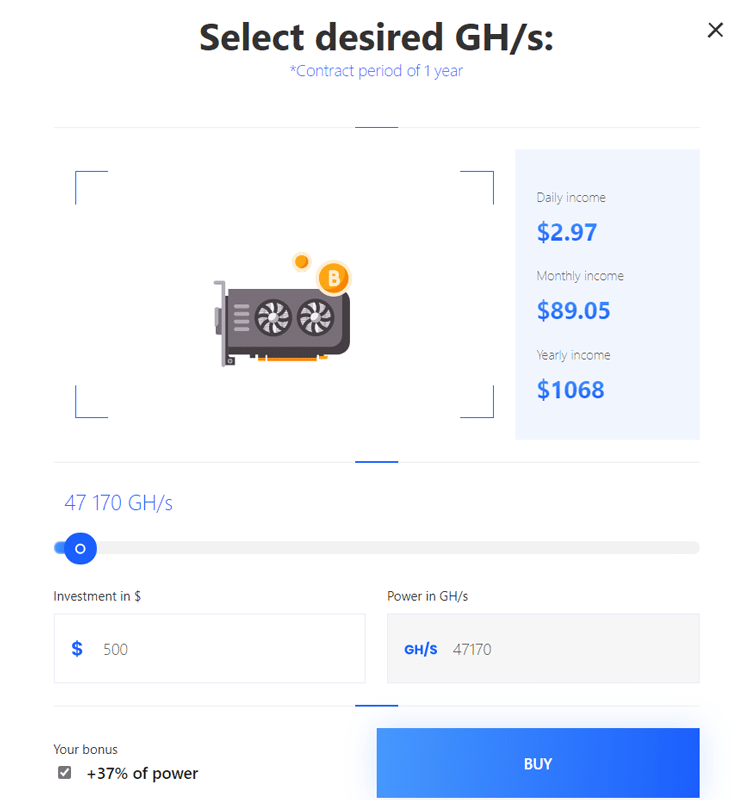 It's a legitimate cloud mining platform that operates under a private limited business license and certificate of incorporation.
It now owns and operates three large data centers in Cape Town, London, and San Jose, California. Today, over 17,000 authorized users have successfully benefited from making use of the platform's reliable and profitable cloud mining services.
IQMining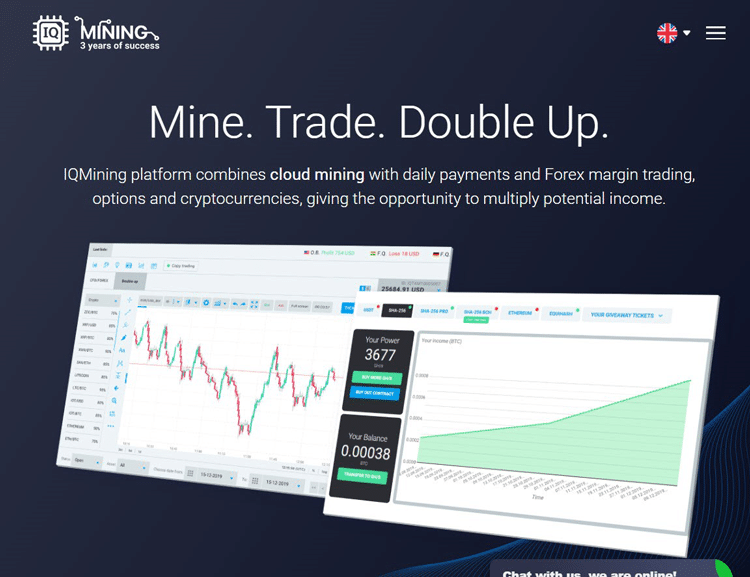 Founded in late 2016, IQ Mining is one of the world's top providers in terms of cloud mining services to cryptocurrency investors.
IQ Mining is now a smart cloud mining platform with thousands of registered users. The company's data centers are spread around the globe, including Canada, Iceland, Georgia, Russia, China, and Algeria.
UnMineable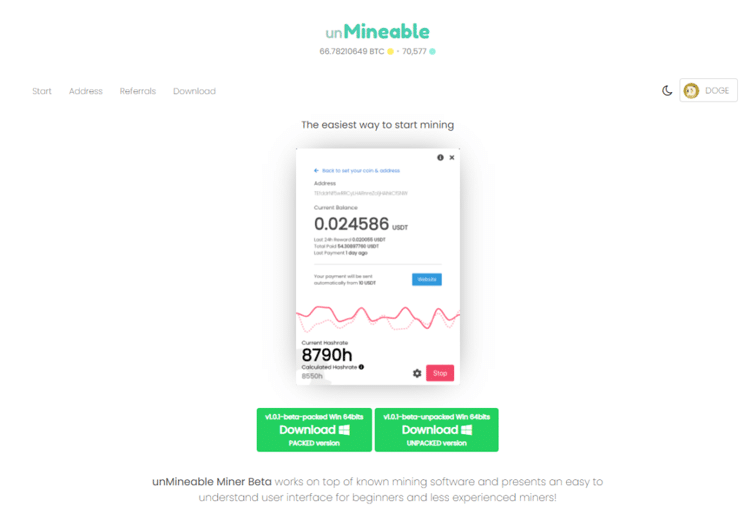 UnMineable is one of the pools with an auto-exchange option, which allows you to mine using various standard algorithms such as Ethash and Etchash while being paid in the crypto or token of your choice, even though mining the crypto directly is generally not viable.
BTC, BNB, DOGE, UNI, ALGO, ADA, and other cryptocurrencies are examples of supported payment assets. UnMineable isn't your standard anonymous pool, and it requires you to follow a few rules to make use of the services.
The platform charges a 1% mining cost; payments are free; and the minimum payout threshold varies depending on the crypto, which you can see when you select the crypto on unMineable.
Having said all this, if you are still interested in crypto hardware mining, I would suggest that you buy reliable hardware mining rigs.
Three I would most likely recommend because of their reliability include 6 GPU open case mining rigs, Open-air 14 GPU mining rig, and GPU miner frame aluminum mining rig.
However, cloud mining is still very much the better option since it is less cumbersome, less expensive, does not occupy space, and is not noisy. Since its introduction, cloud mining has gone on to be largely preferred to hardware mining.
Shamining comes highly recommended as listed earlier in this article if you want to go into cloud mining as they have low minimum withdrawal amounts ($10), they are regulated and secure, and they have a user-friendly web interface.
You can make use of crypto wallets such as Ledger, Exodus, or Trezor to store your tokens after mining, as they guarantee the safe and secure storage of all crypto assets held with them.
Frequently Asked Questions (FAQS)
Can you make money through cloud mining?
Yes, you can, as cloud mining is an assured crypto investment option that guarantees you passive income when you mine crypto.
Is Litecoin mining profitable?
Yes, Litecoin mining is still profitable as long as you have everything properly set up and ready to begin mining.
Final Thoughts
Mining crypto is still very profitable and if you plan on venturing into mining in the coming year, Cloud mining is a lucrative and less expensive route to consider and it is also an avenue to get your feet wet as a beginner miner.
Disclaimer: This is paid content. The Crypto Basic doesn't bear any responsibility on the authentication of knowledge shared in this article. Do your own research.